Guilfoyle Financial PSA Classic 2016
22-27 Feb, Toronto Cricket Club, Canada, $5k
27-Feb, Final:

[1] Martin Knight 3-0 [6] Daniel Poleshchuk 11/9, 11/5, 11/5


Knight takes Toronto title
Robin Clarke reports

It was a final on paper not to be missed – on par with the best rivalries in sport: Ali-Fraser, McEnroe-Borg, Nicklaus-Palmer, Power-Nicol, Richards-Simpson. The young up and comer vs the wily veteran. Israeli vs Kiwi.

I tried to come up with a joke and I couldn't but I'm sure PJ and Joey would have had something hilarious and witty. Actually I just found out PJ weighed 10.5 stone when he played… Wicked commentary.

First Game: The squash was solid, both players hitting good length and moving the ball around the court but Daniel was the better player and had more opportunities each and every rally to close it out. When you think Daniel had momentum he would make a mistake and allow Martin back in the rally.

The Israeli made 8 mistakes in the first game which is the real reason he lost. But man Daniel moves so well across the middle of the court I could actually hear Simpo's hips crying in jealousy all the way from Guernsey.

Second game: Started very similar to the first. Daniel moving Martin around the court nicely but Daniel at one point during every rally seems to get too cute and plays a silly shot allowing Martin to come storming back.

It reminded me of the time squash player Sean Delierre once said, "You need to give each shot the respect it deserves."

Daniel did not and was paying the price (bet you never thought I would use a Delierre quote!) At 4-3 for Martin in the second I noticed a slight face change on Daniel. It was the face of constipation, exhaustion or injury. Unfortunately it turned out not to be constipation, but injury.

He took a 3 minute break to have a look at his hamstring (Geoff Demont giving him a nice massage) and when play resumed he could only manage to lunge off his left leg which never allowed him to move fluidly or give him the ability to put Martin under any sort of pressure. Martin did the right thing and was persistent in his approach and didn't change his game plan knowing he might have an injured opponent.

Persistence pays off in most scenarios. Today it did for Martin Knight. Many years ago it did not for Frankcomb. Four hours of an excruciatingly painful over the top Australian accent can never secure a victory when the girls hotness level is much higher than the individuals height.

Third Game: Unfortunately for the crowd it was clear Daniel was struggling. All credit to Daniel however as I'm sure in most scenarios he would have pulled out of the match at the start of the game. He continued to play I believe so the packed gallery could watch a little more high performance squash.

Martin looked good throughout the event and deserves the victory. He is so hot right now I bet he's already swiped Tinder 150 times to keep his momentum going.

Great week of squash.

Rumblings were heard saying I was one of the best tournament organizers they've ever witnessed and the event was one of the best they've ever been a part of.

It is not possible without the support of the sponsors, billets, members and players and I'm fortunate to have a great environment to work in.



The Clarke guide for Tournamenr Organisers ...

The main points tournament organizers must remember to do when hosting an event are the following:

1. Just give the players 1 free meal a day and it's like giving candy to a baby.

No Sunny, you can't have a second meal today. Yes Albert you can have a gluten free meal. Yes Martin you can order the pasta special. No Nick you can't order a pasta and a sandwich.

Yes Serediak I will buy you 1 Guinness but I swear to god if I see you with a second you are in big trouble.

2. If you use billets have them walking distance from the club. Ease of access is important so they don't bug you.

3. Create a court flow for player practice so 4 players don't show up all at the same time with only 6 courts available for them to practice on.

4. Pay them in Canadian funds so they all lose a small amount of their already low prize money on the exchange rate.

5. String player rackets for FREE!

6. Take pictures of the players AFTER they finish their warm up so you distract them and create chaos in an already fragile mind of a PSA pro player.

7. Finally, the best part of running PSA events are the friendships you develop afterwards.

As the great Robert Bloch once said: " Friendship is like peeing on yourself: everyone can see it, but only you get the warm feeling that it brings."



TAGS: 2015 Event | Nick Sachvie | Robin Clarke | Martin Knight | SEARCH
GF PSA Classic 2016
22-27 Feb, Toronto, Canada, $5k
Round One
24 Feb
Quarters
25 Feb
Semis
26 Feb
Final
27 Feb
[1] Martin Knight (Nzl)
11/2, 11/8, 11/4
[Q] Dan Bergin (Wal)
[1] Martin Knight
11/2, 11/6, 11/7
[8] Sunil Seth

[1] Martin Knight

11/9, 11/3, 11/9 (60m)

[4] Geoffrey Demont

[1] Martin Knight

11/9, 11/5, 11/5

[6] Daniel Poleshchuk

[8] Sunil Seth (Guy)
9/11, 8/11, 11/5, 12/10, 11/9
Albert Shoihet (Can)
[7] Matthew Serediak (Can)
11/9, 11/4, 11/3
Kale Wilson (Tri)
[7] Matthew Serediak
11/6, 11/3, 11/3
[4] Geoffrey Demont
[4] Geoffrey Demont (Fra)
11/4, 11/3, 11/3
[wc] Rahul Sehrawat (Can)
[Q] Nick Sachvie (Can)
11/9, 11/3, 11/7
[3] Joe Chapman (Bvi)
[Q] Nick Sachvie
12/10, 11/6, 11/9
[5] Mike McCue
[Q] Nick Sachvie

9/11, 11/9, 11/9, 11/7

[6] Daniel Poleshchuk

[Q] Cameron Seth (Can)
11/6, 11/4, 11/6
[5] Mike McCue (Can)
David Baillargeon (Can)
11/3, 11/9, 7/11, 11/5
[6] Daniel Poleshchuk (Isr)
[6] Daniel Poleshchuk
6/11, 11/8, 18/16, 11/8
[2] Jaymie Haycocks
[Q] Owen Butler (Can)
11/6, 11/6, 11/6
[2] Jaymie Haycocks (Eng)
23-Feb, Qualifying Finals:

Nick Sachvie (Can) 3-1 Marco Toriz-Caddo (Mex) 11/8, 9/11, 11/1, 11/4
Dan Bergin (Wal) 3-1 Julian Morrison (Jam) 12/10, 11/6, 6/11, 11/8
Cameron Seth (Can) w/o Mohanad Hekal w/o
Owen Butler (Can) 3-2 Stefan Houbtchev (Usa) 8/11, 11/7, 11/8, 9/11, 11/4

22-Feb, Qualifying Round One:

Marco Toriz-Caddo (Mex) 3-0 Jackson Kay (Can) 11/8, 13/11, 13/11
Julian Morrison (Jam) 3-2 Thomas Manley (Can) 8/11, 9/11, 11/9, 11/0, 11/7
Dan Bergin (Wal) 3-0 William Kuhn (Can) 11/5, 11/3, 11/8
Mohamed Hekal 3-0 Francisco Mendez-Correa (Mex) 11/9, 13/11, 11/9
Cameron Seth (Can) 3-0 Alex Collins (Can) 11/2, 11/4, 11/8
Owen Butler (Can) 3-0 Ryan Osbourne (Can) 11/8, 11/5, 11/1
Stefan Houbtchev (Usa) 3-0 Thomas King (Can) 11/8, 11/2, 11/7
26-Feb, Semis:
Down to the last two in Toronto
Robin Clarke reports

Top seed Martin Knight continued his impressive form in Toronto as he reached the final with a straight-games win over Geoffrey Demont, where he'll face young Israeli Daniel Poleshchuk, who ended the run of Canadian qualifier Nick Sachvie.

Martin Knight beat Geoffrey Dumont 3-0

The 3-0 score is not indicative of how closely this match was played. Martin came out strong in the first, leading 6-0 but only because Geoffrey made 5 errors and seemed to be a little distracted by the amount of noise in the crowd.

With 130 kids playing in a junior tournament and a doubles pro-am all happening during the same time as the semi-finals it would have been almost impossible to have complete silence. He recovered nicely and inched back to 9-10 before conceding the game and going down 1-0.

The second was quick as Martin continued his Pitbull style of play, continuing to pound his length and moving Geoffrey around the court. The third was very close as we finally saw these two players go toe to toe in each rally.

Geoffrey really does move the ball around nicely and has technique even Shabana would be proud of. All is all an enjoyable match to watch and Martin moves on to the finals.

Daniel Poleshchuk beat Nick Sachvie 3-1

Nick felt good going into the match and he looked it as he was sharp around the middle, hunting the loose ball and taking it in exceptionally. He started strong in the second going up 6-3 but Daniel never stops. He continues to hit the ball with pace and will never give up a rally without making every effort to retrieve the ball. Very similar to Nadal however Nadal has bigger biceps.

The score line indicates this was close match and it was. To be honest Nick could have walked away with this match 3-0 if he could have continued to apply pressure when leading. He had leads in each of the first 3 games but could never step on the throat and finish it off. It really came down to inches and when Nick lost the third game 11-9 you could see he lost a little bit of pep.

Although he led in the fourth again 6-2, Daniel came storming back to take the next 7 points and finish the match off 11-7, making it back to another PSA 5k finals.

Tomorrow's matchup is enticing and one the crowd will thoroughly enjoy.

Apologies for the lack of creativity on this write up. It's been a hectic day and I promise the final write up tomorrow will be one not to miss!

Everyone I've ever known during my PSA career is on the hit list and I will find a way to tell embarrassing stories about those I like with descriptions of the finals. As well as pictures… lots of pictures!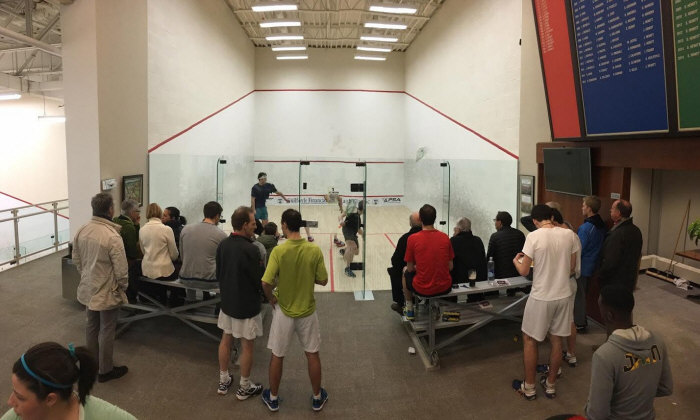 25-Feb, Quarters:
Sachvie continues run in Toronto
Robin Clarke reports

Qualifier Nick Sachvie kept home hopes alive as he produced a second successive upset to join the remaining top seeds in the semis ...

Martin Knight beat Sunny Seth 3-0

Martin Knight is a Pitbull on court … actually scratch that Pitbull's are illegal in Ontario so let's go with a Rottweiler.

He's relentless with his power and pressure length, and when given the opportunity has developed a very nice straight volley drop.

I thought Sunny played well and went toe to toe with Martin on more than one occasion but the new Zealander was too steady and advances to the semi-finals in convincing fashion.

The fact that Martin came out in all black gear was fitting and I was a little disappointed he didn't start the match off with the Haka.

Geoffrey Demont beat Matt Serediak 3-0

Geoffrey is now my favorite French player after Yann Perrin, Fabian Versaille, Renan Lavigne, Gaultier and Stephan Galifi. That's saying a lot because I always loved hanging out and pretending I could speak French with all those guys.

Interestingly enough he is similar to all those players in one way or another. Has fluid movement like Galifi, great hands like Versaille, the physicality of Gaultier, the backhand drop like Renan and Yan ... he's good looking like Yann.

All in all he's a class act and even the veteran Matt "The Duck" Serediak couldn't keep up with all those attributes I just described.

Nick Sachvie beat Mike McCue 3-0

The roommates battled it out in front of a packed gallery. The first game took about 30 minutes and mike found himself up 10-4 with a commanding league. Little did he know Sachvie was only starting to turn it on and came back to tie it 10-10 and won the game 12-10.

This really sucked the energy out of Mike who said after the match he felt heavy and unable to sustain the pace Mike was throwing at him. Nick is looking really good going into the semi-finals.

I have also had 7 beers after writing this paragraph so hopefully it makes sense without too many spelling mistakes. I love Daryl Selby ...

Daniel Poleshchuk beat Jaymie Haycocks 3-1

I didn't see any of this match but rumor before the match was Jaymie was in bed all day feeling like he was coming down with the flu.

Tough break as Daniel never stops running or putting pressure on his opponents. He is a solid player, steady and able to attack at will. Tomorrow's semi-final will be a great contest.

24-Feb, Round One:
Sachvie joins seven seeds inToronto quarters
Robin Clarke reports

The first round at Toronto Cricket Club saw seven of the eight seeds progress to the quarter-finals, with qualifier Nick Sachvie one of three Canadian winners ...



Martin Knight beat Dan Bergin 3-0

Martin looked sharp today again the Welshman, who made it through qualifying and looked good throughout. Dan's attacking game is solid and he is able to move the ball around the court nicely. Martin however is a great retriever and was able to handle each attaching shot from Dan and was able to win 3-0 in convincing fashion.

Truthfully, I saw 3 points of this match as I was refereeing on the other court so everything written in this quick paragraph is likely incorrect ...

Sunny Seth beat Albert Shoihet 3-2

Match of the night between these two fiercely competitive players. Albert started out crushing the ball and moving Sunny around the court nicely in the first game. He played patient and took advantage of every opportunity Sunny gave him through the middle. He continue his form in the second going up 9-5, when Sunny went on a run and won the next 3 points to make it 8-9 and looked to have all the momentum.

Unfortunately Albert came off court bleeding and as everyone knows including Sunny the player is allowed as much time as needed to stop the bleeding before proceeding on court. Sunny was clearly frustrated with the amount of time taken, and when Albert came back on court he quickly won the next 2 points to go up 2-0.

The next 3 games were hotly contested, with much debate with the referee (your truly) including a demanded shirt changed from Sunny as Albert had a tiny speck of blood (took me a while to notice but I found it). Either way both players were pushing hard, battling for the T and trying not to give the other any advantage. When Albert was patient and moving the ball around the court he won most of the rallies. When he took the ball in short too early he was punished and under pressure.

It came down to the wire but a careless drop from the back from Albert sealed the deal and Sunny was able to win 3-2 and advance.

Matt Serediak Beat Kale Wilson 3-0

Didn't see this match but the score line indicates Serediak was all over Kale. "The Duck" marches his way into the Quarter Finals.

Geoffrey Demont Beat Rahul Sehrawat 3-0

Rahul is a top junior in Canada and had the opportunity to play Geoffrey Dumont from France. Ironically Rahul wore a French national team squash jersey in the match, maybe trying to throw his opponent off? Didn't work as Geoff ran Rahul around the court with his impressive movement and technique.

After the match a junior named Jack Jones from the Cricket Club asked Geoff if he could play him a few points. Geoff agreed and Jack has never been happier and more eager to become a top level squash player. Classy move Geoff.

Nick Sachvie beat Joe Chapman 3-0

Again I was on court during this match so I was unable to see any points. Nick yesterday needed to be more confident in his attacking game. He creates many opportunities in the middle of the court with his good length and court movement but tends to hold and hit to the back too much extending the rally and allowing his opponent to regain control of the T. My assumption is today he was better and took out the 3rd seed 3-0 to advance. Tasty matchup tomorrow as the room mates who snapchat each other far too much going to the bathroom battle it out in the Quarter Finals.

Mike McCue beat Cameron Seth 3-0

Obviously a well-played match from Mike. Great job.

Daniel Poleshchuk beat David Baillargeon 3-1

Really enjoyed this match as both players moved the ball around the court nicely and are able to attack and defend beautifully. The Frenchman I thought played well and if not for a few unlucky calls might have been able to extend the match to 5 games which I think the crowd was hoping for. All credit to Daniel Poleshchuk who fought hard and had the support of his family and PSA Jay to pull him through.

Jaymie Haycocks beat Owen Butler 3-0

Jaymie showed why he is the one of the favorites for this event. He is able to move the ball around the court effortlessly and is able to hit a 3 wall boast at will. He should take up hardball doubles. Owen is a class player with tremendous technique and an ability to take the ball in short nicely when given the opportunity.

Owen doesn't play a lot of PSA events but if he decided to play more he will see significant improvement and would likely battle it out with some top class players. His beard is a little heavy so with a quick trim he would have likely have been able to retrieve a few more balls. I like Owen, can you tell!

23-Feb, Qualifying Finals:
Qualifying complete in Toronto

It was a good day for the hosts at Toronto Cricket Club as three Canadians made it through to the main draw.

Nick Sachvie and Owen Butler both won tough matches while Cameron Seth enjoyed a walkover. Sachvie now faced third seed Joe Champman while Seth meets fellow Canadian Mike McCue.

Butler has the envious take of taking on second seeded Jaymie Haycocks, while the other qualifier, Wales' Dan Bergin, meets top seed Martin Knight.