Ahead of the launch of his new Masterclass Academy, we talk to three-time World Champion Nick Matthew ...

How long has the camp been going ?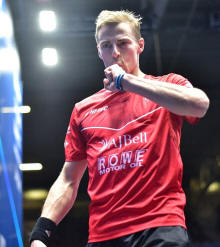 We ran a one off Masterclass in 2011 but this will hopefully be the first of many of this type of camps.

We want to create a series that will build and continue to evolve over the years incorporating Masterclass weekends, Easter & Summer Camps and personalised training sessions.

It would be great to inspire those new to the sport and advanced players, both young & old, in the same way.

What was the inspiration for starting it ?

In this modern age of social media I'm fascinated at seeing training videos from the likes of Anthony Joshua and Novak Djokovic online.

I always get great responses when I film these type of videos myself and I think people relate to the behind the scenes access involved. I really wanted to create something where people could not only see the videos but participate in the process themselves.

The Masterclasses are based on specific training methods that I have used throughout my career with experts that have been integral in my preparation. It is a unique opportunity to share these insights whilst I'm still an active player on tour.

Who are the camps aimed at ?

These initial Masterclasses are open to all standards of all age. Players will be grouped according to ability but will get the opportunity to get on court and challenge themselves against players of higher skill levels.


Are there any features of the camp you're particularly proud of ?

I'm proud of the fact that I'm at a point where I'm now able to make sense of the journey and be able to share the philosophy I have used successfully throughout my squash career. On court people may only see the end product but might not be aware of the hard work and attention to detail involved in getting there.

These Masterclasses will give an insight in to methods I use day to day in training and give access to key members of my team that have been integral in my improvements over the years.

The Masterclasses will be hosted at Hallamshire in Sheffield where I first started playing at 8 years of age. They represent a closing of the circle from my being a young player taking up the game to the stage of my career I find myself at now.

Apart from the squash training, what can students expect to see at the camp ?

It is important to emphasise that these Masterclasses are not just about getting better at hitting a Squash ball and we want to take a wide ranging approach to improvement.

On Session 1 (8th/9th July) we will focussing on what I would call my Super Strengths throughout my career and how you might create your own strengths and build your own brand of Squash around them. There will also be an emphasis on creating a more physical presence on court.

On Session 2 (19th/20th August) we will be looking at how the game has evolved over the years and how you might look to counter that, for example, in a tactical manner by turning defence in to attack.

We will also be accessing my Strength & Conditioning coach, Mark Campbell, who will look in to how I have been able to create longevity of body & mind in my career; something that will be relevant no doubt to both an aspiring junior learning his body, and an established club player trying to squeeze more out of it!

My physio will be present at both Masterclasses to offer a workshop on stretching, rehab & injury prevention on both days and we will make sure things like hydration and nutrition are well managed throughout the weekend.


What can students expect to get out of the camps ?

A unique insight in to the training methods and philosophies I use and how they have evolved throughout my career. I will be personally delivering and hitting with the students throughout the weekend and sharing in my knowledge & experiences along the way.

Expect hard work, but smart work, to steal the words my trainer uses with me!

Describe the Camps in three words ...

Unique. Insightful. Fun.

For more info and to BOOK,
go to www.nickmatthew.co.uk

or contact jayne@apexprogramme.co.uk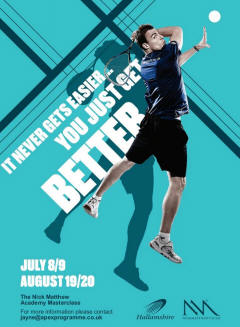 Download the Camp Brochure (pdf)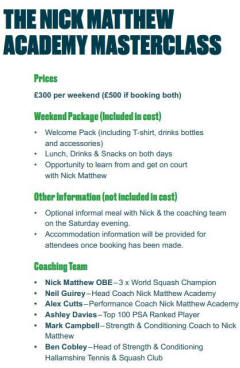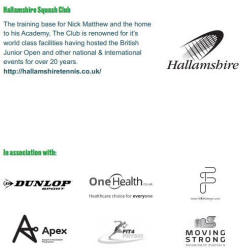 Download the Camp Brochure (pdf)