07-Mar-16:
Dubai places assured for some

With Five events already played and just next month's British Open (Men and Women) and April's El Gouna International (Men only) to come in the 2015/2016 PSA World Series, some players are already assured of top eight finishes in the "Race to Dubai".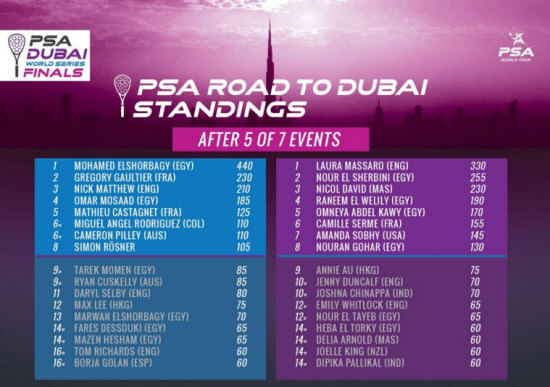 Laura Massaro, Nour El Sherbini, Nicol David and Raneem El Welily are already assured of their places in May's World Series Finals, and only major upsets in Hull would deny Omneya Abdel Kawy, Camille Serme, Amanda Sobhy and Nouran Gohar.

In the men's list the current top four of Mohamed Elshorbagy, Gregory Gaultier, Nick Matthew and Omar Mosaad look certain to be in Dubai, but there's plenty of scope for others to claim places over the next two events.