Calgary CFO Consulting Women's Squash Week 2016
08-13 Mar, Winter Club, Calgary, Canada, $15k
13-Mar, Final:
[1] Emily Whitlock (Eng) 3-1 [4] Christine Nunn (Aus)
12/14, 14/12, 11/2, 11/6 (65m)

Whitlock retainst Women's Week title
Meghan Glenday reports

It's always nice to see a real battle in the final round, and that is what we saw with Emily Whitlock and Christine Nunn's match on Sunday.

Christine was the first player this week to really hold her own against the tournament's top seed, and we knew she would put up a good fight. She is a very focused player, and also performs extremely well under pressure ... almost as if she likes being down a few points to really push her performance to the next level.

However, as seen in all of Emily's other matches this tournament, her fiery disposition and unbelievable determination got her the victory once again.

Defeating Christine 3/1 (14-12, 14-12, 11-2,11-6), Emily is a true warrior on the court, and she collected her second PSA title of the year and the 15th of her career.

Best of luck to her in the British Open!

The 2016 Calgary CFO Consulting Services Women's Squash Week was a great success. We received tons of thank yous from players eager to return.

Sarah Cardwell's witty farewell: "I can't wait to come back next year. There's not many tournaments I lose 11-9 in the 5th that I still want to come back to!" Sarah had a fantastic time this week, we even caught her playing around on the curling rink!

Thanks so much to all of the sponsors, billets, volunteers and refs. Your time, commitment and support is TRULY appreciated. We definitely could not run this event without you all, so thank you!

Thanks to all of the professional and amateur players who entered this event! We always love to see such a phenomenal group of women devoting their time to this wonderful sport! Hope to see all of you back again in 2017!




Those stretches on the squash court prove to be valuable training for Sarah Cardwell ...
Women's Squash Week 2016
08-13 Mar, Calgary, Canada, $15k
Round One
10 Mar
Quarters
11 Mar
Semis
12 Mar
Final
13 Mar
[1] Emily Whitlock (Eng)
11/6, 11/8, 7/11, 11/1 (50m)
Hollie Naughton (Can)
[1] Emily Whitlock

11/6, 11/1, 11/3 (30m)

[6] Teh Min Jie
[1] Emily Whitlock

11/6, 11/2, 11/2 (33m)

[3] Milou vd Heijden

15 PSA titles for Emily

[1] Emily Whitlock

12/14, 14/12, 11/2, 11/6 (65m)

[4] Christine Nunn

[6] Teh Min Jie (Mas)
11/7, 14/16, 9/11, 11/7, 11/7 (48m)
[Q] Alisom Thomson (Eng)
[5] Sarah Cardwell (Aus)
11/9, 11/5, 11/5 (24m)
[Q] Erin Roberts (Can)
[5] Sarah Cardwell

8/11, 11/9, 8/11, 11/6, 11/9 (63m)

[3] Milou vd Heijden
[3] Milou van der Heijden (Ned)
12/10, 12/10, 11/4 (33m)
Marie Stephan (Fra)
Nikki Todd (Can)
11/5, 11/9, 5/11, 11/2 (35m)
[4] Christine Nunn (Aus)
[4] Christine Nunn

11/5, 13/11, 11/1 (33m)

[7] Rachel Arnold
[4] Christine Nunn

11/4, 13/11, 11/3 (25m)

[wc] Danielle Letourneau

[Q] Diana Garcia (Mex)
11/7, 11/9, 13/15, 11/3 (39m)
[7] Rachel Arnold (Mas)
[wc] Danielle Letourneau (Can)
11/8, 11/8, 11/9 (37m)
[8] Lee Ka Yi (Hkg)
[wc] Danielle Letourneau

11/6, 11/5, 12/10 (22m)

[Q] Sachika Ingale
[Q] Sachika Ingale (Ind)
11/2, 11/8, 11/2 (19m)
[LL] Melina Turk (Can)


[2] Samantha Teran (Mex)
Qualifying:

09-Mar, Finals:

[1] Sachika Ingale (Ind) 3-1 Nicole Bunyan (Can) 6/11, 12/10, 11/2, 11/8 (32m)
Erin Roberts (Can) 3-0 [3] Melina Turk (Can) 11/7, 11/7, 11/4 (20m)
[4] Diana Garcia (Mex) 3-0 Karina Heredia (Mex) 11/4, 11/7, 11/3 (12m)
[2] Alison Thomson (Eng) 3-0 Giuselle Delgado (Chi) 11/7, 12/10, 11/7

08-Mar, Round One:

Nicole Bunyan (Can) 3-0 Bethany Churchill (Can) 11/1, 11/5, 11/7 (16m)
Erin Roberts (Can) 3-0 Emma McGillvray (Can) 11/6, 11/4, 11/6 (21m)
12-Mar, Semis:
Down to the last two
Meghan Glenday reports

A very full day of women's squash followed by the Saturday Night Social for the amateur players. A few of the pro players also joined us over at a pub down the street (including both finalists for Sunday's match...).

The floral theme for the social event clashed fantastically with the hardcore rocker band that was playing that night. A herd of the squash ladies flooded the dance floor with their floral outfits, just to create a stir with the rest of the crowd in there. No wallflowers in squash! Pretty sure the band was loving it too.

Danielle Letourneau came out really strong against Christine Nunn in the first game of the semi finals. Very determined, Danielle's shots were precise and on par with the best of them.

She held her own really well for the first two games, which almost got her the 2nd. However, Christine made a solid come back after being down quite a few points. She stole it 13-11. It takes some serious will power and mental commitment to come back like that, especially when your opponent is giving it they're all.

Danielle's discouragement after losing the 2nd carried over a bit into the third. She just couldn't seem to find her groove again. With Christine's intense focus in every rally, it made it impossible to get back in the game. Danielle lost 4-11, 11-13, 3-11; but she had a fantastic run overall this week and should be really proud of how far she's come since last year's event. Great job Danielle! We're looking forward to watching you continue to climb your way to the top! You've set your bar for 2017's Women's Squash Week!

Christine knew going in that it was going to be a tough match to play. She thinks Danielle is a great player. However she pegged experience as the only factor that gave her the advantage, especially relating it to her ability to come back when she's down in a game.

When asked about being coached by Sarah Fitz-Gerald, she said "I'm just about to get in touch with her actually!" Both her coaches Fitz-Gerald and Paul Price have been watching her performance this week over the tournament's live streaming. She's extremely honoured to have such legends supporting her.

After bringing up the certain 'je ne sais quoi' flare that the Aussie's seem to have, that sets them apart from other international players, Christine cheerfully accepted the compliment and said: "Well we are a determined bunch, maybe that's it."

Emily Whitlock has so far dominated in this tournament. In her semi final round, she took a 3-0 win against Milou van der Heijden (11-6, 11-2, 11-2), who has also been playing really strong this week.

So subtle, it's hard to pinpoint what Emily does differently to come out that much ahead of her opponents.

After turning to other squash enthusiasts for some more insight into Emily's game, we came to the conclusion that it's because she plays a clean game, making next to no unforced errors, and she hits the ball a split second earlier than everyone else.

Her opponents have zero opportunity to take the offensive position. She keeps the pressure on, in every single rally. Last year's event, she beat Rachael Grinham in the final, which completely stunned us all as Rachael just seemed to play a whole other level of squash.

It will be very interesting to see how this year's Aussie finalist, Christine, holds up against Emily in Sunday's final.


11-Mar, Quarters:
Letourneau through to semis
Meghan Glenday reports

Friday night, the courts were buzzing with ladies. We have 70 female participants playing in the amateur tournament this weekend, delivering a perfect atmosphere to Women's Squash Week. In the past 3 years of hosting this event, we've successfully filled up the amateur side. It's truly fantastic to see so many ladies come out to play and show their enthusiasm for the game, especially this year...given the tough economic times here in Alberta.

Danielle Letourneau is on fire this week! She took another 3-0 win on Friday night against Sachika Ingale. She maintained a strong focus, with crisp drives and soft drops up at the front. She made very few mistakes, and completely owned the T, forcing Sachika to play defensively throughout most of the match.

"I've been doing a lot of off court training and just got back from a huge stint of tournaments. I played basically 6 since the beginning of January...so it's helped me get used to tournament play and get me prepared for this one."

When asked if she expected to do this well so far, knowing who she was up against, she said "I put in the work, and I just have to trust it, regardless of who I'm playing." Definitely some wise words to play by, especially when competing at this level.

Emily Whitlock defeated Teh Min Jie 3-0, but it was no walk in the park.

The two ladies had long rallies and you could tell that they were quickly running out of steam the way they were playing each other. It was definitely a battle in fitness this game, as they were both getting to everything and each making very precise shots. Teh is a strong and consistent player, but Emily, as per usual, was just not going to give in, or give up on anything. She played quick, hitting each of her shots early and really attacked the ball. She took the win 11-6, 11-1, 11-1, but it did not look easy. Emily really had to fight for every shot.

A new level of squash seemed to pick up in the third match of the quarters. Although Christine Nunn defeated Rachael Arnold 3-0, the 2nd and 3rd games could have gone either way (11-5, 13-11, 12-10). They both had very refined and accurate technique, with minimal error in each game. However, Christine managed to reach for everything.

After her match, Christine graciously requested a picture on court with her billet Laura Hambley and family. When we asked little Nicholas how long it took him to colour in the flag, he said: "it took quite awhile ... about two hours." That's the Aussie's most dedicated fan right there!

The match of the night was between Sarah Cardwell and Milou van der Heijden. Going to 5, the rallies were played low and hard. Milou could really smoke her shots down the wall. There were quite a few tins in this match as both players were forced to aim for winners.

Sarah Cardwell put up an incredible fight. She's extremely quick off the T and moves at lightening speed from one corner to the other. Whenever necessary, she'll even do the splits to retrieve a shot. A very close match, Milou managed the win 8-11, 11-9, 8-11, 11-6, 11-9.

Looking forward to watching the four winners in Saturday's semi finals!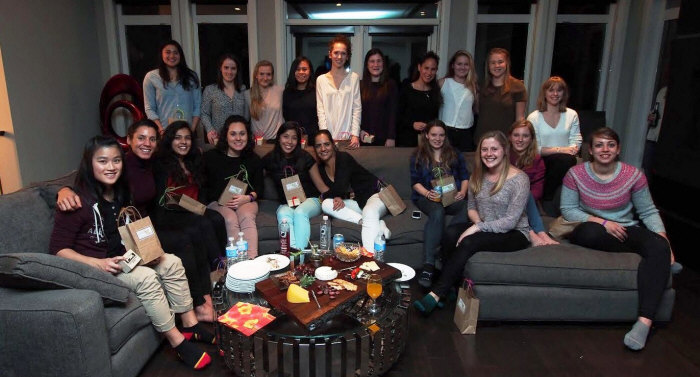 10-Mar, Round One:
Busy Day in Calgary
Meghan Glenday reports

The First Day of the Main Event was a big one!

There was a good crowd of amateur players and spectators who came out in the evening to show their support and cheer on our local players participating in Round One.

Six seeded players won through to the quarter-finals, along with local wildcard Danielle Letourneau and Indian Qualifier Sachika Ingale.

A few highlights of Today's matches:

If there's a good word to describe Alison Thomson's performance this week ... it would be fierce! Although she was unable to push through this round, she played extremely well in both of her matches.

In her match against Teh Min Jie, Alison played at a really fast pace, she hussled well at the front of the court, and her overall reach was scary!

Nonetheless, with hard hits to the back and total finesse in the front Min Jie's precise performance took the win 11-7, 12-14, 9-11, 11-7, 11-7. She makes dropping, from pretty much anywhere on the court, look way too easy.

Up against the #1 seed, Hollie Naughton managed to play confident and strong throughout the whole match, really putting the pressure on Emily Whitlock. Emily still held her own in the end, but Hollie's increased focus and intensity got her the third game 11-7.

A bit of tension arose when Emily questioned a call against one of her pick ups at the front, which kind of put her in the hot seat going into the fourth game. Unphased by this, however, she claimed the fourth game easily, winning the match 11-6, 11-8, 7-11, 11-1.

Very excited to see Danielle Letourneau make it through to the quarter finals, and what a big victory too! 3-0 against Lee Ka Yi. Danielle played perfect length, her shots were consistent and she made really good use of the whole court.

We're looking forward to watching her play on Friday against Sachika. Good Luck!

Our other local players Erin Roberts and Melina Turk had a great run this week. They really held their own, put up a good fight and looked like they had fun being out on court with some amazing international talent. Great job ladies!

So, the quarter-finals will be : Emily hitlock v Teh Min Jie, Milouu van der Heijden v Sarah Cardwell, Christine Nunn v Rachel Arnold and Danielle Letourneau v Sachika Ingale.



09-Mar, Qualifying Finals:
Qualifying complete in Calgary
Meghan Glenday reports

In the first match of qualification finals India's Sachika Ingale beat Nicole Bunyan 3-1. Nicole seemed to dominate in the first game, and most of the second, but Sachika managed to find her rhythm and turned things around after that. Although Nicole put up another good fight in the fourth game, Sachika took the win 6-11, 12-10, 11-2, 11-8.

Next up was an all-Canadian match between Erin Roberts and Melina Turk.

They had a good match, but Melina unfortunately was not at her best level of health. Although this was an upset for Melina, Erin played really strong and consistently.

Recovering from a cold herself, she maintained her focus, hitting winners both front and back of the court.

"The match felt good, and I thought I played well," said Erin. "It's just unfortunate that Melina couldn't bring her A-game this evening, I think it would have been a really close match otherwise."

Erin won 11-7, 11-7, 11-4, sending her into tomorrow's main draw. Good luck Erin!

It was a quick third match of the evening between Mexicans Karina Gonzalez and Diana Garcia. Diana's drives were crisp and tight along the side walls, and she made very minimal errors throughout the whole match. She took the win 11-4, 11-7, 11-3.

The final qualification match was between England's Alison Thomson and Chilean Giselle Delgado, with Alison winning 3-0.

She too was not giving in this round and just seemed to have that extra motivation to really push herself through to the main event. With some incredible gets in the last game, and quite a few nicks in the back left corner, Alison took it 11-7, 12-10, 11-7.


To top off our evening of exciting squash, the Sponsor-Player meet and greet was yet another hit. A huge thanks to the title sponsors Andrew and Janice for welcoming us into their home this year, and all of those who helped them put together such a wonderful spread for the evening. The players and sponsors all had a fantastic night!

Now a running tradition for Women's Squash Week, the committee presents the PSA players with a small token of Canada that they can all take home with them, or to their next destinations. This year's gift: a cute little polar bear made of marble and jade.


08-Mar, Qualifying Round One:
Under way on International Women's Day
Meghan Glenday reports

We've kicked off our 3rd annual Calgary CFO Consulting Services Women's Squash Week! What better way to celebrate International Women's Day than by bringing together some seriously talented female athletes, from around the globe, to compete in this exciting sport!

We had our first group of talented women - all Canadians - out on court to play the first two matches in round one of the qualification draw.

Nicole Bunyan came out strong against Bethany Churchill winning 11-1, 11-5, 11-7. She now meets qualifying top seed Sachika Ingale of India.

Erin Roberts also took a 3-0 win, 11-6, 11-4, 11-6 against Emma MacGillivray. This will be Erin's first year advancing to the qualifying finals for this particular event.

Congrats Erin and good luck in the next round against Club Pro Melina Turk!

Thanks to all of the sponsors and spectators who came out to watch the first two matches of the tournament, hope to see you all down at the courts again Wednesday evening!



Preview:

Welcome to Calgary CFO Consulting Services Women's Squash Week going on at the Calgary Winter Club.

Melina Turk (our Playing Professional) will be playing Wednesday at 6pm in the qualifying finals.

Main draw matches start Thursday noon and 12.45 matches and then evening matches starting at 4.30 - 6 matches with local wild card Danielle Letourneau playing at 7.30 pm.

Also running is Women's Squash Week Amateur Tournament Thursday to Sunday. This year we have 70 women playing right alongside the PROS.

Play is to start Thursday night with the players times available Wednesday.