Defending Champion David excited for Womenís World Championship on Home Soil
Current World Champion Nicol David will return to her native Malaysia for the forthcoming PSA Womenís World Champs - and the eight-time winner expects the atmosphere to be electric when the tournament begins at the National Squash Centre, Kuala Lumpur on 25th April.


The 32-year-old from Penang, who is revered as a national icon in her home country, has dominated the World Champs in recent years, lifting the coveted title in eight of the last ten tournaments to overtake Australiaís Sarah Fitz-Gerald at the top of the all-time winners list.

Despite her World Championship successes, David has been unable to claim the iconic title in front of her own fans, bowing out at the semi-final stage in Kuala Lumpur in 2004 and Penang in 2013, but David is anticipating the partisan support from her home crowd to give her a boost as she aims for glory.

"Itís certainly exciting to be back in Kuala Lumpur competing again after quite some time and also playing the Worlds here again for the first time since 2004 will bring back many fond memories," said David.

"Iíll make the most of this opportunity playing in Malaysia and I'm pretty sure the atmosphere will be full of energy in the stadium. It would be a huge bonus of course [to win the title in front of her own fans] but my main goal is to just enjoy this moment to play in Malaysia, while gunning for the challenge at hand."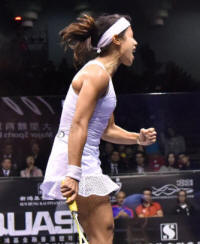 David has endured a mixed 2015/16 season, with a tenth successive Hong Kong Open title - 11 including the 2005 World Open in Hong Kon, David's first - balancing out the disappointment of seeing her unprecedented nine-year reign at the summit of the World Rankings come to an end last September, when she was dethroned by Egyptís Raneem El Welily.

She has since lost further ground on the top spot, which is now held by Englandís Laura Massaro, after falling to World #5 in the April World Rankings.

While David concedes that it has been a challenging period, she insists that the experiences have only served to help her focus on how to get to the next level in her game.
"The season for me has certainly been an adjustment," she admitted.


"Winning in Hong Kong was such an achievement for me because I could still bring all of these elements together throughout the tournament.

As this process is still ongoing, I've been making the most of my tournaments to work on my consistency with the adjustments. I have certainly had my own struggles over the past two years and it reflects on my performances and my ranking.

"However, through these experiences I'm growing as a person and Iím aiming to take these steps towards my next level of squash."

As she gears up to challenge for a record ninth World Championship crown, which contains a record $185,000 purse, David also revealed just what it takes to be crowned the World Champion.


"Every one of those eight World Championship titles has a special significance in what I had to overcome in life to be able to win each title," David explained.

"It comes with a lot of hard work, pain, struggles, sacrifice, and having to dig deep right into my core to find something more powerful than myself to do what I did throughout those years at the top.

I couldnít have done a lot of it without the amazing support I have with [coach] Liz Irving heading my support team, and my family and friends always being by my side through my ups and downs to show me the way forward."


The PSA Womenís World Championship takes place from 23-30 April and sees David seeded to meet against British Open champion Nour El Sherbini, who has won the last four meetings between the pair, in the quarter-finals.