El Sherbini Dreaming of World Champs Glory

In-form Egyptian World #2 Nour El Sherbini is relishing the prospect of competing in the upcoming PSA Women's World Championship in Kuala Lumpur, Malaysia - and insists she is a different person to the one who lost out in the final two years ago in the same country.

The Alexandria native became the youngest ever World Champs finalist in 2014 in Penang where a stunning run saw her take out a quartet of seeded players, including home hero Nicol David, and going up against current World #1 Laura Massaro in the final, which the Englishwoman won 11-9 in the fifth.

El Sherbini credits that defeat as something of a watershed moment in her career, as she soon surged to the upper echelons of the game, culminating with a historic victory at last month's British Open which saw her become the first female Egyptian winner and the second youngest winner of the prestigious tournament at the age of just 20.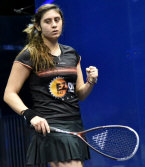 "I feel a lot of things changed since Penang.

"I was always told that I played well but I didn't manage to close the match and win so I was frustrated.

"But now I feel that I went through a lot of situations in that glass court that changed me as a person in general and not just as a squash player. Hopefully, I will keep going the same way."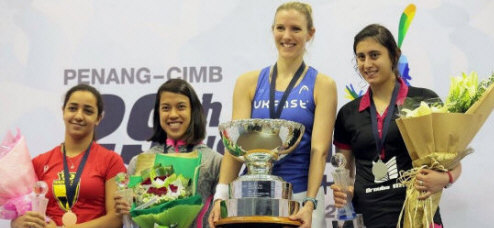 full coverage of the 2014 champs in Penang
El Sherbini has established herself as one of the world's leading players, with a first World Series title at the Tournament of Champions in January, and her sensational season has also catapulted her into reckoning for top spot in the World Rankings if results go her way.

But David, eight-time world champion and world number one for nine years until last September, could stand in El Sherbini's way with the duo seeded to face off in the quarter-finals.

El Sherbini has won their last four meetings, most recently in the British Open, but is wary of the threat that David, who will be backed by a partisan home crowd, poses to her dream of becoming the winner of the most lucrative Women's Worlds of all time.
"Beating any player even 100 times doesn't count in squash.

"I will just go in there giving each match 100 per cent concentration and sticking to my game plan.

"Nicol is a legend and will always be a legend so playing her anytime is never easy, no matter the result, and I am looking forward to a great match if we both make it to play each other.

"Winning the British Open was certainly a great boost to my career as I was always dreaming of winning a big title, that's what any player dreams of.


"But the World Championship is something different and I will be going there as if nothing happened. I will be going there as if nothing happened and I am starting again from the beginning, match by match.

"Becoming the World Champion would mean everything to me, it's what I dream of all the time. I will give it everything, for myself, my parents, my team, my club and my country, Egypt."


El Sherbini starts against Australia's Donna Urquhart, with a fixture against either Dipika Pallikal or Annie Au to follow if she wins.