[1] Mohamed Elshorbagy (Egy) 3-1 James Willstrop (Eng)
11-7, 5-11, 11-4, 11-7 (49m)
Top seed beats (3-time) former finalist


The pace that the Beast set from the start was just too fast for Gentleman James and the style of play just didnít suit the Englishman at all.

The games were very short, 9m, 8m, 10m, only the last one was a bit longer, 14m.

Basically, Mohamed played the perfect tactic, hitting extremely hard, mixing it with delicate winners and twisting and turning James beautifully.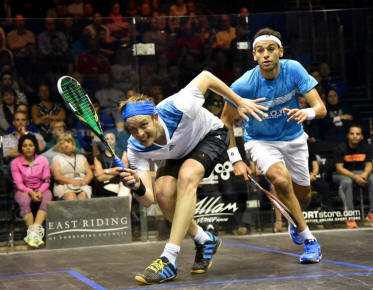 He had a little lapse in the 2nd, after a superb start from James, 4/0, 5/1, when he went for a drop shot and made an involuntary split that seems to impaired his movement for a little while. James took full advantage of the little wandering mentally that the world Number 1 seemed to have, 11/4, playing the squash we know he can play.

But after probably testing his hamstring sidecourt and realising that he was fine, Mohamed just blasted his way through the next two games, forcing James to keep scrapping around, 11/4, 11/7 for Mohamed.


My preparation for this tournament has been completely different from any other. When I heard that I was playing James in the first round I was in shock for 1 or 2 days. And then, I realised I had to prepare for that first round as I would normally do for a final. It was not easy for me, and Iím sure it was not easy for him either!

It was a high quality match, he is not back yet at his best level, but he is not far off now, and the matches he had during the latest part of the season have helped him for sure, and I think heíll be back at his best for the next season.

This has been an interesting season for me, I reached the world number 1 spot for the first time, and I had to learn to deal with it as well. Sometimes you have to lose to learn, but I was trying not to lose and still learn, and thatís what Iíve managed, up to now, I was able to protect my status.

I would love to put my name on this trophy, and I am very grateful to Dr Allam for his continuous support, Iím sure all players are, and we are all happy to come back here every year to compete in this prestigious tournament.