26-May, FINALS

[2] Laura Massaro (Eng) 3-1 [1] Nicol David (Mas) 11/4, 3/11, 12/10, 11/8 (53m)

[1] Ramy Ashour (Egy) 3-1 [4] Grégory Gaultier (Fra) 7/11, 11/4, 11/7, 11/8 (64m)

More good stuff on the BLOG | Finals Photo GALLERY

Two new Champions crowned in Hull

Laura Massaro became the first home winner of the women's British Open since 1991 with a fantastic display at the KC Stadium in which she beat defending champion Nicol David in four games, while Ramy Ashour became the first Egyptian men's champion since 1966 as he came from a game down to beat former champion Grégory Gaultier to claim the title for the first time.

Reports from Framboise, photos from Steve ...


[2] Laura Massaro (Eng) 3-1 [1] Nicol David (Mas) 11/4, 3/11, 12/10, 11/8 (53m)

Nicol's backhand lets her down

Well, that and Laura played the match of her life of course!!!!!!!!!!!!!!!!

It was a bit of a funny match today, Nicol was extremely nervous today, her backhand was not not, well, accurate is not the word, it was just in the middle! She made 4 unforced errors in the first game, when was the last time that happened?!!! In 6 minutes, Laura was 1/0 up. Crowd was happy.

But Nicol's reaction was prompted. 9/2, 11/3 in the same time!!! The crowd was less happy.

The third became a classic, but Nicol was really struggling with her backhand. Or she was clipping the corner, and the ball would shoot in the middle, opening the court nicely for the English girl on Fire, or would play so far away from the wall, there again, plenty of opportunities for Laura to attack!

Still, thanks to her amazing retrieval skills, Nicol managed to get to 10/7 game ball. It looked comfortable enough for the Malaysian, but it was not enough for the Hungry Laura. After looking for the first and only time at the crowd and more precisely her husband Danny, she patiently, she clawed back, eroding Nicol's confidence in the process, scoring an incredible 5 points in the row. She was now up 2/1, and the crowd was ecstatic!!!

Nicol just couldn't impose her game in the 4th. Laura's length and retrieving were just perfect, and Nicol was pushed around, making yet again 4 errors in that game only. A bit of chat between the players - that's the first time I see that between Laura and Nicol, when at 3/2 Laura, Nicol picked up a shot that Laura saw not up. "How can you take that", she said directly to Nicol, "it was double bounced!" "It was not double bounced" retorted Nicol. Tension run high.

But Laura was in the zone. She couldn't do anything wrong, every shot she played or retrieved was just close to perfection, and Nicol just couldn't stop her today. The crowd was not supporting Laura any more, they were literally CARRYING HER, the girl was flying, the girl was soaring. And her strength and determination was a pleasure to see.

At 9/4, I could feel her thoughts, as she stated "don't mess this up, don't mess this up". Nicol manages to take the serve back with a stunning and powerful backhand crosscourt, 6/9. And that's when the incredible happened. Queen Nicol served out!!!!!!!!!!!!!!!!

When Cameron did that in the 4th against James, he shouted, "the last time I did that I was 4!!!". I guess Nicol could have said the same....

The Malaysian went on to save one match ball, 6/10 to 7/10, but nobody was going to stop the first British since Lisa Opie, back in the 1991, to put her strong hand of that magnificent trophy.

Told you this was going to be an emotional day. And the day wasn't over yet....

This is huge, this is one of the first tournament that I ever watched as a kid, and I thought, whaoo, what a huge event. And I remember when Annette Pilling [Laura's first coach] was telling me, one day, you'll be at the final of the British Open, and I thought yeah right, of course I will!!!! And here we are today, and it's just amazing.

I think I played amazing squash in the first game, then she played amazing squash in the second, and in the third, we both played well. We showed that we were able to stick to our game plan, and I managed to take the third. Well, when I found myself down 7/10, I thought let's giving it a big push, and prepare for the next game. She made a couple of errors, and before I knew it, I was at 10/10.

After winning the third, I thought I had a big opportunity here. Then when I found myself up 7/3, 8/4, I thought don't mess it up, don't mess it up, and I was thinking about my psychologist. And I could feel my arm getting tired, so I thought about only one thing, volleying. I had to only focus on one thing, because otherwise, I would have lost it.

My win in Malaysia meant only one thing for me. That I was able to go through a match and win while I was not 100%, as I was ill that day. And that meant that today, it didn't matter how I felt, and that I would still be able to give everything I got and win. That was the only thing important it brought me. That belief I could win no matter what.

The biggest match for me was against Dipika, the conditions were so cold, it was really a very tough match for me. I'm so happy I made it through it.

I promised myself a treat then, then I won yesterday, and again today. So I guess I deserve 3 treats!!!!

Today, the conditions were perfect, like yesterday, not too cold, still taking the shots very nicely. A dream court.

I didn't realise that nobody from GB won it since Lisa Opie. Whoooaaaaa. I guess I should be proud of myself, and it proves how hard it is to win it!!!

I really want to thank the crowd, you guys have been tremendous, when I needed that extra push, that big support at crucial moments, you were there for me, and you really supported me. I would like to be able to take you everywhere with me!!!!

I really need to thank England Squash and Racketball, for the support and funding that I've been receiving from the beginning, my mum, dad and brother, Danny my husband, Jade and Caroline who keep me in tip top shape, and Pete my psychologist, my team is growing!!!!

And of course, I want to thank Mr Allam, as without him and the support he's been giving us, I wouldn't have that wonderful feeling of wining that amazing title.

You don't train to stay at world number two. You train to get to the top spot. But Nicol has been there forever, so you just concentrate on getting better, on winning those important matches, one after the other, not thinking about anything else, and you take one match at a time, and eventually, you will get there.

Laura Massaro

Basically, I was more watching what she was doing, and not concentrating on my shots. She was playing well, and I was trying to play better. But her length was better, and she was getting everything back. All credit to her, she just played better.

You never think that things are going to go your way when you are playing against Laura, you have to keep on your toes at all times, and she proved it again today.

I know my game is good, I working very hard, but on the day, there are things that can go wrong, and the girls are coming very strong, they find things, they find a weakness, and they keep working on it. And today, it worked.

Oh yes, I will be back...



[1] Ramy Ashour (Egy) 3-1 [4] Grégory Gaultier (Fra) 7/11, 11/4, 11/7, 11/8 (64m)

Ramy Overcomes Negativity

After the amazing drama of the first final, was the second one be as amazing? Were we going to have a second title for Greg and France, or was it going to be the first ever Egyptian winner since 1966, legend of the game AA AbouTaleb?

When the game started, Ramy had that dark face on. He was chatting with the devils in his head, and the noise they were making were louder than his talent or will to win. He redid his shoes laces 6 times in that first game.....

Greg on the contrary had no pressure, no tension and was playing as decidedly, accurately and assertively as he had done the whole week. And I thought that Ramy could be in a lot of trouble there... First game was 15m, which for a first game with a troubled Ramy is a lot! Patient they both were.

But in the second game, after spending his time under his towel between the first and second game to cut himself away from the world, Ramy came back transformed. The light again shining through him, little calm smile on his face, he started playing as he played the previous day against James in the first game, short and lethal, to take it 11/4 in 9m.

The third was now a enormous, gigantic battle, that nobody could predict the winner of to be honest, with Ramy playing a completely different style of squash as he did in the second game. He made sure he was slowing down the pace to a minimum, lobbing, driving, and forcing Greg to generate the pace himself, hence spending a lot of energy.

And it paid dividends. Although Greg was leading for most of game, not much 1 or 2 points, but still, always ahead, he suddenly felt the physical drain at 5/2. Let's not forget that he played a very hard 70m against Nick yesterday, whereas Ramy had a 37m match, intense yes but still...

Ramy could feel that little drop, and gave it another layer of slow motion, lobs, making the rallies as long and gruelling as possible, still in that mid pace that he hasn't accustomed us to. Greg was digging in, trying to stay ahead, but Ramy scored 5 points in a row, thanks to 3 tins from Greg right at the end of the game and closed it out 11/7 on a stunning straight drop shot stuck to the wall. That game alone was 19 minutes...

And amazingly, Ramy changed his tactic once again, this time, he speeded up the pace, trying to capitalise on Greg's fatigue, it worked for a while, 6/3. But he also made three errors in a row there and then, 6/6. The spectators were truly at the edge of their seats. 7/7.

Despite a few COME ON from Greg, who now was nicely in his second wind, Ramy was still perfectly focus, and now tucked away nicely at the front of the court, making Greg move around. One match ball would be enough, and a very very VERY emotional Ramy stayed a long time on the court, crying his heart out, and appreciating the moment.

His moment.

Pffeeeew....

Today, we played a great match with Greg, he played magnificently well, and I want to congratulate him not only for the match and the way he's been playing recently, but also for the cutest baby in the world!!!

Not sure who said, the game is just a game, what's important is what you play for. Well, I just lived to prepare this event for the past 8 weeks. Especially for this event. And for the past two weeks, I really went through hard times, and I'm so happy that I broke all the hurdles and managed to win today.

I have been surrounded by a lot of negative energy, and the fact I still managed to win this prestigious meant the world to me. This is one of the happiest, if not the happiest day of my life, because I kept waking up every day with those dark thoughts, depressing things in my mind, distractions, and I still pushed myself, and still went and trained as hard as I could to prepare for this...

This is just such a great relief. Today I showed some certain people back home in Egypt that I am so much stronger than any negativity or any negative influence anyone will ever try to impose on me or think that they can ever stop me from enjoying my squash and being the best I can be ... alhamdolah for that victory...

From now on, I'll make sure I surround myself with only people that want to support me and want me to do good, and the same for me towards them. That event has given me a lot of confidence...

I would like to thank a lot of people, my Mum and Dad of course, whatever the state of me, they have always supported me, my brother, my sponsors, Prince and Egypt Air, Fatma, my manager, Haitham Ahsoush, my personal feeder, Hossam Shaddard my masseur and my fitness partner, Bassem Makram my squash partner, Wael Farag my squash partner, and Amr El Darawy my best friend.

I really would like to thank everybody that has been involved in this event, Tim Garner and his team, they ave done wonders, and of course to Doctor Allam for bringing the glasscourt on the Premier League Football pitch, like I said, it's a squash revolution, and to support this prestigious event,

Ah, let's not forget the referees, you know, we give you a hard time because we are under pressure, but what happens on the court stays on the court.

And course course, I want to thank the PSA, PSA SquashTV, and let's all vote for squash, and hopefully let's get into the Olympics!!!!!



Of course, I'm disappointed, but I did what I could, I raised my level every day, and I wanted to win that title so much, because winning the British Open means everything to me. But Ramy played well, and he fully deserves to win.

In the 3rd and 4th, there were some crucial points, and I probably made a few stupid choices that cost me the match.

I truly want to thank Dr Allam, for support squash and this magnifique court and event, and bring it here on this football pitch, hopefully, squash will soon be as big as the Premier League!!!

Thanks to England Squash, the Sponsors, Volunteers, PSA, PSATV and SquashSite for all the hard work, and also to all the media, we need the media attention if we want to get bigger and bigger. Also, thanks to my team here, my two physios, my team back home, and my family.


NOTE: this is not a live site, just a backup plan, but we wanted to present the finals in our own style, so only this and the draws page are active ...

www.BritishOpenSquash.net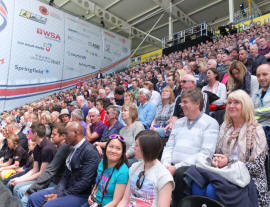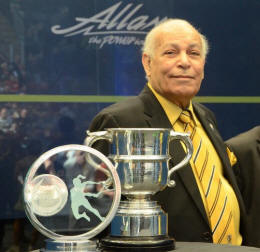 This must be a fantastic moment for the squash fans all over the world. Not only this is a revolutionary glass court on a football pitch, sorry, on a PREMIER LEAGUE football pitch, but we had two amazing finals. I am proud to be the sponsor of this event, and to see this record breaking day!

First the ladies final. It's been 22 years since a British Lady won, it was in 1991, Lisa Opie, and she is with us today. And it took 22 years to produce a Laura Massaro. It's a fantastic day for the Ladies Squash.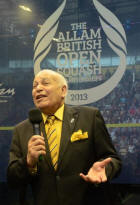 Now, we have Ramy Ashour, the first Egyptian to win the event since 1966, since AA ABouTaleb won it. And I hear that they nickname Ramy the Artist, the Magician. For me, he is none of that. I saw his body movement, and in my opinion, he has introduced to squash the Art of Belly Dancing.!!!! Which in my opinion, makes squash much more interesting!!!

Thanks to the Stadium Management, they've been very friendly and efficient, also to ES and their team for making this event so successful, PSA, and WSA as well, they are making a great job of looking after squash all around.

Thanks to Hull University, the East Riding Council, Springfield and Hill Media, who have played a big role in making this event successful.

The weather was nice with us today, and it was a magnificent event. It was my dream for a long time to take an event to Hull, but I wanted the top, or nothing. And that's why I'm so proud to have brought here the British Open. Hull is about one hour from a lot of European places, and very close to a lot of major towns in England.




For me, the difference between the British Open sponsorship and a normal corporate sponsorship is the family commitment. We are now three generations heavily involved in squash, and doing pretty well in it. We hope that more and more people in England will play the game. By the way, I want to thank my family as I haven't been very available to them recently, between the Squash, the Football and my affairs!!!

You know, in my life, the things that were supposed to be momentary ended up lasting a very long time! I came for England for one month, and I've been here for 43 years. And I got married to my wife on a one year trial, and we've now been married for 50 years!!!!

That's why I think that our original agreement of a three year sponsorship for the British Open is going to last much, much, much longer...