MATTHEW THAT CLOSE,
JOHN SOLID…
Framboise reports ...

This was another looooong encounter, 97 minutes for 96 for Lincou/Power. A match that I was, in my eyes anyway, quite significant on the levels.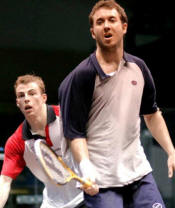 One. Nick Matthew is getting dangerously close to reaching the top four. His determination today, his retrieving abilities, his fighting spirit and focus, not to mention how great his volleying is are all signs of his imminent landing at the very top of the game.

Two. John White is back at his best. Of course, he will lose some, win some. But the brain is connected, the fitness is back (did a week touring with James and Malcolm Willstrop in Canada have anything to do with it??), the length is in place, and the genius can explode and firework us away.

I'm not sure exactly why Nick got a conduct warning, for "delaying the game". Very calmly, very politely, he was trying to say something to the ref. He was not arguing. He was not shouting. And the ref wouldn't let him finish his sentence. Not sure if that's the correct procedure, especially as it was only the second decision of the match. Was the ref trying to make an impression? It didn't impress me… Maybe it did Nick though…

The match started at a rather slow pace to gradually increase to a seesaw battle, and with rallies that would go on and on, both men being patient, no cutting the shots, no trying to get a cheap point, working harder and harder, waiting for the right opportunity to present itself. It's enough to look at the timing of each game to see how hard they worked: 18 minutes in the first, then 21m, 17m, 13m and 16m.

Each game was so close, John finding his rhythm and length from the second, very few unforced errors (2 in the first, 2 in the second, none in the third, 3 in the fourth, 2 in the fifth), great attacks and retrieving. Same for Nick, very few unforced errors (none in the first, 4 in the second, 2 in the third, 2 in the fourth, 1 in the fifth), hanging in there when John was attacking, retrieving so many "lost" points, running probably twice as far as John did…

The fifth was nail biting stuff. 4/4. 5/5. 6/6. 7/7. John gets "the lead" by 2 points. 9/7. John's shot is called not up, he contests it, but the decision stands, 9/8. Nick asks for two lets, and finally, thanks to an exquisite forehand drop shot, John eventually gets a rally where Nick made some breathtaking retrieving, match ball 10/8. One will be enough, a last backhand volley, and John gets to play the semi-final…

It was a close encounter… Some great rallies, a few lets that did slow down the pace asked by Nick, but really nothing bad, no arguments, no injuries, no blood, and a good solid match that entertain the crowd… And me…

"John played the last three rallies of the games better than I did…

"I was trying to tell myself to stay calm, because I got excited in the second and the third. But it's so hard to play John, as although he's dropped in the rankings, he is still regarded as one of the top four.

"It's so frustrating, it was the same at the Nationals against Lee, in the National League against David Palmer. I'm so close, so close every time…

"I think that I played well enough to win today. John also was playing very well, he made very few mistakes.

"The game is very open at the moment, it's anyone's really. So, it's disappointing, because you could scrape through and find yourself in the semis or the final.

"Oh well, you've just got to stick to it…"

Nick Matthew
[12] John White (Sco) bt
[7] Nick Matthew (Eng)
9/11, 11/10(2-0), 11/9, 8/11, 11/8 (97m)


"When you get down, so down in the rankings, and you want to get up there again, you've just got to dig in, and have a look at what took you up there in the first place, the hard work, the hours and hours of training, etc, and get back to the basics… Also, winning Chicago a few weeks ago, and Canary Wharf gave me a lot of my confidence back, mentally and physically. Because if you want to get up there, you've got to beat them all.

"Nick played very well, he's beaten all of us at some time or another. He is very strong, he's got great speed on court… So, another few months, and he'll be at the very top.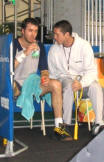 "It was the first time I think I've played Nick in a PSA event, and you can play a lot of practice, but it's always different in a tournament. In the beginning, I was a bit scrappy, probably due to the fact that he was volleying everything, putting me under a lot of pressure. Also, my cross courts were constantly hitting the side wall, giving him too much space, too much angle.

"So I just kept my game soft, tight, good length like I did yesterday. Luckily, he made the unforced errors to end the rallies.

"This is the last major tournament of my season, as I'm not playing the Super Series finals, and so far, I'm pretty happy. David Palmer in front of his home crowd, Nick Matthew in five, just need to keep it up and win against JP tomorrow… Hopefully…!

John White
Robert Edwards: "So does Suzy still keep an eye on the ranking points?"


John: "Suzy doesn't care about the rankings, about the points, she just want to see the cash, it's called women, mate…"