13-16 April 2006, £7,000
COLETS HEALTH & FITNESS CLUB

ST NICHOLAS RD, THAMES DITTON
CONTACT: DAVID PECK
CLUB: 020 8398 1858
2005 Event
SUNDAY: FINALS Framboise reports
16-April, Finals:


COLETS TITLES FOR
PARKE AND BRIGGS

The men's final may have featured the two oldest players in the draw, but they served up a treat for the crowd at Colets this lunchtime.

In the first two games both players were pushing hard, engaging in rallies that left the crowd breathless and Parke, in particular, hardly able to stand at the end of them.

But although Gough looked to be the stronger in those opening games, in the end it was the Welshman who ran out of steam as Parke kept his game going to collect his third BSPA title of the season and consolidate his position at the top of the Grand Prix standings.

In the women's final top seed Lauren Briggs continued her fine recent run of form as she recovered from a game down to beat Rebecca Macree in a typically well-contested match.
ALIVE AND KICKING…

A match with Rebecca Macree is always an extremely entertaining moment, as the woman has the shots and the personality that goes with it…

Young Lauren Briggs never had the opportunity to play Rebecca in competition, and she soon found out that although she was a logical favourite, BSPA Colets was not going to be an easy cheque to pick up...

Miss Macree didn't play for a long time after she retired in February '05, she took a pleasant period off, enjoying her freedom. "I used all the money I had, spent it all, and then just got back to work…"

Now she's got two jobs, in the morning, she works for a delivery company, and in the afternoon she coaches in Woodford Wells. In other words, "I don't have time to play at all!" she laughs..

And that fact was a bit obvious in the first game, as she seemed a bit lost, looking for her marks, and not used to sticking in a rally, quickly finding herself down 8/5 game ball. But whether it was pride, or ingrained years and years of well oiled reflexes, it all came back. The speed. The shots. The precision. Soon she had equalised at 8/8.

Discussions with the referee started, you know the drill, there are very often a few too many lets in close matches with Rebecca, and she took the game 10/8, much to the astonishment of Lauren, who couldn't believe that she had let that one escape from her…

The next two games were extremely close. Lauren's game was accurate, she placed some lovely straight drop shots and low drives, matched by Rebecca's boasts and deep cross courts. Lots of long rallies. Lots of lets. Lots of pace, energy, with lots of adrenalin floating around...

But in the fourth, the pressure and hard work imposed by the Swiss and Finnish Open Champion paid off. Rebecca was struggling with her fitness, and the match was soon over.

But the spectators didn't mind, as those two ladies offered them a superb final, one of those they'll be speaking off in the years to come…





"I'm happy to win that one…

I had never played Rebecca in a tournament, only training matches, where the situation is totally different…

"Today, I tried to play every shot, and ended up playing loose shots from bad positions, whereas my game plan was to try and keep it tight… But whatever happened today, I tried to keep my concentration…

"Rebecca varies her shots very well, and it's hard to get into a rhythm. And because she mixes it very well, you end up playing her game, and not yours, for example, my game is to play straight, but because she was cross-courting the ball a lot, I found myself doing the same…

"I don't mind playing two matches a day. I just played two tournaments where I had two matches a day, and I won them…

"And this is my first BSPA of the season, and it's a win…! I'll be back next year…!"

Lauren Briggs
CRACKING FINAL…

Body language.

When those two got on court today, on Simon's face was written "I don't mind playing five games". On Alex', "I need a 3/0 win". Already yesterday, Goughie struggled physically in the middle of his game against Scott Handley and I was worried about how he would handle this encounter with old pal Sir Simon…

But boy did those two threw all caution out of the window, and started off with a rally that went around 60 strokes… They were hitting so hard, running from corner to corner, pushing each other constantly out of balance, it was an amazing battle, where Alex was attacking in his so typical flamboyant and unexpected manner, and Simon retrieving impossible shots.

Normal day at the Lunatics' Office really.

They both reach a culminating loss of common sense at 7/8 in the first when we had the longest and most amazing rally of the season, Alex trying everything in the book to kill the Heaton Coach, who kept on retrieving, and retrieving, and retrieving. The crowd was amazed, subdued, astonished. Surely that one would be the end, but no, and Alex kept on dropping, and Simon kept on sending it back, moving by then in slow motion. Pure magic. Pure madness. And what had to happen happened, the Welsh Captain put it intothe tin.

9/7, announced the ref David Peck, and in the same breath added, "That was just ridiculous"…

But it was far from over. Alex, feeling that his mate had to be exhausted, pushed a last push, equalised at 9/9, but couldn't find answers to two winners from his opponent, 11/9 for the Englishman.

The second game was again of the same calibre, but with Alex just a bit more present at the front, and from 7/7, Simon seemed to only find the tin, losing the game 11/7. Continuing on the same momentum, Goughie took a comfortable lead 5/1, but this time it was his turn to accumulate unforced errors. Tiredness was starting to show its ugly head, and a frustrated Welshman could only see the points and the game running away from him.

In the fourth, it was all about Simon, who just kept controlling the middle of the court, and hammered an opponent too tired, both mentally and physically to find any solution.

So, another victory for Simon, but most of all, an amazing match, a fantastic entertainment, and one real winner.

Squash.






"Like I told you yesterday, you never go on court thinking that you are going to play five games, you always go to win in three.

"But today, although it was a four setter, it really felt like five games, this was the hardest game we ever had, and we had a few close ones, but never did we push as hard physically, it's what you call a ball breaker…

"We were both playing well, moving well, and it went in patches, in stages where we took control of the T, because two of you can't take control of the T, it's physically impossible, so it's all about a fraction of space where you can actually have it…

And there was nothing in it, as usual…

What made the difference today was that I had just a little bit more juice left in the end…

Simon Parke
| | |
| --- | --- |
| | |
15-April, Quarters & Semis



QUARTERS & SEMIS …

Funny how the juniors mirror the BSPA tournaments…. In Switzerland, the quarters are still on their way while the 16 last players (yes, ladies and gentlemen) are battling here.

And later on in the day both competitions followed on to decide who will play tomorrow in the finals…

So, this is a bit of a busy weekend for us at Squashsite. And all my apologies to the women's competition here, as I've been unable to follow their exploits, but as I had 24 matches to report yesterday on the men, plus the European Juniors, I was slightly overwhelmed…

Today, we've got some cracking encounters, and we'll try and do our best to share with you all the happenings …

MEN'S SEMIS:
Simon Parke bt Adrian Grant
11/3, 8/11, 11/7, 12/10
Alex Gough bt Scott Handley
9/11, 11/6, 11/13, 11/2, 11/6

WOMEN'S SEMIS:
Lauren Briggs bt Aisling Blake
10/8, 9/3, 9/7
Rebecca Macree bt Laura Mylotte
9/3, 9/2, 9/1

MEN'S QUARTERS:
Adrian Grant bt Stacey Ross
11/7, 10/12, 11/6, 11/6
Simon Parke bt Daryl Selby
11/9, 10/12, 11/4, 11/1
Scott Handley bt Joey Barrington
9/11, 11/5, 11/5, 11/7
Alex Gough bt Steve Meads
11/2, 11/7, 11/6

WOMEN'S QUARTERS:
Lauren Briggs bt Kyla Grigg
9/1, 9/6, 9/1
Aisling Blake bt Georgina Stoker
7/9, 1/9, 10/8, 9/7, 9/0
Laura Mylotte bt Emma Beddoes
9/4, 9/3, 4/9, 9/7
Rebecca Macree bt Jenny Wright
9/1, 9/2, 9/0
Simon Parke bt [1] Adrian Grant
11/3, 8/11, 11/7, 12/10

FOUR FINALS FOR PARKY

Simon Parke, already assured of the 2005/06 BSPA Grand Prix title, nevertheless moved into yet another final, beating top seed Adrian Grant in the semis at Colets.

Grant got off to a slow start, recovered well to take the second game but made too many errors in the third and fourth as Parke reached his fourth BSPA final of the season.

"I think it's the errors that made the difference, you tell me, seven unforced errors in the fourth, it's nearly a game! And that says it all…

"I was moving well, I was attacking well, but against somebody like Simon, you've got to keep on fighting because he's got the confidence to keep going until he drops. A few other top players would fold, but he doesn't…

"I'm not taking anything away from him, he played superbly well, but I'm not perfectly tuned yet. After the big gap that was the Commonwealth Games and Bermudas, I had a long time doing nothing, and the whole purpose of this tournament was to get some good training, two matches per day. And I'm really looking forward to two weeks of hard training, and also to Liverpool, as it's the last tournament of the season, and a big one…

"Although it's a loss, I'm trying to get the positive out of it, it all came down to a few mistakes, and I think that maybe Parkie wanted to win that much more than I did…"

Adrian Grant





"I played very well today, and my fitness is quite good as well. At the moment, I can't train much because of all the coaching I'm doing, so I'm using the matches for fitness, and really looking forward to them…

"I think that now I've found the perfect balance between coaching and playing…

"Adrian moves very well, he is a fantastic mover, and if you give him time at the front, he can be so dangerous, because he possesses such a good touch, so you've got to keep your shots crisps and the pace high…

"When you get into a match, you always try to get a 3/0 win, but it never happened with Adrian, so I was very happy to get a win four, especially with my hard matches yesterday, my five-setter against Alex Stait and my four-setter against Daryl.

"Tomorrow, the old boys…"

Simon Parke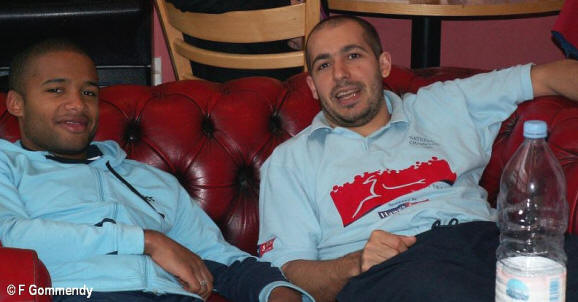 [2] Alex Gough bt Scott Handley
9/11, 11/6, 11/13, 11/2, 11/6

GOUGHY SURVIVES ...

Second seed Alex Gough had his work cut out tonight to contain a Scott Handley in superb form. With precise return of serves, delicate backhand straight drops and playing as well as he has for ages, Scott took the game to Alex and although the Welsh veteran appeared to be tiring, he just managed to weather the storm to run out the five-game winner ...

"I'm enjoying my game, it's a bit like a chess game, you know that you are tired, but you are aware that your opponent is tired too…

"I'm glad that I'm actually having fun on there, I had a few niggling injuries recently, that gave me a bit of an excuse to not believe in myself, to not compete. Whereas now, I'm injury free, and I've got the confidence that I can actually do it, and I'm looking forward to playing…

"What made the difference today, but then again, that's what a squash tournament is all about, is that my match this morning was much harder than Alex's, and when it's so close, it all comes down to that extra shot per game…"

Scott Handley




"I think that I had a loss of focus in the third…

"This match was more of a mental battle than a physical one. I'm glad I had a few games, because you just get in that mental zone where you don't try and do too much…

"That was ridiculously hard. Scott played very well, he had only a few patches where he made mistakes, because that's normally his downfall, he tries to do too much…"

Alex Gough
| | | | |
| --- | --- | --- | --- |
| | | | |
"We played about a month ago, and I thought that I made much fewer mistakes today….

"I was up 8/5 in the first, and then, a complete blank, a glazed look passed over my face... No, I simply couldn't convert that one point, I didn't have the confidence to think that I could do it, it was a bit like I was expecting her to come back.

"The second was quite quick, although we were pretty close up to 3/3, but then she started to take more control of the T, and I found myself retrieving all the time and making a few errors…

"I was quite happy with the third, as I wanted to go home with the feeling I worked hard and did my best, so I thought I was more aggressive, I volleyed more, and my placement of the ball was much better, instead of hitting the ball endlessly…

"Lauren played a very clever game, pushed me from corner to corner, and never let me feel comfortable on court…

Aisling Blake



"I was game ball down, but even then, I always try to push as hard as I can, I never think that I've lost the game. I try and minimise my errors and have them win the point off me rather than me losing the game.

"After winning the first, I was more confident, but Aisling likes to take the ball early and rallies a lot, so you've got to still be careful, but also, I knew she had had a hard five-setter in the morning, and I was hoping it would kick in at some point… And it did…

Lauren Briggs



"I tried to keep the game as short as possible, as I wanted to save my legs ... I'll need all the energy for tomorrow's match!"

Rebecca Macree

"I wasn't on court today I'm afraid. I'm not taking anything away from Rebecca, she is great player, and she kept the pace up, but I just didn't turn up, and I'm very disappointed with my performance.

"And I'm not even tired from this morning's match, where I took the first two games quite easily, and maybe lost a bit of concentration in the third. No, I arrived on the court against Rebecca feeling quite fresh…

"Just a VERY bad day at the office… But I'll be back…"

Laura Mylotte
| | |
| --- | --- |
| | |
STRONG GRANT, PRECISE ROSS

I just love watching those two battling on court. I've been witnessing a few of their matches now, and it's always a very close call. And as they seem to have a very complementary game, the matches are always full of intensity and suspense. With often a little edge for Adrian, but that underlined the knowledge that, if the Catford boy would lower his guard, Stacey would be in there like a shot.

Today was not different, and apart from the fourth, all games were extremely close, with Adrian hitting hard and tight, and Stacey counterattacking beautifully, placing some lethal counter drops and volley drop shots.

Pure pleasure, that was…

A few discussion with the ref, nothing bad, long and intense rallies, nice runs, both on a free visit of the four corner, but in the end, fitness played an important role, and Adrian finishes on top. A good warning/preparation before meeting Parkie in a match that could be as close as their last encounter was in the final of BSPA Boston, five games, with Adrian taking it in the end…

"I played well today, and actually, I played better in the quarters than I did in the 2nd round, and better in the 2nd round than I did in the first round, I got better each match!

"In the first game, I thought I had a good chance, and a little incident, I broke a string, had to change my racquet, threw my concentration away a bit…

"But overall, it's the best I've played for quite a while… And today, I feel much more relaxed and confident about the future…"

Stacey Ross




"Stacey's basic game is really strong, he moves the ball very well, and even when I'm controlling the rallies, I get to do much more work in the middle that I normally do…

"Today, my error rate was much higher than yesterday, it's hard to find the balance between attack and defence… And the second was a perfect example, I was attacking well, got a strong lead, then did so many unforced errors, and ended up losing the game…

"You've got some players who can force the opportunity, I'm more of a waiting for the opportunity to build up kind of player. I work hard, setting up the rally, seven, eight shots, and then, I go for a shot, which means that I don't have to take too many risks and keep my error rate down… Everybody is different I guess…"

Adrian Grant
SCOTT TOO FAST…

After a blazing start against a Scott Handley that seemed a bit nervous, Joey Barrington was struggling with his energy levels throughout the match. I guess that the quite heavy schedule he had in the past days may be one explanation for his lack of steam in the second and third.

But also, Scott raised his game and cut the unforced errors that spoiled his fun in the first game. He was very aggressive, well positioned at the front, and seemed to find a good balance between attack and defence shots.

Joey has changed his game too, he is able to place some exquisite straight drop shots that really put Scott under pressure. But as the match unfold, Scott was controlling more and more rallies and took the second and the third rather easily.

Having had a little breather, Joey started to put much more weight on his shots in the fourth, and it could have gone either way, but Scott is never more dangerous than when he's got the confidence on his side. And today, the self-belief was in the Handley camp…

"Like yesterday, I had a shaky start today, but once the ball died out a little, then I started to enjoy it more, and the physical side of it got easier…

"It's never easy against Joey, he is so strong, it's in his blood! Last time we played, I beat him in Wimbledon, but then again, the two times before that, he beat me, it's always very close…

"You've got to beat Joey, he doesn't give you any point, he very rarely make mistakes, so you've got to hold in there and work hard…"

Scott Handley

"Normally our games are close, but today was a different story, my week finally caught up with me…. But I can't be disappointed, but I played quite well recently, and if I can keep it up to that level for the last two months of the season, I'll be happy…

"Parkie is always on the ball, he never gives you anything, not even one point, and today, working hard for each point took its toll in the end…. And it's good to play those guys, it's great to get to compete with the likes of Simon or Bozza.

"And now, two days of complete rest…"

Daryl Selby

"I was slightly in control in the first, and slightly in control in the second. I had a good start in the second, and he did pretty well to come back.

"In the third, he played some really good shots, attacking well and going forward, attacking well, but in the fourth, he was shattered.

"All of our game, it's about the same, he is quite strong at the start, fading a bit later on. But I think he is a good player actually, he's got a lot of potential, he has improved a lot during the last year…"

Simon Parke
KNOWN TERRITORY…

Those two know each other's game inside out. They train together, and they have done so for a long time now, and you can feel that they do enjoy their matches.

Today was no exception, lots of running, lots of retrieving, hitting, accuracy, top spin, volley drop shots, you know the drill with Alex, and Steve is the perfect opponent to disrupt the Welsh flow…

The result, a very pleasant and entertaining match…

"I could move today, whereas yesterday, I was running around, but always off balance. I was on balance today…

"We are playing so much together, he is the only person I train regularly with. He knows where I'm going to hit the ball, we both know where the other one is going to hit it, it's a question of who is going to be the more accurate…

"And I always go up, and then he catches up, so I have all the time to stay concentrated…"

Alex Gough




"This is a very late match for us, we normally play at 9am!...

"When we play, winning is not relevant. It's all a question of how much running you can fit in a match, how much pain you can fit in…!!!!"

Steve Meads
14-April, Round One & Two:
A HECTIC DAY…

BSPA tournaments are among the busiest of them all, with two rounds of the 32-man draw (that's 24 matches) to play on the Friday, plus women's matches too!

So Framboise will keep us as up to date as possible, but the cloning technique isn't quite perfected yet ...


Colets EN BREF
NOT ENOUGH VARIATION BUT…

[5/8] Scott Handley bt Paul Davis
8/11, 11/7, 11/2, 11/5

The young Australian Paul Davis has got a very nice combination of delicate drop shots and very high lobs that can be damaging enough, but in front of the hard hitter that is Scott Handley, he lacked a bit of pace in his shots to really make a difference today…

He started very well, and impressed us in the first game. But once Scott found his tempo, the Australian was more or less constantly on the back foot. And although he had the fitness to hold the rally, Scott eroded his resistance to end up quite comfortable in the end…

"I had seen Paul play before, and I was expecting an easy game, but I was actually surprised, as it was anything but easy, it was hard all the way through…

"After the first game, I realised that if I wanted to win that match, I would have to dig deep and work hard. And it all came down to work very hard at the start of each game, and that would work for the rest of the game, and eventually the match…

"I kept on saying to myself, "this is MY court". This is actually my favourite court, and I haven't lost too many matches on there…

"I've enjoyed it, it was a clean game…"

Scott Handley



"It was a bit of a shock to the system actually, as I've been going back and forth between here and Australia. And that kind of pace, I only meet when I play players of the calibre of Scott.

"It was actually great to get on the court, but it was a bit of a surprise to realise that I can actually compete with those guys…

"But then, he stepped up another gear, I tried to stay with him, but he went over me…"

Paul Davis
[2] Alex Gough bt Tim Vail
10/12, 11/2, 11/9, 6/11, 11/5

UP AND DOWN…

What shot makers both Alex Gough and Tim Vail are… Both can hit a winner, Tim hitting hard to find some incredible nicks, and Alex at the front, intercepting cross courts to transform them in irretrievable nicks in the front corners…

And today was no exception, taking control of the rallies each their turn, stringing a few points, then handing it out to the opponent, flamboyant squash, great rallies, picking up everything and perfect accuracy from both part…

In the decider, Tim was a bit out of steam, but still as dangerous as ever, and even at 9/3, it was not a "I've done it" Alex that finished it off, but a "I've got to keep pushing until the end" Goughie…

"We always have close games, Tim and I, it's always cat and mouse, and what do you mean, why do I find it hard to play against him???? It's not easy when the ball just keeps on rolling past you, you know…!

"When people go for it, I find I always play a bit negative. I normally get good results if I increase the game, but I blow myself sometimes, and that's what happened, in the third, I pushed up, and it made him make a couple of mistakes, but then I got pretty tired in the fourth, I was not accurate enough, I was always trying to clear the ball away from me… and the next I knew it was 9/9!

"In the fifth, I was pushing the ball better, and playing more positive… "

Alex Gough

"I went to see my physio for my back just before Tuesday's PSL match, and she got me sorted, but I'm supposed to rest after a treatment, and I just keep on playing matches, so it doesn't get much better…

"Apart from that, I'm hitting well, and because of the back, I can't hold very long rallies, but it's still working anyway…

"I'm still a bit heavy, but I'm playing better squash, and I've played so many matches as well recently, I'm match fit…!"

Tim Vail
[1] Adrian Grant bt Steve Coppinger
11/8, 12/10, 11/9

COULD YOU HIT THE BALL PLEASE???

Those two just were trying to see who could burst the ball first! A very fast pace, lots and lots of hitting, killing, a tempo from Hell really…

But at that game, Adrian is slightly better, and it was Steve that found the tin more than his opponent…

"I saw Steve play the match before, and I knew he could hit the ball, that as he is quite tall, he's got a good reach, and that it would be inevitably a battle for the T area…

"But even when he had me under pressure, I knew that he would have to play a winner to beat me. So I just stuck to my game, trying to work on sustaining the pace, and things I can't work on while on PSA, like varying the shot selection…

"I'm happy to get a clean straight win…

Adrian Grant

"It was definitely exciting to play one of the top guys… Today Adrian was very constant, with an impressive accuracy, and very rapid on the court…

"I think I lacked patience, and went for the ball too early, but overall, I'm happy with my game this week…

"Yes, I feel that in the past weeks, my level has improved quite tangibly, if anything in the shot selection…

Steve Coppinger
[3/4] Simon Parke bt Alex Stait
11/6, 12/10, 5/11, 4/11, 11/5

CLEVER GAME…

Simon Parke and Alex Stait do know each other's game pretty well, and although Simon always tries to win in three, he never succeeds.

Got close today though, but lost the third quite easily, then in the beginning of the fourth, Parkie got a bit annoyed with a decision, the concentration went zoom out of the window, shouting with frustration, and we were back at 2/2…

Alex played as usual very clever squash, always found the right shot at the right time, and was perfectly matched by Parkie who was retrieving as ever, dropping his shots beautifully, and still as fit as an under-19 junior….

But in the decider, Simon was mentally right back on track, and maybe Alex lost a bit of confidence…. The gap soon mounted to several points, and although he tried to come back from 9/3, the match ended on a comfortable 11/5…

"Last month I was so disappointed with the way I played, I was too tense, trying too hard, and I didn't make myself justice…

"So today, I decided to just enjoy my game, and I think I succeeded to frustrate him because I was relaxed, and much more in control than I've been recently…

"Obviously, I'm annoyed to have come back from 2/0 down to equalise at 2/2 and still lose the game, like I did in Canary Wharf... But overall, I'm quite happy with my performance today…"

Alex Stait

"I've got a little niggling injury at the adductor, nothing bad, I've been icing it, but just enough to be annoyed with it…

"We are always very close, but I think today was more about him than me. Alex has been suffering from a few spells of lack of confidence. But tonight, he was quite relaxed, he didn't feel that he had any pressure on him, and he played much better…

"I played quite well for most of the match, but I lost a bit of concentration in patches…"

Simon Parke
Stacey Ross bt Ritwik Bhattachayra
11/8, 11/8, 11/7

"I felt alright, I was moving well, I think the first match helped fitness wise, I played a lot better in the second match, I was more relaxed, and far more accurate…"

Stacey Ross

"I was up in the first and the second, then I maybe starting believing I had some sort of control, and made a few errors. Then Stacey played very well, got his confidence back, played better and better…

"I think I'm taking one rally at a time, and that I'm not positive enough…

"I'm working hard to get to my peak in Liverpool…"

Ritwik Bhattacharya

Stephen Meads bt James Robbins
11/4, 11/8, 11/4

"I was a bit off the pace, a bit tired…

"I could have been more patient, as I was going for short too soon…"

James Robbins

"I think that James was a bit worse for wear …

"It was pretty straight forward, a very friendly game…"

Steve Meads
THE WEIRDEST MATCH…


[3/4] Joey Barrington bt Shahid Khan
11/5, 9/11, 11/1, 16/14
Joey Barrington bt Ben Ford
11/7, 11/4, 12/10

You've got a few players that always keep me busy, as they are a source of inspiration, and Joey Barrington is one of them…

After playing a not so incisive match against friend Shahid Khan, that went on for four games and over one hour of very intense and long rallies, I saw Joey disappearing in the changing rooms, coming back with another shirt, and as I was at the time interviewing Daryl Selby, I didn't pay any attention.

He must be stretching, I thought, and carried on talking. Then I turned round, and Joey had disappeared. "Joey, he is playing," I was told when I inquired where the young man had gone.

"What do you mean he is playing????"

Well guess what, as Ben Ford had had a walk over in the morning, he had asked Joey if it was possible to play earlier than originally planned. As Joey didn't mind, off they went only a few minutes after the end of the previous one…

As they were both ready, they started the match as the referee was still not in place, and in the middle of it all, the court number five on which they were playing (the extra court I told you about already) was actually booked by club members, so they had to change and move onto another one…

After all that, and after witnessing young Barrington actually going for shots (I know, I wouldn't have believed it if I hadn't seen it myself), and both players hitting the ball trying to compete with Mr John White, Joey eventually took the match in three…

The good thing about Joey is, life is never dull when he is around…

"Last night I had an exhibition game with James Willstrop at Liverpool Cricket Club to promote the Liverpool tournament, and this morning, a journey that should have taken 2.5 hours took nearly 5 hours, so I was late getting here…

"Shahid played really well today, but I was not attacking enough, so it was nice to finally get to chop the ball against Ben as certainly didn't do that against Shahid! I changed my game and went for shots, it made me sharp, the match was short and sweet, and that was nice!"

Joey Barrington



"It's just a mental belief that you can actually do it, and I'm so glad I could push him….

"In the fourth, I saved two match balls, then I had a few game balls, then match ball again, and game ball… Very intense and enjoyable match…

"That was the best match I've ever played in my life…"

Shahid Khan



"Playing early was my idea…

"Since my last tournament in Esporta, I've been in bed with flu, and actually I think it's the fact I had a few hard matches then, and rushed to play football, and that really ran me down…

"I was hoping to sneak in to the next round but…"

Ben Ford
[5/8] Stacey Ross bt Tom Richards
9/11, 11/6, 11/4, 6/11, 11/4

IN PATCHES…

As is often the case with both Stacey Ross and Tom Richards, the match was a bit up and down, with one making the game then getting into a "let's see who can make the most unforced errors" contest.

As for Tom, he's got still those magic shots coming from nowhere, followed by a series of meaningless shots that don't make his game go anywhere… But as my grandmother used to say, "youth is a disease that is quickly cured".

And I've got no doubt that, once he gets a bit more mental discipline injected into his game, the young Englishman will do wonders on the international scene…

"I knew he was playing very well, so I was not taking it lightly, but he was just too quick and too good, especially in the beginning…

"I'm as unfit as I've ever been, it's been one injury after another, a run of bad luck really. And when I play two rallies against somebody as quick as that, I'm blown really, I feel like I'm 45!!!"

Stacey Ross




"It's so hard to play Stacey, he controls the middle of the court so well, and if you're not careful, you end up doing a lot of running…

"I feel I'm playing well, and although I still had lapses in concentration today, I think I've improved on that level… Now, it's just a question of doing it all the time…"

Tom Richards
| | | | |
| --- | --- | --- | --- |
| | | | |
VERY GOOD PERFORMANCE...


[2] Alex Gough bt Joe Lee
11/9, 10/12, 11/2, 11/5

Mind my words, guys, Joe Lee is a name you'd better get used to, because with the way he played experienced Alex Gough today in the first two games, I thought an upset was possible…

No respect for Alex's grey hair, Joe retrieved extremely well the Welsh's infamous sneaky drop shots and great lengths…

Very long rallies, shots glued tight to the walls, battle of drop shots and redrops and counterattacks, Alex was slightly overwhelmed, and although he took the first game and was 10/7 in the second, he made five unforced errors in a row to offer the game to his opponent.

But saving those games balls took all that the young Englishman had left in the tank, and he could only defend and retrieve from now on, the Welshman cleverly picking up the pace in a "assez ri" spirit, that could be translated by "that was fun, but let's get serious now…"

One thing is sure, bless who ever invented BSPA, as it allows amazing elders to play with ever so promising youngsters…

"I didn't play that badly in the third and fourth, but he was just so accurate. I'm pretty happy with my match, and especially with last week at the Europeans, where I beat the number two seed Jens Schoor.

"I feel I'm in a good spell, and looking forward to the world event in July…"

Joe Lee

NOT THERE YET…

[5/8] Scott Handley bt Jamie Matthews
11/2, 11/8, 11/1

Jamie Matthews was just a bit out of his depth today against pro Scott Handley. Scott was hitting too hard and sustaining a pace that Jamie couldn't handle on long period…

Still, I feel that, if he could play a few more matches at that level, his level could improved quite drastically…



"Jamie is quite good with a racquet, quite strong, and I had the impression that he was not used to playing at such a pace. So I varied the tempo to see how he would react…

"He's got good shots, and give it time, he'll go up in the rankings…"

Scott Handley
MIND READER


Paul Davis bt Graham Melvin
11/2, 11/8, 11/8

Funny match that one was really… Don't let the score fool you, it was not the whitewash that it looks like. The match was still long and quite disputed. But Australian Paul Davis seemed to be all the time one step forward, moving well, placing some lovely drop shots combined with stunning lobs….

Against him, Graham Melvin was well in the rallies, but just made a few silly errors, due mostly to the pressure he was under. In the third, the Scott seemed to find a bit of confidence at last, but it was all a bit too late…


"Graham's coach back in Scotland is Paul Franck, and Paul and I have the same coach, Roger Flynn, so I always seemed to know what he was going to do. It was quite interesting to see those guys and the work they've been doing….

"I take it that Graham is new on the tour, because I've never seen him. But a few more matches, he'll be very good…

"And it's so hard for me, I don't know any of the other players, and I've got to start every match full on…"

Paul Davis
| | | | |
| --- | --- | --- | --- |
| | | | |
Daryl Selby bt Rory Pennell 11/1, 11/6, 11/3

"It was a very enjoyable game. I'm feeling quite fresh, I was moving well, I was going to my shots, managed to find the tin a few times, but still made him move around…

"A pretty good warm up for Mr Garner later on tonight…

Daryl Selby

[5/8] Ben Garner bt Philip Nightingale
11/2, 11/5, 11/5

"Today I was hitting the ball pretty well and my shots were getting in, so I carried on.

"A quick victory is always welcome when you have another match later that day…"

Ben Garner

James Robbins bt Nick Staunton
9/11, 11/8, 11/7, 15/13

"I left in plenty of time, but we got delayed at Clapham Junction by more than ½ hour, so I arrived in a rush…

"It was a very close game, it nearly went to five, but still, I'm not good in the morning…"

Nick Staunton

[1] Adrian Grant bt Peter Creed
11/5, 11/9, 11/2

"I've starting training again with David Campion for the first time in two months after the gap that was the Commonwealth then Bermuda, and I must say I was feeling sluggish.

"I'm using this tournament as a warm up for the Liverpool tournament…

"At the moment, I'm working more particularly on being more patient and rallying better. If you look at Shabana, he's still got his short game shots, but he is winning nearly as many points at the back…"

Adrian Grant

Ritwik Bhattachayra bt Chris Hall
11/4, 11/8, 11/4

"I'm feeling good at the moment, I've been training a lot with Neil at Chingford, learning a lot of new things. It was very disappointing to only watch the Commonwealth Games on TV where everybody who's anybody was in Melbourne, but I got over it, and took the time off to work harder on my training, as I had cancelled my PSA tournaments thinking I would be in Melbourne…

"But now, I'm glad as my game has improved at the end of it…"

Ritwik Bhattacharya
QUALIFYING, Thursday
Framboise reports
13-April, Qualifying:
ALL STARTED…

God bless whoever invented the qualifying rounds! I always enjoy following the competition from Day minus something, and if the antechamber of the majors are fascinating, it's no different in the BSPAs…

We started "sur les chapeaux de roues", which roughly could be translated by "tyres screaming" with two matches that could be finals in any decent tournament all around the world…

Draws & Results




Colets EN BREF
WALES VERSUS SCOTLAND…


Peter Creed bt Alan Clyne
6/11, 12/10, 11/6, 8/11, 12/10

And what a beautiful encounter that was! One hour and thirty four minutes of long rallies, good precision from both Alan Clyne, who I had the pleasure to meet while in Islamabad, and Peter Creed, from the Millfield camp, who is now coached by famous Welsh/Australian coach Chris Robertson…

Lots of running, both defending then attacking when possible and taking control each their turn, the outcome was undecided until the last rally, as both had match balls…

An extremely close game, played in the intended spirit. Perfect start to the day.

It was a bit up and down really. There were patches I was in control, then patches with rallies with no meaning.

He seems to like those rallies that go on, so I tried to put some meaning at least into some of my shots and to stay concentrated. It took me a while to get into it, and then I was able to construct my rallies a bit better.

Peter Creed
ENGLAND VS BRAZIL…


Rory Pennell bt Andre Texeira
11/6, 11/9, 5/11, 11/9

Another close call, and again two perfectly behaved gentlemen, Rory Pennell and Andre Texeira.

Rory was caracoling away with the match, seemed to lose a bit of focus, and next thing he knew, the discrete Brazilian was back into the match, and could have easily taken the fourth game too, as 20 year-old Rory from Chelmsford was making unforced error upon unforced error.

But according to Andre, the difference today came from the poor quality of his drop shots, which were "that high"…

End of quote…!

I was leading 2/0 quite easily, then a bit of complacency, because I found it easy to start with, and I made a few mistakes. Then his confidence went right up, and the next thing you know, he's got a game, and is right back in there. And I had trouble coming back!

I've just started training full time and also coaching. So I'm going to see how it is going this year, and then probably go on the tour next year, and see from there…

Rory Pennell
TENACIOUS JAMIE…


Jamie Matthews bt Issa Kamara
11/5, 11/1, 11/13, 5/11, 11/8

Jamie Matthews is one of those lads I've seen around forever. I think the first time was about 3/4 years ago in Wimbledon. A very quiet young man, with a hearing aid, a bit too slim for his height, obviously having grown a bit too fast…

Cut to a few years later, and he is still quiet, he still can't hear much of my French blathering, but can he hit that ball… He was up quite comfortably 2/0, got match ball in the third, Issa Kamara saved it with a splendid nick, and young Jamie's concentration seemed to go right out of the window.

After he took the third, Issa took an awful long time to come back on court, and announced right away that he was suffering from back spasms. Taking a little time between games, the Esporta based player got three minutes in the middle of the fourth, but was still able to clinch the game, forcing a decider.

Issa seems to dwell on long rallies, and adores up and down the wall shots, doesn't mind lengthening rallies as he's got the fitness to hold them, and the precision to get the point in the back. Jamie got sucked up into his game, whereas the boy's game would be more of a hitting and playing short kind of squash.

There was nothing to separate the two until 8/8, when Jamie suddenly accelerated the pace and got in some lovely backhand kills, and ended the match on a stunning crosscourt winner. His parents were over the moon, and very proud…

Shahid Khan bt Alan Thomson
14/12, 11/7, 7/11, 11/8

I've played Alan about three or four times, and this is the best he's ever played against me.

He was very quick tonight and moving well, and I had to play a lot of nicks and drop shots to move him round, and it worked…

Tomorrow, I'm playing Joey, and I'm actually looking forward to it, as Joey and myself are quite good friends, and I always wanted to play him…

Shahid Khan

Graham Melvin bt Humberto Mesquita
11/6, 11/9, 11/9

I'd never played him before, so I didn't know what to expect.

I started pretty well in each game, but as his game is up and down, and the rallies are very short, whit a very fast tempo, it's very hard to get into any kind of rhythm.

I'm glad to get through 3/0, and to have been able to knuckle down the important points…

Graham Melvin



| | | | |
| --- | --- | --- | --- |
| | | | |
Colets Open 2006
1st Round
Fri 14th
2nd Round
Fri 14th
Quarters
Sat 15th
Semis
Sat 15th
Final
Sun 16th
[1] Adrian Grant
11/5, 11/9, 11/2
Peter Creed
Adrian Grant

11/8, 12/10, 11/9

Steve Coppinger
Adrian Grant

11/7, 10/12, 11/6, 11/6

Stacey Ross
Adrian Grant


11/3, 8/11, 11/7, 12/10


Simon Parke

Simon Parke

11/9, 7/11, 11/7, 11/5




Alex Gough

Steve Coppinger
11/9, 6/11, 11/4, 11/9
Danny Meddings
Ritwik Bhattachayra
11/4, 11/8, 11/4
Chris Hall
Ritwik Bhattachayra

11/8, 11/8, 11/7

Stacey Ross
Tom Richards
9/11, 11/6, 11/4, 6/11, 11/4
[5/8] Stacey Ross
[5/8] Ben Garner
11/2, 11/5, 11/5
Philip Nightingale
Ben Garner

11/9, 8/11, 12/10, 11/9

Daryl Selby
Daryl Selby

11/9, 10/12, 11/4, 11/1

Simon Parke
Rory Pennell
11/1, 11/6, 11/3
Daryl Selby
Alex Stait
11/7, 11/7, 11/9
[LL] Chris Truswell
Alex Stait

11/6, 12/10, 5/11, 4/11, 11/5

Simon Parke
Kris Meadows
11/3, 11/2, 11/4
[3/4] Simon Parke
[3/4] Joey Barrington
11/5, 9/11, 11/1, 16/14
Shahid Khan
Joey Barrington

11/7, 11/4, 12/10

Ben Ford
Joey Barrington

9/11, 11/5, 11/5, 11/7

Scott Handley

Scott Handley

9/11, 11/6, 11/13, 11/2, 11/6


Alex Gough

Martyn Ballands
w/o
Ben Ford
Paul Davis
11/2, 11/8, 11/8
Graham Melvin
Paul Davis

8/11, 11/7, 11/2, 11/5

Scott Handley
Jamie Matthews
11/2, 11/8, 11/1
[5/8] Scott Handley
[5/8] Stephen Meads
11/8, 11/7, 11/6
Clive Ewins
Stephen Meads

11/4, 11/8, 11/4

James Robbins
Stephen Meads

11/2, 11/7, 11/6

Alex Gough
James Robbins
9/11, 11/8, 11/7, 15/13
Nick Staunton
Tim Vail
11/9, 11/8, 11/9
Mike Pearson
Tim Vail

10/12, 11/2, 11/9, 6/11, 11/5

Alex Gough
Joe Lee
11/9, 10/12, 11/2, 11/5
[2] Alex Gough
Men's: £5,000
Women's: £2,000

Men's Qualifying : Thursday 13th April

Peter Creed bt Alan Clyne 6/11, 12/10, 11/6, 8/11, 12/10
Steve Coppinger bt Alex Ingham 11/8, 11/4, 11/5
Danny Meddings bt Jamie Macaulay 11/4, 11/3, 11/5
Chris Hall bt Mike Semprucci 11/6, 11/7, 11/3

Tom Richards bt Neil Hitchens 11/5, 11/9, 11/4
Phil Nightingale bt Will Newman 11/4, 8/11, 11/8, 11/4
Daryl Selby bt Jean-Paul Bragard ?? (played early)
Rory Pennell bt Andre Texeira 11/6, 11/9, 5/11, 11/9

Shahid Khan bt Alan Thomson 14/12, 11/7, 7/11, 11/8
Paul Davis bt Paul Rawden 11/5, 11/2, 11/5
Graham Melvin bt Humberto Mesquita 11/6, 11/9, 11/9
Jamie Matthews bt Issa Kamara 11/5, 11/1, 11/13, 5/11, 11/8

Clive Ewins bt Neil Baker 11/5, 11/4, 11/3
James Robbins bt Theo Woodward 11/8, 3/11, 11/7, 11/6
Mike Pearson bt Dean Newberry w/o
Joe Lee bt Chris Truswell 11/8, 12/14, 11/9, 15/13