Qualifying Day One

Alan Thatcher reports, Photos and Interviews by Fram

Welcome to Wimbledon Rackets and Fitness Club for the qualifying competition that leads to four coveted places in the first round of the ISS Canary Wharf Classic on Monday.

As well as a host of rising stars, we have a fascinating Golden Oldies encounter coming up later today featuring Italian Davide Bianchetti and Kent's Silver Fox Ben Ford.

Robbie Temple (Eng) bt Rory Pennell (Eng)
11/5, 11/8, 12/10 (48m)
The first winner of the day was Robbie Temple, who overcame fellow English hopeful Rory Pennell in straight games less than 24 hours after flying home from Calgary.

The third game was tight and Pennell led for much of the way through until the closing phase. Pennell raced out to 4-0 before Temple strung together five points in a row. Pennell hit back to lead 8-6 and 9-7 but back came Temple to force the tiebreak and win it 12-10 to clinch the match.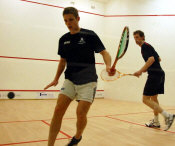 Rory played really well today, heís got a very strong forehand.

I felt good today, physically, considering I only came back from Canada yesterday, but still a bit tired, and I was mentally in and out a bit. In the old days, I would have hit more winners, and more tins!

Iím not trying to change my game, I learning to winÖ Iíll always be going for winners, itís part of my game, but tactically, Iím getting more astute I believe.

In Canada, I played well, itís a bit unfortunate I didnít do better, but itís comingÖ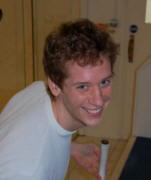 I made a few silly errors, in the third for example, Iím up 9/8, an easy shot, simple, and I tin it.

Wasnít really comfortable today, I couldnít go up the court, I didnít volley as much as I wanted to, but then again, he wouldnít let me!

This year, my goal is really simple, trying to play some good squash, and win! More seriously, Iím focusing on consistency, as it seems to be one of my main issues.



On the adjacent court, Eddie Charlton was struggling to cope with the skills of young Egyptian Karim Abdel Gawad, who won 3-1.
Karim Abdel Gawad bt Eddie Charlton
9-11, 12-10, 11-4, 11-8 (54m)
Charlton took the opening game by a narrow 11-9 margin but Awad clinched the second on a tiebreak, 12-10. The young Egyptian's racket skills shone brightly throughout the third game and he eased home 11-4.

Charlton struggled to concentrate at the start of the fourth and mis-hit two service returns before working his way back into the match. He led 8-7 in the fourth but Awad won the final four rallies to clinch it 11-8. He meets Temple in tomorrow's qualifying finals.
For the first two game, Eddie played really well, and I just couldnít find any answers, I was out of strategy. And in the second, I was up 8/4, I lost concentration as wellÖ

From the third onwards, I was able to play a better squash, I got more confident. But Eddie played really well today, it was the first time I saw him play, he is a good player.

Iím still studying at Uni, I have three more Business years to do. Normally I play squash in the morning, and study in the afternoon. But last month, I just didnít have the time to play squash at all! I know thatís not the way to do it, but hey, you donít just do what you want sometimes!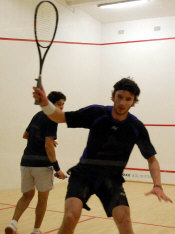 I seem to switch off in patches, and at this level of game, you canít really afford that. In the third I got really tired physically, but in the fourth, I thought I still haa a chance of winning, I felt better.

At 8/8, he gets a lucky nick at the back, to go 9/8, that was a bit fortunateÖ But he really played well, his forehand boasts in particular were lethal today.

Still, frustrating, one of those matches, nearly but not quiteÖ


Davide Bianchetti (Italy) bt Ben Ford (Eng)
11-5, 11-6, 11-8 (44mn)
Italian Davide Bianchetti overcame Kent's Ben Ford to move one place closer to a return visit to the glass court at the East Wintergarden.

He looked solid throughout the first two games but Ford looked dangerous at the start of the third. His silky racket skills helped him to open up a 5-2 lead before Bianchetti reeled off four points in a row to lead 6-5.

Ford levelled at 6-6 but Bianchetti managed to stay in front to close out the match.
I canít really be annoyed, as today was just one of those days, I think I played the right game, but just couldnít hit the ball well for some unknown reason! Weird, but it just happens. I felt fine, I was moving well, but still, couldnít play my game at all.
Davide played well, mind you I donít think he had to play that well to beat me todayÖ


I havenít retired yet, Iím only choosing carefully the events I play! I need to like the place AND it needs to be close! And thatís why Iím still enjoying the tour, I donít want to have to travel to places I donít enjoy, only to get points. I enjoy England, Sweden, IstanbulÖ

A few months back, I was playing a tournament in London, and I really felt out of it, really felt bad. So I thought, either I stop playing, or I find what/if something is wrong with me. So, did a lot of tests, and they found that I had an iron deficiency. I took some pills, and two weeks later, I was beating Golan, who I never beat before!

Now, back at my normal bad standard self, nothing special. And 99% chances are that Iíll stop playing at the end of this yearÖ



Henrik Mustonen (Fin) bt Adrian Waller (Eng)
6-11, 11-9, 11-8, 9-11, 11-6 (63m)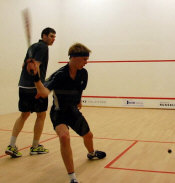 Waller wins first game 11-6. Mustonen levels after winning second 11-9. Mustonen wins third 11-6. Adrian wins fourth 11-9 to take it to five. 11-6 in fifth to Mustonen.

A battle all the way in the fifth. Neck and neck up to 5-5 then Mustonen wins four points in a row to make it 9-5. Two points from Waller then Mustonen reels in two himself to win it after 63 minutes. Mustonen meets Bianchetti tomorrow.
Campbell Grayson (NZ) beat Jonny Harford (Eng)
13-15, 12-10, 11-7, 11-7 (67m)
First game tiebreak 15-13 to Harford. Grayson began the game chopping and slicing the ball into the front corners, but Harford worked his way into the match by hitting a tighter length to cut out Grayson's opportunities to go short. He gradually turned it round and won on the tiebreak, 15-13.

Tough second game and another tiebreak, which Grayson wins 12-10. A few untidy mid-court collisions every few rallies. Grayson takes the third 11-7 to lead 2-1.

Harford leads 7-5 in the fourth but Grayson finishes strongly to win 11-7.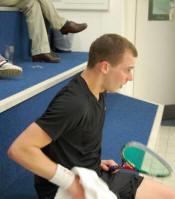 About four years ago, I broke an ankle, and it always stayed a bit fragile, I have all sorts of trouble with it. And in January, I had a bit of a freak accident, somebody hit me on the way to the ball, and my ankle got really bad again.

And just as I was recovering for that, I got really sick, and really couldnít do much for a couple of weeks.

I guess I should have pulled out of tournaments, but I had points to come out, so I still played, and had really bad results, not to mention a couple of close 3/2 losses that really damaged my confidence. In other words, February was a bad month!

But slowly, my ankle got better, by icing it really, and once I got back to England, the National League really helped me, I got a few good matches, 3/2, and that gave me my confidence back.

I wouldnít say I played well today, it was a bit of a struggle, and Iím really happy to get through. And well done to Jonny as well, he had hip surgery, and did very well to come back, I thought he played really really well today.



Matthew Karwalski (Aus) bt Jaymie Haycocks (Eng)
11-7, 11-9, 11-7 (30 mins)
Whole match over in 30 minutes here. Karwalski looked very comfortable out there. He attributes his excellent form to spending some time in Manchester, practising with Stewart Boswell.
If he gets through tomorrow, against Grayson, I bet he draws Bozza in the first round on Monday!
I had a slow start, Jaymie was playing well, and I had trouble with my lengthÖ

Iíve been training in England now for 6 weeks, Iím based in Manchester, and working with Boswell. Trainingís good, club is good, people are good, although itís a bit cloudy and cold!

I was lucky to get into Canary Wharf, I entered both Malaysia and this one, and I didnít get in Kuala Lumpur, but I was lucky enough to get into this one! Thatís the luck of the drawÖ

Everyone on the tour has been telling me that I lack consistency, and that I just donít have a clue of what Iím doing on a squash court, which is probably a pretty accurate description of my game. So, Iím really trying to play and find my game reallyÖ



Charles Sharpes (Eng) bt Laurence Delasaux (Eng)
11-6, 11-9, 11-8 (48m)
Charles Sharpes had to dig deep to beat Laurence Delasaux in an intensely physical encounter, with some superb touch play from both players.

As always, qualifying matches are brutal battles and Sharpes was puffing heavily as he chased down a variety of late chops, flicks and holds flowing from Delasaux's rackets.

The Yorkshire player's movement did not match his racket skills and Sharpes was rewarded for his willingness to run ... and run, and run. At the end of the match his face was several shades of pink and grey. But he's in the qualifying finals tomorrow. The pain has to be worth it.
Laurence has been in the top 60, so I can say this is the best win of my career. But itís so hard to play him, as he is such a good mate, but youíve kind of got to do it, and do the business.

Iím very happy with the way I played, I managed to keep him in the back corners, as he is so dangerous in the middle and in the front, and to keep it low. I was really happy with my game, Iím getting stronger!

I managed to win my second PSA a few days ago, Iím trying to get as much game experience I can, Iíve learned a lot on the PSA circuitÖ


Max Lee (Hkg) bt Chris Simpson (Eng)
11-9, 11-2, 11-8 (44m)
Max Lee meets Charles Sharpes after powering past Chris Simpson with a sustained spell of high-quality, attacking squash.
Lee plays fast, tight, controlled squash and attacks with some ferocity. He mixed soft drops with some stunning volley kills and, as hard as Simpson tried to match him, Lee was usually tighter when it mattered.

After a tight opening game, Lee dominated the second to win 11-1. Simpson fought back from 6-2 down in the third to level at 8-8, but Lee finished with a flourish, slamming a crosscourt nick to book his place in the qualifying finals.
I felt comfortable on court today, apart from the first game, where we were point for point, but from the second onwards, I was always two points ahead.

Iím extremely happy with the way I played, my length in particular was solid, accurate, and tight. Also, I was pretty strong mentally. When he was attacking, I just didnít smash the ball, I just tried to get back to volleying.

Iíve been training with Pete Genever for two and a half years, two months here in London, and then, two months back home with Dick Lau. Iím really working on improving my short game, on my consistency, as Iím not that sharp, Iím not Ramy or Shabana! So Iíve got to work on my basic game!!!


Max played so well today, whereas I just felt a bit short. Apart from the second game, I was able to come back into it in patches, but I was not fast enough, not onto the ball enough.

I had some good results this year, and what makes it even more frustrating is that I really felt great in training recently! But itís a bit every time like that, when I feel good before a tournament, I play really badly, and when I feel really bad, not hitting the ball well at all, I have the best tournaments!

His shots were winners, my shots were errorsÖ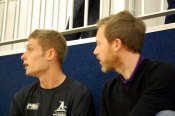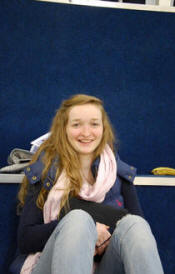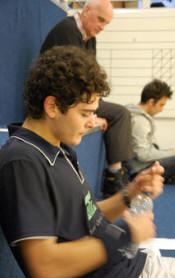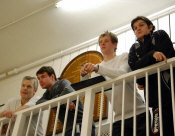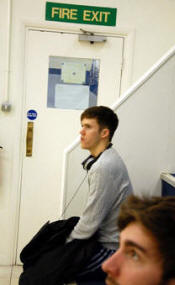 Physically I really felt OK, even in the 4th game, where I took an awfully bad start, 4/0 down.

It's just that sometimes, I play silly shots, or don't take my space to play my shots, and play the ball in the wrong position, making a lot of errors.

But from 9/4, I played a few good rallies, and I realised I still have a chance to win that game.

And I decided to make him work a lot. At 9/9, I relaxed a bit, but it doesn't matter if I lost that game, because I made him work hard, and I think it gave me the edge in the decider.

I played Davide back in October, in Ireland, and I managed to squize a tight 3/0 game. But recently, he has had a few good results, and that court is really rewarding, his shots are going to get in, so I'll have to play at my best if I want to win. It's going to be interesting!!!