Fri 27th Mar, FINAL

[1] Nick Matthew (Eng) 3-0 [4] Simon Rosner (Ger)
11/4, 11/9, 11/7 (55m)

Nick Matthew won a fifth Canary Wharf title, stopping the run of Simon Rosner, who was aiming for a third successive upset win over an Englishman ...
Matthew bags a fifth
Joel Durston reports

Nick Matthew bagged his fifth Canary Wharf title, beating Simon Rosner in a heavyweight battle full of ferocious hitting and frenzied rallies.


The scoreline might suggest it was a fairly routine win against a lower-ranked opponent - it was anything but.

Rosner brought his A-game, which had already seen him beat James Willstrop and Peter Barker this week, but Matthew had an answer for everything the German "treechopper" could throw at him.

At times, it was like watching a prize fighter take punch after punch on the ropes and not only recover but have enough composure to land several haymakers of his own.

Not to say he was merely counter-punching - in the pivotal second game, he hit seven winners to just one error - something Rosner credited afterwards.


The Wolf flew out of the blocks, to the extent that when he made his first error, at 7-1 up there was an audible note of alarm in the crowd.

He drew gasps from the crowd with some gut-ripping retrievals. After losing one such point Rosner, who displayed fantastic movement himself, was looking to the skies, presumably thinking what must I do to beat this man.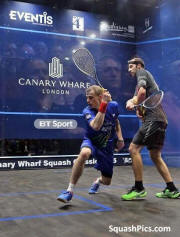 Matthew took the first 11-4 and went three points up in the second. Rosner fought back with some ferocious hitting, but the Yorkshireman dealt with the onslaught and took it 11-9.

Then the intensity rose yet another level at the start of the third, with the rallies drawing several "oohs" and "aahs" from the packed-house crowd, before Matthew pulled away at 4-4 to make it 9-5.

Rosner pulled it back a bit, to the delight of the crowd who wanted more - but, as Rosner said, Matthew was "just too good on the day", sealing the win 11-7.

Matthew said: "I've enjoyed this tonight. It's amazing to win this title for the fifth time.


"It's a great venue. This is where you want to be playing squash.

"I had one of those moments here two years ago where I was looking around wondering why I wasn't enjoying it. Because I was thinking you should be enjoying it.

"That makes you appreciate it even more. It was just brilliant.

"I feel a bit guilty because two years in a row I've been the only person in the building that doesn't want it to go to a five-game match. So apologies for that!"


Wildcard shootout: Ben Coleman bt Lyell Fuller


CW Square Mile Grand Final

Credit Suisse bt Accenture 2-1
Aaron Robson 0-3 Nick Sutcliffe
Jonathan Machin 3-1 Neil Waller
Mark Borton 3-2 James Pearson

Credit Suisse claim their third title in four years, having won in 2012 and 2013.