Semi-Finals:

[1] Nick Matthew (Eng) bt [3] Peter Barker (Eng)
8/11, 11/7, 11/5, 9/11, 11/3 (94m)

[2] James Willstrop (Eng) bt [4] Mohamed El Shorbagy (Egy)
11/6, 8/11, 11/5, 11/5 (61m)

more from Alan on the BLOG
English rivals Matthew and Willstrop
to clash in Canary Wharf final
Alan Thatcher reports

Bitter rivals Nick Matthew and James Willstrop will clash in the final of the Canary Wharf Classic after negotiating physically challenging hurdles in the semi-finals.

In two pulsating semi-finals before a sell-out crowd at the East Wintergarden venue, Matthew took 83 minutes to overcome England team-mate Peter Barker, the number three seed.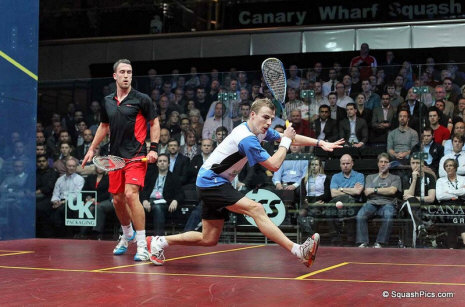 Willstrop then withstood a ferocious onslaught from hard-hitting Egyptian Mohamed El Shorbagy before winning 3-1 in 61 minutes, his shortest match of the week after two brutal battles against Saurav Ghosal and Tarek Momen.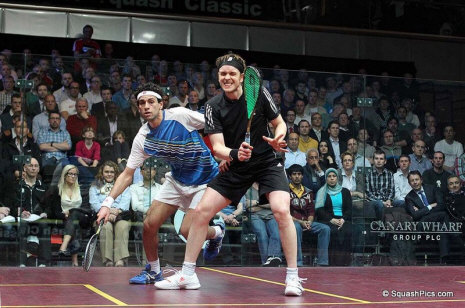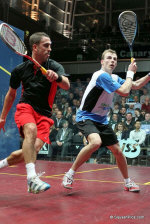 In a repeat of last year's final, Matthew started slowly against a determined Barker but fought back to gain control of the match after losing the opening game.

He quickly built a substantial lead in the second game but from 7-1 up he had to withstand a sustained fightback from Barker before drawing level.

He stayed in front throughout the third but Barker launched another massive onslaught in the fourth to win it 11-9.

The crowd were willing the Essex player to maintain that form in the fifth but Matthew showed class and composure to power ahead from 3-3 to win the match without dropping another point.
"There are very fine lines between winning and losing and Peter came out strongly in the first game, like he always does.

He did the same in last year's final and I was very pleased and relieved to get through.

"After beating the two local favourites on consecutive days [Daryl Selby yesterday and Peter today] I hope the crowd will give me a bit more support in the final."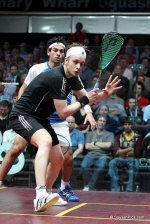 Willstrop began solidly against a nervous-looking opponent. Shorbagy, the 21-year-old world number eight from Alexandria, struggled to find his rhythm but after losing the first game he stepped up a gear to win the second.

He mixed powerful drives and volleys with some adventurous angles and a creative touch at the front of the court.

Willstrop then stamped his authority on the match, imposing a disciplined framework that eventually strangled Shorbagy's attacking opportunities after some phenomenal rallies requiring immense physical commitment.

The Leeds-based Willstrop, who has won three Canary Wharf titles, controlled the third and fourth games and moved to match ball with a floated length that Shorbagy failed to scrape off the side-wall.

That one shot illustrated Willstrop's dominance as he advanced to his fifth Canary Wharf final.
"Shorbagy has so many different ways of attacking you. He has won two World Junior Open titles and has moved into the top eight in the world, which shows how quickly he has adapted to the playing at the highest level.

"I am delighted to be in the final and have clocked up many hours and miles on court this week."

Willstrop's day had begun with a BBC Radio Four interview on the Today programme, where he spoke about his recently-published book, Shot And A Ghost, and squash's bid for a place in the 2020 Olympics.


"Tournaments like these, in a fantastic venue and with capacity crowds all week, showcase what a brilliant product we have, one which is absolutely perfect for the Olympic Games.

"The improvements in the TV production are superb, and it is bitterly disappointing that we are not to be involved in the 2012 or 2016 Games.

"Our tournament hotel is in Stratford, right next to the Olympic Park, and that makes it even more galling for us.

"But we will keep plugging away and I sense a groundswell of optimism that squash will finally win a deserved place in the 2020 Olympics."



They meet again ...

World champion Matthew and world number one Willstrop will meet for the third time this year – all of them finals - with Matthew winning both marathon encounters in New York and Manchester.

Matthew holds an astonishing psychological advantage, having won their last 19 matches. Willstrop's last victory was in the 2007 final of the English Open in Matthew's home city of Sheffield.

Willstrop said: "Everyone knows about the rivalry and if it gains media coverage for the sport then it is a good thing. Nick and I have an enormous respect for each other but he has enjoyed a long winning run and I want to do something about that in the final."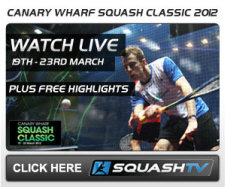 the B I G Canary Wharf Interviews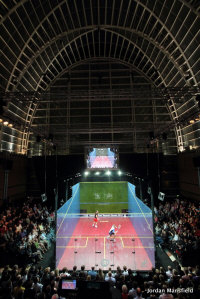 AS IT HAPPENED...


"Peter was the better player tonight, I got a bit lucky in the end" stated Nick at the end of the match. Well, I wouldn't go that far Nick, but it is true that Peter played like a man on a mission. I've noticed that often, players coming back from injury are just so hungry, so happy to be able to play again.

I've seen it with Nick and Greg in particular. And Peter well, a bit match short, probably lacked a bit of energy in the 5th, but I wouldn't be surprised if we would to see a great season from the Londoner...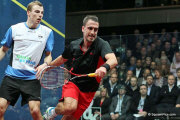 About the match, well, it was a brutal match, played by two respectful players, but that didn't give each other anything for free!

Every point was a battle. It was about attacking and a lot of retrieving, and making the court as big as possible for the other. First game, rallies were very long, then the ball soften, and rallies only came back on the lengthy side in the 4th - both first and fourth both won by Peter...




The fifth, like I said, was a clinical display from the World Champion, Peter lacked a bit of oumfp like I said, but I'm proud that Peter didn't lose his focus tonight at all, kept it zipped, didn't get into arguments with the ref. That's excellent news...

"I'm relieved", said Nick at the end. You bet.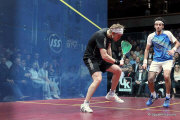 Now, for James v Baggy... The Egyptian had to take James out of his comfort zone, and couldn't do it well enough. He did push the world number one in the second, but James never panicked, and kept on with the patience, the accuracy, and the stunning shot selection.

Mohamed, too often, couldn't find his length, offering James some lovely shots to attack...




James showed tonight why he is at the top of the game tonight, controlling and absorbing one of the most talented coming up players of the moment.

But Mohamed is improving, he is not far off. Let's bring the top English Boys tomorrow...

Will you be watching? We'll certainly will.