European Individual Championships 2007
13-16 June, Royan, France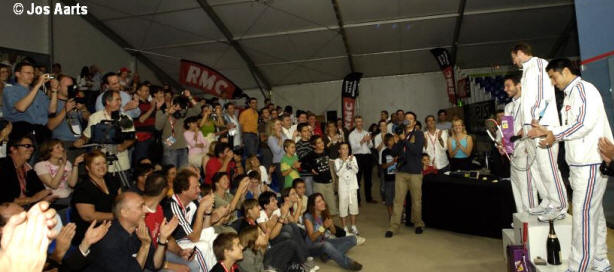 Finals & Playoffs: Men's Draw Women's Draw

Finals:
[2] Jenny Duncalf (Eng) bt [1] Tania Bailey (Eng) 9/5, 3/9, 9/7, 9/5
[1] Gregory Gaultier (Fra) bt [5/8] Renan Lavigne (Fra) 9/0, 9/1, 9/1

3rd/4th:
[3/4] Isabelle Stoehr (Fra) bt [3/4] Annelize Naude (Ned) w/o
[2] Thierry Lincou (Fra) bt [3/4] Peter Barker (Eng) 9/1, 9/7, 9/1
Jenny & Greg ... still the champs



It was an all-English final, with defending champion Jenny Duncalf facing her higher-seeded compatriot Tania Bailey. When they met in the British Nationals Jenny's win ended Tania's reign, but she didn't allow the tables to be turned today as she retained her title and collected another gold medal.

For Gregory Gaultier a fourth European title beckoned, and it came quickly enough, with fellow Frenchman Renan Lavigne unable to repeat his heroics of the previous two days.
SiteSquash.com Quote Box
"I took a terrible start in the first, 5/0 down, but I seemed to have had the same start in my last three matches !

"Tania and I were set on getting to the final, it was very important to us, so that was achieved.

"Also, I'm very glad to keep my title, two years in a row now, but also very happy to beat Tania in the final..."


"Tactically, I played well today, I could feel he was very tired from his week, so I tried to push him in the first. He played very well in the game, stuck with it, but after that, he didn't have much left.

"I played better than yesterday, as yesterday I was forcing my shots, I had to hit very hard, whereas today the shots were more fluid, more natural.

"I'm glad we had an event like that in France, and the immense success shows that we have the resources to host more and more events of the kind...."


| | |
| --- | --- |
| | |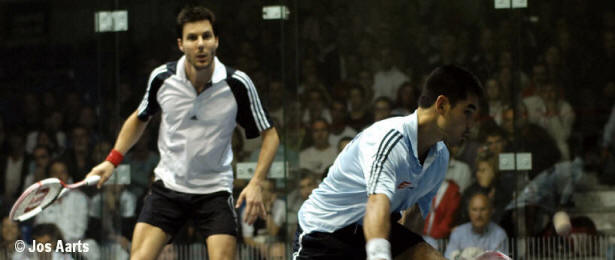 Semi-Finals: Men's Draw Women's Draw

[1] Tania Bailey (Eng) bt [3/4] Isabelle Stoehr (Fra) 9/4, 9/3, 9/7
[2] Jenny Duncalf (Eng) bt [3/4] Annelize Naude (Ned) 9/7, 9/1, 9/2

[1] Gregory Gaultier (Fra) bt [5/8] Peter Barker (Eng) 2/9, 9/2, 9/1, 9/5
[5/8] Renan Lavigne (Fra) bt [2] Thierry Lincou (Fra) 6/9, 9/5, 0/9, 9/2, 9/3

As Expected ... sort of

As expected, both champions will defend their titles tomorrow, and one French and one English winner is guaranteed. Except that it didn't quite go entirely to plan ...

The women's final will be between England's top seeds Tania Bailey and Jenny Duncalf. Bailey started well, then held off a strong challenge from local favourite Isabelle Stoehr, coming from behind in the third to seal a straight-games win.

Defending champion Duncalf did it the other way round, overcoming a first-game deficit before going on to comfortably take the next two against Annelize Naude.

The men's title is guaranteed to stay in French hands for the fourth successive year, but three-time champion Gregory Gaultier faces unexpected opposition in the final.

On fire in the quarter-finals, Gaultier took his time to get going tonight, but the first game was all that England's Peter Barker could muster.

Renan Lavigne scored what was probably his best-ever win in the quarters in beating Nick Matthew, but that was a short-lived record as he won another five-game tussle, this time against second-seeded compatriot Thierry Lincou.

Renan was on the podium last time in Budapest, in third place. He's guaranteed at least one better tomorrow ...
| | |
| --- | --- |
| | |
SiteSquash.com Quote Box
"In the third, she played very well, and when she is, she is very difficult to beat, and if you give her anything in the racquet, she is very dangerous but recently, Iíve been playing well, so I knew that if I was to play well and move well, I was going to be able to win.

"It will be ok for my ankle, it just went under me, and it went on going when it should have stopped! The bandage is there to prevent too much movement and also the swelling."


"Yes, Iíve changed my game, I attack more, but I didnít have the choice really, the game is faster, the players are attacking much more, and there is no other way to challenge them.

"Also, it used to take me too much energy to get rid of the players that were below my level, and I didnít have enough left in the tank to threaten the top guys.

"In the third, I was a bit tired, but so was he at times, letís face it, none of us is actually that fit at the moment, and there were some waves of tiredness that would overcome us at some time or another.

"Iím playing well at the moment, my aim is to reach the top 10 soon, and I feel now that Iím capable, instead of just hopefulÖ"


"Iím shared between my happiness of winning and my sadness of seeing Thierry losing, he is such a great champion, and itís unusual to see him lose like that.

"In the third, I thought to myself that he was just too good, itís not that I was playing badly at all, he was just above me.

"But in the fourth, I took an excellent start, and that was I think the turning point. In the fifth, I played one point after the other, Thierry never let go, but I just went for shots I do not normally go for, and everything went inÖ"


| | |
| --- | --- |
| | |
An All-French Podium?

From what we hear a lot of the scheduled playoff matches are being conceded, and while some matches are taking place we have no news of draws or results (maybe at the end of the event, fingers crossed).

But, should Thierry Lincou play and beat Peter Barker in the men's 3rd/4th place match we'll be looking at an all-French podium, which would no doubt make for a noisy closing ceremony.

A fourth medal could be France's too, with Isabelle Stoehr (who took the bronze in Prague last year) due to meet Annelize Naude in the women's 3rd/4th place match.

LATEST: Stoehr bt Naude, walkover.

14-Jun, Day Two:
So close for Balbo & Tenant,
but Renan does the trick ...

A busy day in Royan, with two rounds in both events which left just four men and four women still in contention - and four from hosts France.

On court all went to plan in the morning session as the top eight seeds in the men's and women's events all went through to the quarter-finals.

Two Frenchmen almost created stunning upsets against their English 3/4 seeded opponents though, as Julien Balbo came from two games down to push Nick Matthew to a decider, and Romain Tenant took a 2-1 lead over Adrian Grant before subsiding in the final two games.

So the men's quarter-finals featured three Frenchmen and three Englishmen, while it was the Dutch who provided a trio in the women's quarters.

True to form, the first quarter-final featured a Frenchman and it went to five. This time though there was no escape for Matthew as Renan Lavigne carried it through to create a stunning upset against the world number eight, surely one of Renan's beat wins, and he now meets Thierry Lincou in an all-French semi-final.

The all-English quarter-final produced an upset too, as Peter Barker ended Adrian Grant's challenge in straight games. Barker now meets three-time champion Gregory Gaultier, whose match against LJ Anjema concluded the day's play as midnight approached.

No upsets in the women's quarters, with the top four seeds all comfortably through with top seed Tania Bailey and defending champion Jenny Duncalf still on course for an all-English final.



Glass Court Floored

The first match on the glass court today was the all-French affair between Thierry Lincou and Mathieu Castagnet. With Lincou leading two-nil, the second seed was simply walking in between points when there was a loud crack as one of the glass floor panels broke ...

Play was suspended and the remaining first session matches scheduled for the glass court were moved to the Espace Club. Meanwhile a new panel was ordered from Germany, which it is hoped should be available for the final, and in the meantime a wooden panel is being installed to get play going again as soon as possible.
Men's Quarters:

Gregory Gaultier bt Laurens Jan Anjema
9/0, 9/1, 9/3
Peter Barker bt Adrian Grant
9/0, 9/3, 9/6
Renan Lavigne bt Nick Matthew
7/9, 9/6, 9/6, 5/9, 9/7
Thierry Lincou bt Borja Golan
3/9, 9/1, 9/7, 10/8

Women's Quarters:

Tania Bailey bt Pamela Pancis
9/0, 9/2, 9/2
Isabelle Stoehr bt Orla Noom
9/1, 6/9, 9/0, 9/2
Annelize Naude bt Annabelle Romedenne
9/3, 9/4, 9/6
Jenny Duncalf bt Margriet Huisman
9/7, 9/0, 9/0
13-Jun, Day One:


EIC under way in Royan


No sweat for top eight ...



The first day of action in Royan started with the men's and women's qualifying rounds. There were quite a few quick matches, as expected, with only one of the men's matches going beyond three games, while the Czech Republic's women's representatives were all involved in tight, long struggles.

Zuzana Vackova and Olga Ertlova both won in four, but in the longest match of the day France's Charlotte Delsinne denied the Czechs a hat-trick as she edged past Jana Smeralova in five games.

The men's first round took place in the evening, split between the Espace Squash Club and the Glass Court, which is housed in a huge tent in the centre of town, near the beach and the local stadium.

France's top seeds Gregory Gaultier and Thierry Lincou returned to action after injury layoffs, both recording comfortable wins, and while the rest of the top eight seeds all came through easily enough, Swede Gustav Detter and two Frenchmen, Romain Tenant and Mathieu Castagnet, scored upset wins over 9/16 seeds.

Full day one results
European Individual Championships 2007
MEN'S DRAW
Round One
13-Jun
Round Two
14-Jun
Quarters
14-Jun
Semis
15-Jun
Final
16-Jun
[1] Gregory Gaultier (Fra)
9/1, 9/0, 9/3
Nicolay Angelov (Bul)
Gregory Gaultier
9/6, 9/0, 9/2
Tom Hoevenaars
Gregory
Gaultier

9/0, 9/1, 9/3

Laurens Jan Anjema
Gregory
Gaultier


2/9, 9/2, 9/1, 9/5

Peter
Barker

Gregory
Gaultier

18.00
GC

Renan
Lavigne

Aqeel Rehman (Aut)
9/7, 7/9, 9/4, 2/9, 9/7
[9/16] Tom Hoevenaars (Ned)
[9/16] Simon Rosner (Ger)
9/6, 9/0, 9/5
Gregory Lecerf (Bel)
Simon Rosner
9/4, 9/2, 9/3
Laurens Jan Anjema
Domagoj Spoljar (Cro)
9/1, 9/2, 9/3
[5/8] Laurens Jan Anjema (Ned)
[5/8] Peter Barker (Eng)
9/1, 9/1, 9/0
Petros Tzamaloukos (Gre)
Peter Barker
9/2, 9/0, 9/6
Gustav Detter
Peter
Barker


9/0, 9/3, 9/6

Adrian
Grant
Gustav Detter (Swe)
9/3, 9/7, 10/8
[9/16] Jean-Michel Arcucci (Fra)
[9/16] Badr Abdel Aziz (Swe)
8/9, 9/1, 9/1, 9/2
Romain Tenant (Fra)
Romain Tenant
8/10, 9/4, 5/9, 9/0, 9/0
Adrian Grant
Petr Martin (Cze)
9/2, 9/3, 9/0
[3/4] Adrian Grant (Eng)
[3/4] Nick Matthew (Eng)
9/5, 9/0, 9/0
Alexy Severinov (Rus)
Nick Matthew
9/6, 9/4, 4/9, 8/10, 9/4
Julien Balbo
Nick
Matthew


7/9, 9/6, 9/6, 5/9, 9/7

Renan
Lavigne
Renan
Lavigne

6/9, 9/5, 0/9, 9/2, 9/3

Thierry
Lincou

Patrick Gaessler (Ger)
w/o
[9/16] Julien Balbo (Fra)
[9/16] Mark Krajcsak (Hun)
9/0, 9/1, 9/2
Roman Fetisov (Rus)
Mark Krajcsak
5/9, 9/1, 9/4, 9/0
Renan Lavigne
Ivan Djordjevic (Ser)
9/0, 9/3, 9/1
[5/8] Renan Lavigne (Fra)
[5/8] Borja Golan (Esp)
9/4, 9/0, 9/2
Marek Manik (Svk)
Borja Golan
9/7, 9/4, 9/0
Dylan Bennett
Borja
Golan


3/9, 9/1, 9/7, 10/8

Thierry
Lincou
Jakob Dirnberger (Aut)
9/3, 4/9, 8/9, 9/2, 9/1
[9/16] Dylan Bennett (Ned)
[9/16] Christian Drakenberg (Swe)
9/4, 9/0, 3/9, 9/5
Mathieu Castagnet (Fra)
Mathieu Castagnet
9/4, 9/2, 9/3
Thierry Lincou
Petr Kviecinsky (Svk)
9/4, 9/1, 9/2
[2] Thierry Lincou (Fra)


Qualifying, 13-Jun :

Nicolay Angelov (Bul) bt Marlos Yiannou (Cyp) 9/4, 9/2, 9/1
Gregory Lecerf (Bel) bt Kostyantyn Rybalchenko (Ukr) 9/0, 9/0, 9/3
Domagoj Spoljar (Cro) bt Viktor Kovalchuk (Ukr) 9/1, 9/1, 9/0
Petros Tzamaloukos (Gre) bt Nicolas Paphtis (Cyp) 9/3, 4/9, 9/2, 9/1
Petr Martin (Cze) bt Pavel Opranenko (Ukr) 9/0, 9/1, 9/2
Alexy Severinov (Rus) bt Martin Kostolanski (Svk) 9/0, 10/8, 9/5
Roman Fetisov (Rus) bt Sebastian Viktor (Swe) w/o
Ivan Djordjevic (Ser) bt Sergey Kostrykin (Rus) 9/0, 9/2, 9/0
Marek Manik (Svk) bt Adam Beba (Ukr) 9/1, 9/0, 9/1
Jakob Dirnberger (Aut) bt Lukas Nikka (Pol) 9/4, 9/0, 9/5
Petr Kviecinsky (Svk) bt Igor Pejic (Slo) 9/0, 9/1, 9/4
| | |
| --- | --- |
| | |
European Individual Championships 2007
WOMEN'S DRAW

Qualifying


13-Jun
Round One
14-Jun
Quarters
14-Jun
Semis
15-Jun
Final
16-Jun

---

[1] Tania Bailey (Eng)
9/0, 9/0, 9/0
Birgit Coufal
Tania
Bailey

9/0, 9/2, 9/2

Pamela
Pancis
Tania
Bailey


9/4, 9/3, 9/7

Isabelle Stoehr

Tania
Bailey


17.00
GC




Jenny
Duncalf

[9/16] Birgit Coufal (Aut)
9/1, 9/5, 9/7
Laura Alonso (Esp)
[9/16] Celia Allamargot (Fra)
9/1, 9/5, 9/1
Vaso Karasava (Cyp)
Celia Allamargot
9/4, 9/4, 0/9, 9/3
Pamela Pancis
[5/8] Pamela Pancis (Aut)
9/1, 9/2, 9/0
Diana Leguss (Est)

---

[5/8] Orla Noom (Ned)
3/9, 9/6, 9/3, 9/6
Daniela Schumann
Orla
Noom

9/1, 6/9, 9/0, 9/2

Isabelle Stoehr
[9/16] Daniela Schumann (Ger)
9/1, 9/0, 9/2
Kate Ginchikova (Rus)
[9/16] Zuzana Vackova (Cze)
8/10, 9/4, 9/5, 9/2
Laura Pomportes (Fra)
Zuzana Vackova
9/5, 9/4, 9/3
[3/4] Isabelle Stoehr (Fra)

---

---

[3/4] Annelize Naude (Ned)
Annelize Naude
Linda Hruzikova
Annelize
Naude

9/3, 9/4, 9/6

Annabelle
Romedenne
Annelize
Naude


9/7, 9/1, 9/2

Jenny
Duncalf

Linda Hruzikova (Svk)
9/4, 9/4, 9/2
[9/16] Laurence Bois (Fra)
Olga Ertlova (Cze)
9/10, 9/4, 9/3, 9/1
[9/16] Anna Carin Forstadius (Swe)
Olga Ertlova
9/6, 9/2, 9/0
Annabelle Romedenne
Zdravka Marselova (Bul)
9/1, 9/1, 9/0
[5/8] Annabelle Romedenne (Bel)
Femke Ellens (Cyp)
9/4, 9/3, 9/1
[9/16] Soraya Renai (Fra)
Soraya Renai
9/0, 9/1, 9/4
[5/8] Margriet Huisman (Ned)
Margriet
Huisman

9/7, 9/0, 9/0

Jenny
Duncalf

---

Jana Smeralova (Cze)
9/3, 4/9, 9/4, 2/9, 9/6
[9/16] Charlotte Delsinne (Fra)
Charlotte Delsinne
9/0, 9/0, 9/1
[2] Jenny Duncalf (Eng)

---