TODAY in Herentals -
Sat 30th, Day FOUR:
Finals:

[1] Natalie Grinham (Ned) bt [3/4] Vanessa Atkinson (Ned)
9/11, 11/3, 11/5, 11/4 (35m)

[3/4] Thierry Lincou (Fra) bt [1] Gregory Gaultier (Fra)
12/10, 9/3 rtd (35m)


3rd/4th:
[2] Laura L-Massaro (Eng) bt [3/4] Isabelle Stoehr (Fra)
11/5, 11/8, 11/7 (23m)
[5/8] Laurens Jan Anjema (Ned) bt [2] Nick Matthew (Eng)~
w/o


Grinham takes debut win as
Lincou ends Gaultier's reign

We were guaranteed one Dutch and one French winner in Herentals, and it was 'new girl' Natalie Grinham and 'old boy' Thierry Lincou who took the spoils.

Grinham came from a game down to beat compatriot Vanessa Atkinson while Lincou inflicted Gregory Gaultier's first defeat in the event as the five-time defending champion retired injured during the second game.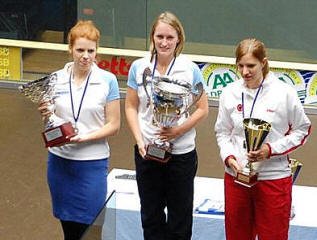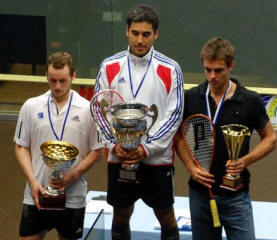 FUNNY DAY…
Framboise reports from Herentals

Well, not exactly funny ha ha, but weird…

First, Nick has a swollen ankle, and is not able to play 3/4th place against Keen and Dying to play LJ who gets a well deserved bronze medal, as he was probably the most motivated of all here.

Second, you have Isabelle who twisted her weak ankle (the one that prevented her from playing for France in several occasions) in the first game of her match for the bronze medal against Laura, who after her loss yesterday, really wanted to have a good game, win or lose, as she said.

So a tough match to play for both, as the French girl is still extremely dangerous with her racquet on one leg, and not too easy too watch, as there were hardly any rallies… Frustrating for Laura to win that way too, not the way she wanted it, I know that for a fact.

But funnily enough, it's the other matches that got all our attention, like the Flamboyant Italian Jose I told you about several times, that was battling for hours against Rasmus to finally take the match 3/2 (and finish 11th), a victory that he saluted with a loud "YEAAAAAAH" that I could hear all the way from the Press Room.

And what about Peter Barker, who had to work so hard against Dog with a Bone Renan Lavigne. The Englishman had several match balls in the third, but you know Renan, never giving up, after 76m of hard battle, the Frenchman takes it, 11/5 in the 5th… With a temperature of around 30°… Bless….

So, so far, the fun is in the wings. I'm sure that it will come centre stage in a little while, when the finals get on the way…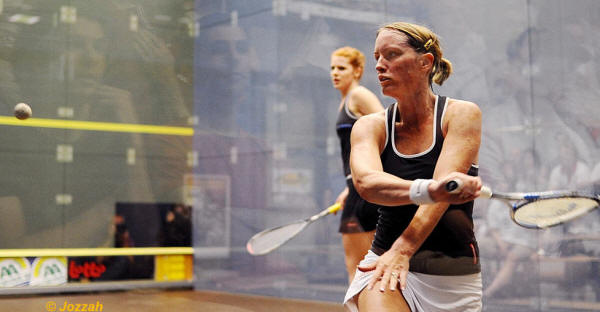 "I know I had to go out strong, because I knew from the last couple of times I played her, that I would struggle physically. She is 20kg lighter than I am, and fitter…

"She knows how to play me, even if it's not winners, she knows how to make me move constantly to the front…

"In the first game I was able to force errors from the back, but in the second I played stupidly, I still felt good from the first, and I took her too short too quickly, and from there, it was an uphill battle.

"She felt it, and kept moving me around, especially with her crosscourt shot, I felt like a big truck getting to them…!!!

"But I'm happy with my tournament overall, and not too disappointed with my match, I lost, but I know why, it's not rocket science…"



[1] Natalie Grinham (Ned) bt [3/4] Vanessa Atkinson (Ned)
9/11, 11/3, 11/5, 11/4 (35m)

NATALIE TAKES THE TITLE…

After a slow start from Natalie, five bad unforced errors from a top seed who seemed really not at her ease on there, with a Vanessa precise and accurate, it all changed dramatically.

Vanessa rushed to the front a bit in the second, while Natalie found that all that went in the tin in the first game were now becoming stunning winners. Vanessa lobbed when needed, found some lovely volleying, and ran a tremendous amount, but was getting later and later on the ball, therefore unable to apply any pressure on her opponent when we got in the middle of the third, 4/3.

From that moment on, the writing was on the glass wall I guess, and although Vanessa kept playing the right game plan, she covered probably triple the distance Nat did, saving a match ball at 10/3, but finally shaking her compatriot's hand at 11/4…



"I made a few errors at the start. First, it's all about getting used to the court again, getting the feel of it, but also, Vanessa played very well. Also, I was a bit edgy, but she was forcing me to play shots from positions I shouldn't have…

"I was a bit nervous, because I was out at the start of the year, I've been ill, so I'm still not that confident, I'm coming back into it slowly… Also, I'm still not that confident about the change of scoring. Before, I could be at 6/0 down, I was pretty confident I could come back, whereas now, if you don't take a good start, you are really in trouble…

"Yes, I like that backhand crosscourt drop shot, I know it's rather deceptive. I didn't really learn it, I don't know, I guess it comes from learning squash by just playing, and not being coached. So I would try and find ways to find ways of deceiving people on court…

"I don't know what makes me still want to compete at 31. First, I'm extremely competitive, and I always want to win, whatever I do, the minute I step on court, or play cards, etc.

"I still haven't won a World Title though, and this year it's in Holland so that's something I really want to achieve. And I haven't decided yet when I want to stop and try having kids. One thing I know, now is not the time, I'm not ready for it yet, I'm too busy…!!!

"I would like to thank ESF, the Flemish federation, all the event sponsors who made this competition possible. On a personal note, I would like to thank all my sponsors, the Dutch federation, and our National coach.

"Thanks very much to you all…"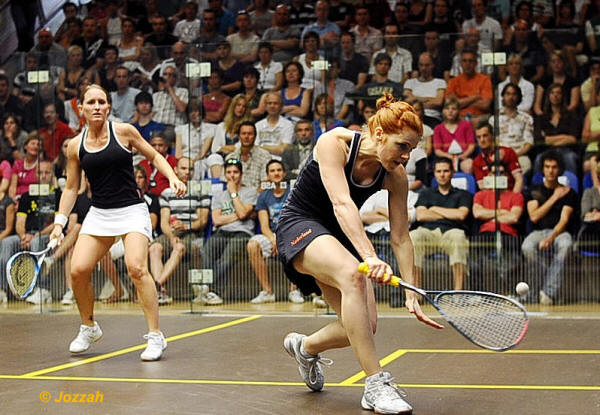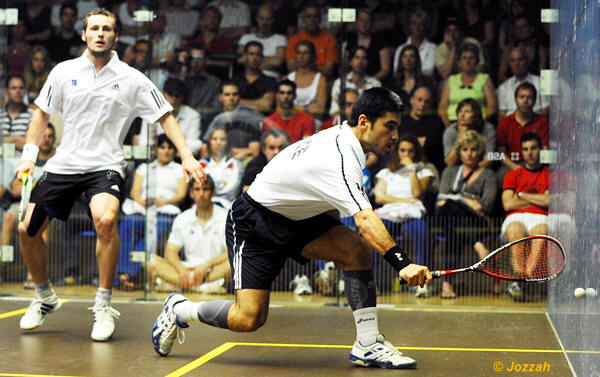 [3/4] Thierry Lincou (Fra) bt [1] Gregory Gaultier (Fra)
12/10, 9/3 rtd (35m)

BATTLE OF WILLS…

For once, I was able to sit in the middle of my compatriots to watch the match - normally I stay away to stay clear from any partial attitude I may develop, well I try anyway, give me that… And it was quite comforting to feel that French presence around me I must say, I don't know how to explain it…. And the players, coach, etc, of course, they help me to understand what is going on on there every time a bit better.

We all noticed that energy and testosterone was not exactly flowing during the warm up, I mentally thought, well, Greg is tired in the head, and Thierry in the legs. Obviously, in those circumstances, the first game was always to be crucial…

They didn't seem to hit too hard to start with, neither wanting to burn the few reserves they had left, but the more the match advanced, the faster the pace, the more precise the drives, and the attacks more damaging for the legs.

And it seemed to me that it was Thierry who was choosing where the ball was going 90% of the time, he seemed to direct the hostilities, although Greg still mixed his pace/shots/angles beautifully.

8/7 for Greg. A few massive rallies, four lets, crucial point, a big difference between 9/7 and 8/8. A last enormous rally, with both attacking and retrieving each their turn, but it's the Old Timer that finds the low drive kill that passes Greg.

Still, Greg gets the next two points, 10/8 game ball with quick winners, but he is a bit heavier in the legs and in the head than Thierry I feel. Another set of heavy rallies, and two lets, and again Thierry finds a winner on the backhand. 9/10. And in three shots, another kill at the front. 10/10.

There is something in Greg's face that tells me he won't get the next two shots. And in a few seconds, it's 12/10 for Thierry.

"I think that was a match ball," murmurs one of the spectators… And he was right. Thierry takes an excellent start in the second, but in fact Greg is not moving well at all. He clearly shows that he is suffering in the same place he did after the Super Series Finals, clutching the same muscle.

He still to tried to play a few rallies, but then just goes to Thierry and shakes his hand. It's all over…



"I would like to thank the organisers, the Hannes family, I've known them for a long time, since the juniors, and it's always nice to come here and see them…

"This was a great week for me, I was very keen to play here, maybe Greg wasn't as determined as I was today, and I was lucky in the final.

"But at 33, I didn't retire, I'm still here, and for that, I'm happy. And I'm happy to keep going a bit longer… and I hope we are all going to have a great party tonight…"