TODAY in Herentals -
Thu 28th, Day TWO:



Framboise reports
from Herentals:

Men's Round Two

Day Two in Herentals:
LJ gatecrashes the semis

It was two rounds of action for the men today, with the top eight men's seeds coming safely through the second round.

The women's quarter-finals also saw the top seeds moving into the semis as local favourite Kim Hannes' run came to an end.

The men's produced an upset though, and five-time champion Gregory Gaultier will face an unexpected semi-final opponent after LJ Anjema beat 3/4 seed Peter Barker ...

Men's Round Two - all seeds safely through

[1] Gregory Gaultier bt [9/16] Rasmus Nielsen 11/4, 11/2, 11/8 (31m)
[5/8] Adrian Grant bt [9/16] Dylan Bennett 11/9, 11/6, 11/5 (38m)
[5/8] Laurens Jan Anjema bt [9/16] Simon Rosner 11/4, 11/7, 11/5 (33m)
[3/4] Peter Barker bt [9/16] Rene Mijs 11/7, 11/6, 11/4 (38m)

[3/4] Thierry Lincou bt [9/16] Kristian Olesen 11/5, 11/2, 11/8 (25m)
[5/8] Borja Golan bt [9/16] Piedro Schweertman 12/10, 11/6, 12/10 (45m)
[5/8] Renan Lavigne bt [9/16] Jose Facchini 11/6, 7/11, 11/4, 11/5 (51m)
[2] Nick Matthew bt [9/16] Aqeel Rehman 11/8, 11/1, 11/8 (40m)





[5/8] Laurens Jan Anjema bt [9/16] Simon Rosner
11/4, 11/7, 11/5 (33m)

LJ STRONG AS EVER

LJ didn't play in the European Teams a few weeks ago because of an injury, and we were all looking forward to see him back. Well, he is. The Stunning Boy from Holland is back and well.

Fit as ever, patient and relentless as very few players can be, LJ impressed me today. He never went for the wrong tactical choice, and was able to weather Rosner's storm in the first game, who was trying to test him on the movement and fitness side it seemed.

But LJ stood strong, and from the end of the first game to the end, Simon was a bit in the red, I thought, going for shots without fixing his opponent in the back, opening the court or allowing him to counter attack easily, putting himself under even more pressure..

"I think that maybe I was a bit tired mentally, it's the end of the season. But still I thought we played some good rallies.

"Most of them, I was working very hard, the rallies were very disputed, but he was the one winning most of them. At the crucial moment, he was putting it away, and I was putting it in the tin!"


[5/8] Adrian Grant bt [9/16] Dylan Bennett
11/9, 11/6, 11/5 (38m)

ADRIAN PLAYED TIGHT…

He played well the Englishman today, Dylan told me. He played really well, and didn't give his opponent much. A fact confirmed by a few spectators who thought that Adrian was more or less in control for the whole match, that he was confident and steady.

Proof is that in the second, he went straight from 5/6 to 11/6 in one go, and not because the Dutch did anything wrong really. No, today, Adrian was just in charge..

"Today was way better, 1000 times better than yesterday, which was not hard! But I think that I probably opened the court a bit too much at crucial times, then again, I had to take my chances against him.

"I guess that what makes the difference between us and the top players, is the way they handle those crucial times, their experience, they are more steady when it comes down to the important points…"



[1] Gregory Gaultier bt
[9/16] Rasmus Nielsen
11/4, 11/2, 11/8 (31m)

"We played in the juniors but not since.

"Greg played so well today, he didn't give me an inch to play with, so tight, so accurate. In those conditions, it's hard to come up with a tactical plan…

"I had played some top guys before, of course, but Greg is really coming up with something special every time…"


[3/4] Peter Barker bt [9/16] Rene Mijs
11/7, 11/6, 11/4 (38m)

PETER PACED IT WELL

Pace. That's the word that came back when I asked people what they thought of the match between Peter Barker and Rene Mijs. "Rene wanted to play well, we could see he was trying his utmost best, but Peter's rhythm was just too high," a fan told me…

"Overall, it was OK, I'm not too unhappy with my game, but his pace, just too fast for me, I'm not used to it, and I'm not fit enough to keep it up with him all the way…

"Only thing I regret is that I was working very hard to set up opportunities, but I wasn't able to seize them really. I seemed to make the error each time…"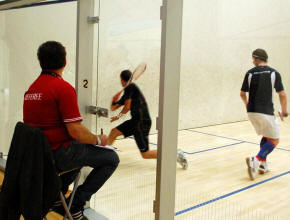 [5/8] Borja Golan bt [9/16] Piedro Schweertman
12/10, 11/6, 12/10 (45m)

BORJA A BIT UNSETTLED…

Spaniard Borja Golan is in the middle of his physical preparation at the moment I'm told, and basically, he is running a tremendous amount, but not doing much court work, and hasn't had much competition for a while, so he was not at his best today. The fact that his opponent, Piedro Schweertman was playing at his best, and up for it, didn't help I'm sure!!!!

Piedro was able to take advantage of the fact that Borja was playing a bit slower that he normally does, and was able to put the Spanish under a lot of pressure, both in the first game and in the 3rd.

Both those games could have gone either way really, Piedro had game ball 10/9 in the first, and was leading rather comfortably 9/5 in the 3rd, with another game ball 10/8. Unfortunately, Determined Borja took both games 12/10…

[5/8] Renan Lavigne bt [9/16] Jose Facchini
11/6, 7/11, 11/4, 11/5 (51m)

THE SMILING ITALIAN…

Looking at the Fiery Jose Facchini, I was thinking of a League team that would have had Davide Bianchetti, Jose, Abdel Aziz and Stéphane Galifi… And a cheeky smile came to my face I must say…

Those players, a bit too much for referees to handle sometimes, are so entertaining to watch. Vocal, loud even some would say, they bring a lot to the Squash circuit I dare say, and I can always see the little twinkle in their eyes as they are "testing" authority. I just hope we'll keep having great personalities around…

Today Renan had to be careful. Although he was meant to win, Jose was there to cause him as many problems as possible. And the Smiling Italian – he just smiles, like that, for nothing, as he is about to serve, and taking an awful long time to do so actually – was able to ask a few questions of PSA Vice President Renan.

Volleying a lot, taking the ball quite early, and lobbing well and at the right time, Jose put some real pressure on the French, but Renan is such a fit and experienced player, he just went on running, and running, and never got tired. Usual Renan stuff.

Still, this was so far the match of the day, I had a great time watching that encounter, the players were always fair to each other, the ref was up to the challenge, and the crowd, like me, was fully entertained. That's all what it's about…

"I made too many errors today, I was OK fitness wise, I just didn't play as well as I wanted to. Renan just kept the ball going and going, he doesn't take too much risk, and he is so experienced… I don't play that kind of player enough…"


Women's Quarter-Finals:

[1] Natalie Grinham bt [5/8] Camille Serme 11/8, 11/9, 9/11, 11/7 (45m)
[3/4] Isabelle Stoehr bt [9/16] Kim Hannes 11/0, 11/4, 11/8 (18m)
[3/4] Vanessa Atkinson bt [5/8] Manuela Manetta 11/9, 9/11, 11/9, 12/10 (46m)
[2] Laura L-Massaro bt [5/8] Annelize Naudé 11/8, 11/3, 11/6 (29m)
[1] Natalie Grinham bt [5/8] Camille Serme
11/8, 11/9, 9/11, 11/7 (45m)

CAMILLE COMING OF AGE

I don't think that Natalie expected such a strong performance at this stage of the competition, but I must say that my compatriot played out of her skin today. No pressure, she of course had very little to lose.

But what impressed me was not the nice shots she found, or the running she made. That, I'm used to. No, what was impressive is that she behaved as if she owned the glass court today. She was sure of her game, sure of her tactical choices. She hammered the front wall, let go of her shots, just put the perfect weight on the ball, found the right place to place the ball, and made Natalie run for it again and again.

Now, she made far too many errors, that's her weakness still, but if she is able to improve in that department as she improved on her length, I predict her a bright future at the top of the game.

There. I said it.

Still, Natalie IS a champion, she's got the experience, the legs, the heart, and the brain that makes it all perfect together. But she'll be over the moon not to have to play a fifth game today against a young hungry player with nothing to lose…

"It was the first time I played her, and I didn't see her play that much, so it was difficult to build any kind of game plan. In the third, I feel that I let her dictate the game, so I then stepped up and relaxed a bit, but still, she played well.

"She is an excellent mover, maybe she made a few too many errors, that's maybe something she could work on, but she was still coming up with nice shots – she didn't have the pressure on, so she was more relaxed I guess - but she still gets back a lot of balls that the other girls don't. She is a good runner, with a good basic game, she could do pretty well…





"A bit of mixed feelings here. On one hand, it came down to very little, all the games were pretty close, and it could have gone either way, so, I just came close to beating the world number 4, so, a bit frustrated.

"On the other hand, I actually came close a victory against world number 4! So happy.

"Happy to show as well that I've improved my length game, but still so many errors, especially at times I shouldn't have made errors, there was no reason for it."


[3/4] Isabelle Stoehr bt [9/16] Kim Hannes
11/0, 11/4, 11/8 (18m)

"I used to play Isa in the juniors, but she has kept on playing squash, she was always good, and she has improved, to become a great player!

"Today her pace was just too high for me, added to the fact it's the second day of me running around here, that's not the best of preparation either…

"But I'm having surgery on my knee next Friday, I'm happy with what I've achieved this week. I wanted to win that first match, and now, I'm top eight. Happy…"


[2] Laura L-Massaro bt [5/8] Annelize Naudé
11/8, 11/3, 11/6 (29m)

PARALYSED ANNELIZE

Everybody knows that pressure is rarely a performance maker, and Annelize Naudé was today not as relaxed as she should have needed to beat second seed Laura L. Massaro.

Laura was very confident with her game I thought, even if she made a few unforced errors, but Annelize was just making error upon error, and not having a clear tactical vision of her shots it seemed.

Shame for the Dutch, a player who I like immensely, but a no sweat no trouble match for the English lady who is marching on toward a possible title. So far, so good….

I lost my funding at the end of December after not making it last year in the top 4 of these Europeans Championships, and as I didn't make the World top 8 either, this could actually be the end of my career, as I really don't think I can face another year with no funding.

This event was what I trained for, and today, I just couldn't play. I know I should be able to handle that kind of pressure, but I could. I just couldn't… Too much at stake…


"Well, it's a bit of my game, I always go for shots, and on that kind of warm court, you always go for shots that are very close to the tin, because you need to make it happen….

"So, some go in the tin, that's to be expected…"



[3/4] Vanessa Atkinson bt [5/8] Manuela Manetta
11/9, 9/11, 11/9, 12/10 (46m)

CLOSE FROM CLOSE!!!!

11/9, 9/11, 11/9, 12/10. Yeah, piece of cake that match was for Vanessa really. And she is soooo kind the Dutch, yes, she is, she kept on saying to Manuela, "oh come on, have another tin, I insist". Mind you, the Italian was as polite, and also was returning the favour.

Girls…

No, joke apart, this was a pretty good intense don't know who is going to win it kind of match, and the crowd was numerous behind the court, appreciating every shot, as the ladies fought for their lives on there.

One of those matches that could have gone either way, yet again…

"It's a shame… I think I didn't believe in myself at the right time, I missed a bit of confidence at crucial points, and doubted at the wrong time….

"And I certainly didn't need that tin THAT HIGH!!!!!

"Still, I think I got the right way to play her at the end, I slowed it down, waiting for her to make the error. Well, I'll know it for next time, it was the first time I played her too…"


Men's Quarter-Finals:

[1] Gregory Gaultier bt [5/8] Adrian Grant 11/4, 7/11, 11/4, 11/6 (51m)
[5/8] Laurens Jan Anjema bt [3/4] Peter Barker 11/6, 9/11, 11/2, 11/2 (57m)
[3/4] Thierry Lincou bt [5/8] Borja Golan 11/7, 11/5, 11/1 (39m)
[2] Nick Matthew bt [5/8] Renan Lavigne 11/4, 11/5, 15/13 (49m)
[5/8] Laurens Jan Anjema bt [3/4] Peter Barker
11/6, 9/11, 11/2, 11/2 (57m)

LJ IS REALLY KEEN!!!!

When the boy told me that in front of him was standing a keen man, I didn't realise he meant business that much….

In that lefthander's battle, LJ looked pretty good from the start. Strong on his legs, calm in his head, he was accepting the rallies against Mr Rally himself, Peter Barker, who is to me someone as strong as Anthony Ricketts was, as in, bleeping hard to kill.

Well, it's what LJ was able to do today though. If Peter seem to get his mind and body back into the game in the second, winning it 11/9 – yes, still too close for comfort – the Englishman went into the red physically soon in the third, and seem to disconnect mentally from that moment on.

LJ did what he had to do, ran the four corners, found some great attacking shots, kept it as tight as possible to frustrate Peter, and it worked fine. As often in that kind of competition, it all comes down to the one who is hungrier. Tonight, LJ was basically starving…

"I don't know, it's like after Malaysia, which was massive for me, I sort of switched off mentally, because I knew that was enough to take me to the top 8, which was my goal for the year. And I haven't been able to really compete or train as hard as I normally do since.

"Today, LJ was playing probably the best he ever played against me, even if at times I was allowing him to play that well. But he really played top squash, and killed me.

"I felt flat from the third game on, and all credit to him, he was stronger and more accurate than I was today."


[2] Nick Matthew bt [5/8] Renan Lavigne
11/4, 11/5, 15/13 (49m)

"At the start, he was returning the ball again and again, as he always does, but I was able to control the middle, and by holding it, I was able to alter his movement.

"Actually, that's something I've been working on quite hard recently, to change the rhythm, working on the hold, which allows me to take the movement away from my opponent.

"In the third, he got better in the third, on the backhand, and didn't give me as many openings he gave me during the first two games. And as I got tired, I sort of switched back on my usual game.

"You know with Renan he is never going to go away, he keeps coming back, and coming back. And as we were playing late in the evening, I had to be careful not to play until midnight, and I'm really happy not to have lost that third game.

"This is not the middle of the season, we are not doing much competing at the moment, but I'm still happy to play, win or lose, as long as I take something away from it…"