A private self-sufficient town built on 10km of the sandy shores of the Egyptian Red Sea coastline, only 22kms away from Hurghada International Airport – a 4-hour-flight from major European cities.

Boasting extraordinary natural beauty, award winning architecture and superb infrastructure, El Gouna's management worked hard to maintain, preserve and protect its unique environment that it is officially recognized as Egypt's most environmentally-friendly destination.

Offering a wide range of luxury leisure facilities such as a landing strip, marinas, a championship golf course, over 100 restaurants & bars, two Angsana Spa outlets and fully equipped water sports centers. Add to that El Gouna's excellent services ranging from a world-class hospital to pharmacies, banks, a local transportation network and a private security unit patrolling the town around the clock, El Gouna is the only fully fledged resort town on the Red Sea Riviera offering such an unrivalled lifestyle.

Famed for its unique international flavor, El Gouna is home to an international community of 22-24,000 residents, 17 hotels (2,699 rooms), 2555 sold real estate units, international schools and university training centers, religious service centers and a library linked to the Bibliotheca Alexandrina.

In the last few years, El Gouna has been an attraction for sports events planners. El Gouna has hosted professional European Football Camps, International Fishing, 4-wheel rallies, Kite-surfing and Beach Volleyball Competitions in addition to the International Squash Open.


With its ideal location, El Gouna offers good access to many natural wonders, historical sites, and archaeological treasures.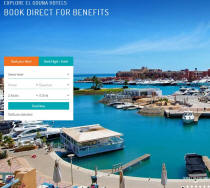 HOTELS
promo code: "squash"