24-May, Day TWO:
Qualifying Finals
Eight places in the main draws were claimed tonight, with the top four seeds winning through to the men's draw while in the women's draw there were two "upsets" and two home qualifiers.
Women's Qualifying Finals:

[1] Liu Tsz-Ling (Hkg) 3-0 [6] Megan Craig (Nzl)
11/5, 11/6, 11/9 (25m)
[2] Salma Hany Ibrahim (Egy) 3-0 Hania El Hammamy (Egy)
11/9, 11/7, 11/6 (33m)
Vanessa Chu (Hkg) 3-2 Lee Ka Yi (Hkg)
11/6, 7/11, 9/11, 11/6, 11/9 (48m)
[5] Low Wee Wern (Mas) 3-2 [3] Misaki Kobayashi (Jpn)
11/4, 11/8, 5/11, 8/11, 11/5 (51m)

Men's Qualifying Finals:

[4] James Huang (Tpe) 3-0 [7] Robert Downer (Eng)
11/8, 11/5, 11/9 (40m)
[2] Mazen Gamal (Egy) 3-0 Tsz Kwan Lau (Hkg)
11/8, 11/4, 11/9 31m)
[1] Ivan Yuen (Mas) 3-1 [5] Shahjahan Khan (Pak)
11/6, 11/7, 10/12, 11/7 (62m)
[3] Tayyab Aslam (Pak) 3-2 [8] Elvinn Keo (Mas)
11/13, 11/7, 11/6, 15/17, 11/2 (60m)

SOCIAL: Dallas Reid reports on Chu and Huang victories

SOCIAL: Photos and mini-videos on the Twitter feed
Women's Roundup:


The day's action started with the top two women's qualifying seeds winning through to the main draw in straight games.

Home favourite Liu Tsz-Ling got past Megan Craig in 25 minutes with the Kiwi only able to mount a serious challenge in the third before Liu pulled back a deficit to close out the match.

"There's pressure when you're top seed and playing at home," admitted Liu. "I'd never played here but I knew it would be tough, she's very fit and plays at a fast pace. I couldn't find my lengths properly tonight so I'm happy to get through in three."


Salma Hany won her all-Egyptian matchup with Hania El Hammamy, but in contrast to the Liu match, the firt st two games were both closely-contested and was only in the third that Hany managed to get far enough ahead to feel any level of comfort.

"Hania is one of our best juniors and she's coming through to annoy us," said Salma. "I knew what to expect and had to keep her under constant pressure and fortunately my shots were all working today. I had a good run in this tournament two years ago, so I hope I can have another one!"

The second pair of matches both went the distance, with two "unexpected" winners in Vanessa Chu and Low Wee Wern.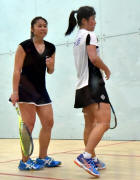 Chu and her fellow-HK opponent Lee Ka Yi had both upset seeds yesterday, and traded games with contrasting styles - Chu trying to establish a more orthodox pattern to the rallies, Lee reaping benefits of precise drops and volleys.

There were two significant changes of momentum - Lee coming back from 1-6 down to take the third and the lead, Chu recovering from 2-7 down in the fifth to take the match 11/9.

"I'm very pleased to qualify," said Vanessa. "We had a playoff match last month and I won 3/0, but I lost my concentration in the middle of the match today, and again at the start of the fifth, I just needed to get my game back so I'm happy I managed to."


Malaysia's Low, the former world #5 and a stranger to the rigours of qualifying for a few years now, was up against former junior rival Misaki Kobayashi in their first senior PSA match.


Low controlled the first two games with the Japanese getting a little frustrated/confused at some of the decisions going against her, but staged a fine recovery to lead 4-1 in the decider before Low reasserted to take it 11/5.

"It's a funny feeling having to qualify," admitted Wee Wern. "She came back well, I don't think I did anything wrong she just played better in that spell. It's good to finally get two wins in a row, I hope I can make it three or more!"

In the main draw Low has a reunion with Dipika Pallikal, Chu meets Delia Arnold, Hany takes on Joshna Chinappa, and Liu faces compatriot and defending champion Annie Au.

Men's Roundup

The men's matches followed the same pattern as the women's, with two fairly straightforward opening wins followed by two nailbiters - although at the end of it all it was the four seeded players who progressed.


Taipei's James Huang got the better of Robert Downer in three games, but the Englishman proved very difficult to shake off and stayed close in all three games.

"I felt comfortable at the beginning, but by the third he was playing better and I just had to try to stay focused and play my own game," admitted Huang, who had to make emergency repairs on a self-inflicted graze on the nose during the third. "It's the third time I made the main draw here, I hope I can go further," he added.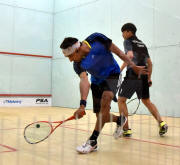 Egypt's Mazen Gamal was always in control against Tsz Kwan Lau - for the first two and a half games at least. The Hong Kong youngster made a spirited recovery from 3-8 to 8-all in the third, threatening to repeat his first round escape, but Gamal reasserted to close it out in three.

"I was thinking about his comeback last night," admitted Mazen, "so I'm glad I was able to stop him doing it again. To get through with two three-nil wins is pleasing, I'm still trying to get used to the time difference so hopefully I'll be better again tomorrow."

The last two places in the main draw were claimed by Malaysia's Ivan Yuen and Pakistan's Tayyab Aslam - Yuen's 3-1 win over Shahjahan Khan taking 62 minutes, Aslam's five-setter over Elvinn Keo taking two minutes less.


Yuen looked to have qualification in hand as he led by two games and held three match balls at 10-7 in the third, but Khan dug in impressively and made himself very difficult to beat as he got the better of a series of long, patient rallies - many replayed after lets - to extend the match 12-10. Yuen regained the momentum in the fourth, and finished it off on his second match ball.

"It's the first time I played him, but I knew it would be tough," said Ivan. "I'm happy with the way I played today, although it was tough trying to win those match balls!"


Aslam won his three games with something to spare - taking the decider 11/2 - but Keo fought well to take the opening game 13/11 and force a decider by saving several match balls on the way to winning the fourth 17/15.

"That was really tough," said the Pakistani. "I'm happy to get through to the main draw again, it's a lovely place to play and I hope I can keep going."

In the main draw Yuen faces top seed Max Lee, Huang is up against another Englishman in Adrian Waller, Gamal meets Declan James, and Tayyab faced second seed Leo Au.