25-May, Day THREE:
Ivan ends Max's reign in round one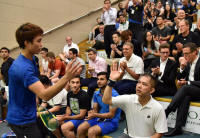 Qualifying complete, it was on to the main draws at Hong Kong Football Club on a day which saw all eight women's seeds progress to the quarter-finals but some minor and one massive upset in the men's draw as top seed and two-time defending champion Max Lee was beaten in a five-game thriller by Malaysian qualifier Ivan Yuen.

Women's seeds through, but tough for some ...
The day started with women's defending champion Annie Au just about surviving against fellow Hong Kong qualifier Liu Tsz-Ling.

Second seed Au fought back from deficits of 2-7 and 4-8 in the opening two games, taking them both in extra points 12/10 and 18/16. Liu deservedly got a game back, then saved four match balls as she took the fourth 12/10 to set up a decider in which Annie finally got the upper hand.

"She was playing so aggressively," said a relived winner, "really putting me under pressure, I'm just happy to still be in the draw! I should have practiced more on these courts, hopefully I should be more used to them after that."


Annie will meet England's Jenny Duncalf who played well in three of her four games against Nicolette Fernandes, while the other quarter-final in the top half will see Delia Arnold play Donna Urquhart, both beating Hong Kong players in straight games today.


Top seeded Joelle King also beat a local player in Joey Chan, "the toughest first round opponent you could probably get here," said the Kiwi after coming through in four close games.

"She played very well and I had to find something extra at the end of each game to get through that one," she added. "It's good to have a tough opening match to blow the cobwebs away, and I should still be fairly fresh for tomorrow."

She'll play Dipika Pallikal who eased past qualifier Low Wee Wern who was struggling with her movement from early in the match.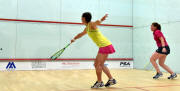 Veteran Rachael Grinham survived an entertaining five-game encounter with Wales' Tesni Evans, eventually coming through 12-10 in the fifth. "I was close to being two-nil down," said Grinham who won the second 14-12.


"I just managed to hang in there. I was trying to be positive but Tesni is hard to break down, you're never sure when to attack against her.

"Either of us could have won that, I just managed to get my racket onto the ball on a couple of points at the end which probably made the difference."

Grinham meets the second Indian in the last eight Joshna Chinappa, who beat qualifier Salma Hany in four games.

Ivan ends Max's reign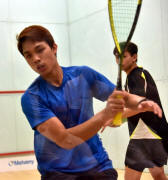 While the women's matches started with a narrow escape for the defending champion, the men's matches ended with a nailbiting defeat for Max Lee, top seed and 2014 and 2015 champion.

Having lost a close first game, Malaysian qualifier Ivan Yuen took the next two games and was 6-0 up in the fourth. Lee fought back to level the match 11/7 and quickly went 5-1 up in the decider.


This time though it was Yuen's turn to fight back as he stunned the crowd to take ten of the next twelve points to claim the match and a big scalp.

"That's one of my best wins for sure," said a delighted winner.

"I played really well which is very pleasing after not winning a match at the Asian Teams a week ago. At 6-0 in the fourth I think I relaxed but he came back strongly, but then at 1-5 in the fifth I just told myself to give everything, that there was no pressure on me, it was all on him."


Yuen will play another surprise winner in Rex Hedrick, who came from two games down to beat Hong Kong number three Tsz Fung Yip.

"He was taking everything so early and punishing me in the first two," said Rex, "but I managed to get a few tough rallies in towards the end and he lost a few percent of pace from the third and that was enough for me to take the momentum."


Second seed and Hong Kong number two Leo Au had to work hard to get past qualifier Tayyab Aslam to set up a meeting with Egypt's Mohamed Reda, who came from a game down to beat wildcard Chi Him Wong.

A third upset came as qualifier Mazen Gamal beat sixth-seeded Englishman Declan James in four games.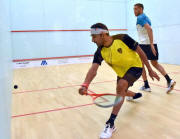 "That's one of my best wins," he said, "I'm very happy with how I played as I'm more used to the courts now. The third was crucial, I was 8-3 up but he came back to lead 10-8, so taking that and then getting a lead in the fourth made the difference."

He'll meet third seed Nafiizwan Adnan, while the remaining quarter-final will be between fourth and fifth seeds Paul Coll and Adrian Waller, all winning in straight games today.
Women's Round ONE:

[1] Joelle King (Nzl) 3-1 Joey Chan (Hkg)
14/12, 11/9, 9/11, 11/8 (49m)
[6] Dipika Pallikal (Ind) 3-0 [Q] Low Wee Wern (Mas)
11/1, 11/3, 11/3 (23m)
[8] Donna Urquhart (Aus) 3-0 [wc] Carmen Lee (Hkg)
11/3, 11/6, 11/7 (24m)
[4] Delia Arnold (Mas) 3-0 [Q] Vanessa Chu (Hkg)
11/9, 11/2, 11/2 (21m)

[3] Joshna Chinappa (Ind) 3-1 [Q] Salma Hany (Egy)
11/8, 11/7, 6/11, 11/8 (37m)
[7] Rachael Grinham (Aus) 3-2 Tesni Evans (Wal)
10/12, 14/12, 11/4, 6/11, 12/10 (66m)
[5] Jenny Duncalf (Eng) 3-1 Nicolette Fernandes (Guy)
11/4, 11/4, 6/11, 11/3 (35m)
[2] Annie Au (Hkg) 3-2 [Q] Liu Tsz-Ling (Hkg)
12/10, 18/16, 7/11, 10/12, 11/8 (72m)

Blog: Match Reports from Dallas Reid and Azhar Rafee
Men's Round One:

[Q] Ivan Yuen (Mas) 3-2 [1] Max Lee (Hkg)
9/11, 11/6, 11/5, 7/11, 11/7 (69m)
Rex Hedrick (Aus) 3-2 [8] Tsz Fung Yip (Hkg)
5/11, 3/11, 11/8, 11/3, 11/4 (55m)
[5] Paul Coll (Nzl) 3-0 Abdulla Al Tamimi (Qat)
11/6, 11/4, 14/12 (53m)
[4] Adrian Waller (Eng) 3-0 [Q] James Huang (Tpe)
11/8, 11/3, 11/5 (37m)

[3] Nafiizwan Adnan (Mas) 3-0 Mahesh Mangaonkar (Ind)
11/2, 14/12, 11/7 (38m)
[Q] Mazen Gamal (Egy) 3-1 [6] Declan James (Eng)
11/7, 8/11, 12/10, 11/5 (57m)
[7] Mohamed Reda (Egy) 3-1 [wc] Chi Him Wong (Hkg)
8/11, 11/4, 11/5, 11/3 (45m)
[2] Leo Au (Hkg) 3-1 [Q] Tayyab Aslam (Pak)
11/7, 11/6, 5/11, 11/9 (49m)
Blog: Match Reports from Dallas Reid and Azhar Rafee