TODAY in Hurghada Framboise reports from Hurghada
Sun 20th, FINALS
[3] Omneya Abdel Kawy (Egy) bt [2] Jenny Duncalf (Eng) 9/1, 9/4, 9/2 (34m)

[2] Ramy Ashour (Egy) bt [1] Amr Shabana (Egy) 12/10, 9/11, 11/7, 9/11, 12/10 (79m)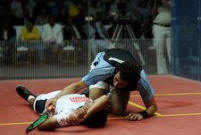 [2] Ramy Ashour (Egy) bt [1] Amr Shabana (Egy)
12/10, 9/11, 11/7, 9/11, 12/10 (79m)

Ramy wins a thriller ...

World number one Amr Shabana made the better start in the men's final, moving ahead from 4/4 reach game ball at 10/7. Shabana attacked to finish it off, but some great retrieving and then a barrage of kills and nicks from his opponent Ramy Ashour saw the first game go the youngster's way.

Errors from Shabana gave Ramy a 3/0 lead in the second, but the world champion steadied, levelled, and moved ahead 7/5 in part thanks to some stunning service returns. Ramy leapt in vain after a crosscourt, 9/6 Shabana, then 10/7 once more. Two game balls saved, but Shabana levelled on the third opportunity, 11/9 on a stroke.

Looking up for it now, Shabana took a 3/0 lead in the third and extended it to 5/1. The rallies grew longer, but still Shabana held sway, 6/3 before he hit his first tin of the game. The second half of the game belonged to Ramy though, as he rallied to take seven points in a row to win the game 11/7.

The fourth was close all the way, 4/4, 5/5, 6/6, 7/7, 8/8. Shabana, displaying more patience and giving Ramy nothing to attack, edged ahead 9/8, 10/8, and levelled the match 11/9.

In the decider Ramy maintained a slender lead, but there was little in it. 10/7 match ball. 10/8. Three lets, then Shabana sensationally levelled as the crowd went wild. A horrible backhand mishit from Shabana gave Ramy a third chance and this time he made no mistake, with a superb low drive glued to the forehand wall.

"My mistake tonight was not to keep pushing when I was ahead, I had a chance to finish the game in the first, and in the third, but I let him come back into the match. This is a good lesson to be learned, and I'll try and learn from my mistakes.

"At 10/10 in the fifth, it's a flip of a coin, and that backhand shot, I must have played it 2000 times, and never missed it. I could have played so many others shots too! But hey, I lose against the number two in the world, I'm happy to be in the final, it's a good tournament for me.

"And the season is still young, there are plenty of opportunities to win matches and tournaments…"



SPEED, NICKS AND ROLLS…





As those

two were inventing shots that hadn't been played before, at a pace rarely reached, attacking with all the weapons they had, standing on the head, from outside the court, intercepting, reacting, pure guts, pure instinct, pure genius, I had a flash of a good English Coach, trying to teach his players about patience, and length, and tight drives. And I saw him as he tore up his guide book, and left the arena to go and plant cabbages in North Yorkshire.

We had maybe, what, 10 up and down the wall rallies in the whole match. All the rest was magic, pure magic, with it seemed a slight domination from Shabana that had what seemed comfortable leads, but let Ramy claw back, with his now world famous forehand dropshot and volley drop shots, sometimes letting him score 3, 4, 5 points within seconds.

In the 5th, the Gods of squash were on Ramy's side, when at 6/7, Shabana serving, those two had a rally from Hell that Shabana seemed to have won, when Legend Ramy found a pure reflex touch the wood volley that should have found the floor, and found the nick instead… In disgust, the Prince of Egypt threw his racquet (as a joke, of course) at his opponent, and as the Prince he is, turned the decision from the marker, who called the ball down, to give the point back to Ramy who thanked him, and thanked God.

That was the difference between 7/7 or 8/6. Huge…

You know the rest, 3 match balls saved by Shabana in rallies that got all the spectators on the feet, chanting, amazing, astonishing control and domination from the Prince, that then plays the worst shot in the history of SquashKind, and Ramy who ends with a stunning forehand low drive.

The Legend continue… til their next encounter…. next week…?

[3] Omneya Abdel Kawy (Egy) bt
[2] Jenny Duncalf (Eng) 9/1, 9/4, 9/2 (34m)

Omneya claims second Hurghada crown ...

Appearing in her fourth consecutive Hurghada final, the crowd's darling Omneya Abdel Kawy made a great start in the 2008 edition, racing to an 8/0 lead in the first game before taking it 9/1.

Second seed Jenny Duncalf slipped a couple of times in that first game, causing the court cleaners to be brought on, giving a playing time of 7 minutes in the 10-minute game.

The Englishwoman made a better start to the second, leading 4/1, but the Egyptian bounced back with nine unanswered points to double her lead in 9 minutes.

Bolstered by a two-game advantage, Omneya came out firing in the third, seemingly on a mission as her volleys proved too good, powering her into a 5/1 lead.

A few errors started to creep into the Egyptian's game but still she moved ahead to earn a first match-ball at 8/2. Jenny saved that, but it was only a brief respite as Omneya took the next two points to claim her second Hurghada title.


"Omneya played extremely well today, I took an awful start, and then couldn't find a way to get into the match.

"She is so good at the front, so you don't want to give her too much, but I didn't succeed to do much else!

"Disappointed really, it's such a good setting, a great crowd, shame I couldn't do better today, but Omneya just played too well."





"I was so nervous at the start, and normally, when you start a match, you get a few shots down, but today, all my shots were getting in, and my confidence grew from there. The court was a bit slippery, and I could see that Jenny never really settled in the match. But thank God, I'm so happy I've won this tournament.

"I feel that the fitness was the key. Before, I used to try and finish the point too early, because I was getting tired quickly. Whereas now, I know I can stay on the court as long as I need to, and that's thanks to my two fitness coaches that makes me work one on strength, one on technique.

"It was so nice to hear the people chanting my name! It's my 5th final here, so it felt like here, I was more famous than Shabana and Ramy! It's such a nice feel to feel that the people love you, and they support you, and they take your picture, and ask autograph… It's great!"