TODAY in Egypt ... Sat 4th April, FINALS ...
Finals:

[3] Omneya Abdel Kawy (Egy) bt [1] Rachael Grinham (Aus)
11/7, 9/11, 11/3, 11/13, 12/10 (63m)
[4] Ramy Ashour (Egy) bt [3] Gregory Gaultier (Fra)
7/11, 11/5, 11/3, 11/8 (47m)
Omneya & Ramy
Retain Hurghada titles

The Hurghada crowd got exactly what they wanted as Omneya Abdel Kawy and Ramy Ashour retained their title here tonight. Omneya met Rachael Grinham for the sixth time in a row - their fifth final - and emerged triumphant from a five game thriller, clinching it on her fourth match ball.

Ramy lost a tough opening game to Gregory Gaultier, then started to find his feet and his shots as he took the next three to his own and the packed audience's delight.

"Overall I'm pleased I took it to five considering how I was playing

"My plan was to not play the tricky stuff, she stands forward and can deal with them quite well, but if you see an opportunity for a shot that would be a winner against most people you just instinctively go for it.

"I didn't feel I was playing that well tonight, it felt as though she was making mistakes to keep me in it, and it wasn't until I was 7/4 up in fifth that I even started to think that I might win, and maybe I tried to finish it too quickly ..."



[3] Omneya Abdel Kawy (Egy)bt [1] Rachael Grinham (Aus)
11/7, 9/11, 11/3, 11/13, 12/10 (63m)

Omneya wins a thriller

Sometimes you can just tell that a match has 3-2 written all over it, and given the past record between these two here it was a fair bet that this would go to five ... isn't hindsight wonderful!

At times it was more of a chess game than a squash match, Rachael flicking, floating, boasting and lobbing the ball to all corners, Omneya retrieving like a demon, attacking on the volley when she could.

Having played her so often, Omneya knows where most of Rachael's shots are going by now, and with so little pace on them she has time to get there - unless they die of course, which many did, as always.

Nothing to choose between them in the first, point for point to 7-all, but then Omneya won the next four points, three of them with volley kills. Same in the second, but this time Rachael takes the last two points to level it.

The third was an aberration. Everything went right for Omneya, nothing for Rachael .. forget about that one, and move onto the fourth.

The inevitable decider was looming as Rachael led 6/3. But some great retrieving by Omneya and she moved ahead ... 7/9, 8/9, 8/10 as Rachael tinned a dropshot.



But Omneya won't take it this time, two short rallies, two tins and the crowd were silent, two more and Rachael was level, a decider it would be.

Again Rachael kept her nose in front - 4/2, 6/3, 9/6. There was some tremendous rallying and retrieving going on out there, the best rallies of the match, and once again Omneya was getting the better of the endgame ... 9-all.

A dropshot too tight for Rachael and it was another matchball. The crowd groaned as it too was saved. They weren't groaning two points later though, as at the fourth attempt Omneya converted ... she's still the Queen of Hurghada ...

"I don't know what happens when I get game balls! Maybe I'm thinking too much about winning the match, I never seem to play them well - I'll have to work on that with my coach ...

"We both played very well today I thought, we had some very long rallies, especially in the fifth.

"She was leading and helped me back in by giving up a couple of easy points - maybe she has the same problem finishing it off as me, but she gets it sooner!

"The crowd obviously helps, although sometimes they get a bit too much, I wanted to get on with the game and I had to try to tell them to calm down

"I'm really glad to win this one, I dedicate this to my family and my coaches, and all my friends who came down from Cairo to watch and support, and to Uncle Ibrahim Hegazy for his birthday ..."


[4] Ramy Ashour (Egy) bt [3] Gregory Gaultier (Fra)
7/11, 11/5, 11/3, 11/8 (47m)

Ramy roars back

If the first final sent the crowd into raptures, they had plenty left for their second hero of the night as Ramy Ashour retained his title in some style.

It was a cagy opening, and Gregory Gaultier got the better of it, easing ahead from the mid-point of the first game to take the lead. From the outset of the second though Ramy seemed to step up a level, seemed to sense where many of the Frenchman's shots were going, and started playing some skilful positional shots to take Greg out of position and finishing them off with aplomb.

This continued for two games, and if Greg started to look a little dispirited, well you could hardly blame him. He came out strongly for the fourth though, lengthened the rallies again and started to make Ramy really work for anything he got.

This was the toughest part of the match, no-one could establish a lead, and at 8-all it looked like we were in for a nailbiter. Ramy chose that moment to play three immaculate points though, putting in a final short drive glued to the wall that Greg could do nothing with.

The crowd were happy, and boy was Ramy happy too ...



"That was better again, wasn't it!

"Before I went on today I felt a bit sleepy, I had to throw water on my face to try to wake up. I was a bit slow in the first game but got myself moving much better after that.

"Before the game my coach and my brother told me I had to keep it in the back corners, it's very dead on this court and if you can get it there you have a big advantage.

"I did what they told me, then went for my shots when it came to the front.

"It's always hard with Greg though, he never gives up until the last point and I was so pleased to win it, so pleased ..."



"Simply the world champion man, simply the world champion ..."





"I'm a bit disappointed to finish the first part of the year with a loss, but after getting an injury which I can still feel at the Super Series, and after playing like an idiot in Canary Wharf last week, that's still in my head.

"Today I tried to play well, I was hitting the ball well but I just couldn't move fast.

"After the first Ramy played well, well done to him. Even if the crowd are a bit much at times, applauding when you hit the tin, that doesn't affect my game.

"I'm happy that I can play consistently to 80%+ of my capability all the time now, I didn't used to be able to do that. I'd like to thank my team at home, who work with me every day, the National coaches, my family and girlfriend who always support me.

I need a few days rest now, see what happens over the Summer and I hope to play Ramy again in September when I'm fresh ..."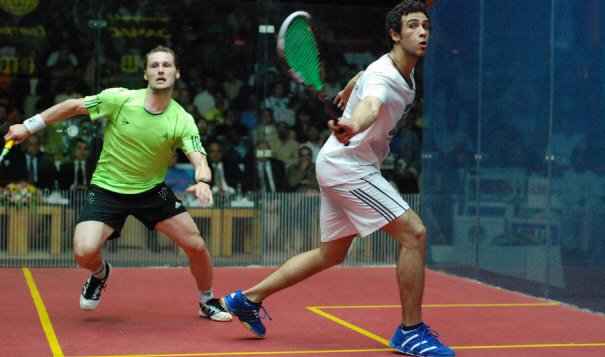 | | |
| --- | --- |
| | |