Tue 2nd May, Day ONE:
Qualifying complete in St Clement
The fifth edition of the Jersey Squash Classic got under way at Jersey Squash & Racketball Club in St Clement with the qualifying rounds in the Men's and Women's PSA $5k events.
There was just one match played in women's qualifying, Olivia Taylor beating Sophie Pallet in an all-Jersey junior match. Olivia joins her mum Sarah Taylor, one of Jersey's top seniors Kate Cadigan, and Scottish number one Lisa Aitken in the main draw.

There was no joy for tournament director Nick Taylor though, the world O45 champion losing out in the first qualifying round to Scotland's Rory Stewart - the British U23 Open champion - in four games.


Jersey regular Matt Sidaway was the first men's qualifier, after a "tough day at the office". Two-nil and match ball down in the first round against Tiago Goriely, Sidaway recovered to win that match, then saved game balls in the first two games of his final against Laurence Green, eventually winning in straight games.

"I've had the wildcard spot here before," he said, "this is the first time I've had to qualify. That was a tough day at the office, but it's worth it, and I'm enjoying my squash at the moment."


Wales's Owain Taylor enjoyed two 3-0 wins to reach the main draw, the second against Jersey junior Anthony Harkin.

"It's my first time in Jersey," he said, "it looks very good, nice and relaxed. I'm happy with how the draw worked out for me after a couple of dropouts, but you still have to do the job. Looking forward to the main draw now."

Stuart McGregor also had a tough, but successful day against two fellow Englishmen, following up a morning win over second seed Julian Tomlinson with an equally tough four-game win over Harry Falconer.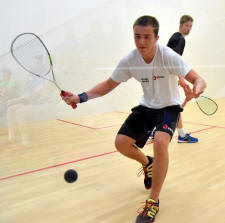 "Two good wins today," he said. "I beat Julian last time but today's match was tougher, and I'd lost to Harry most of the season so it was a bit of a mental hurdle to overcome, but it worked out well."

The final qualifying spot was claimed by Rory Stewart, but his opponent Charlie Cowie was drawn as the 'Lucky Loser' after the earlier withdrawal of Claudio Pinto.

The main draws get under way at 15.00 on Wednesday, utilising two courts with the last matches due on at 20.15.