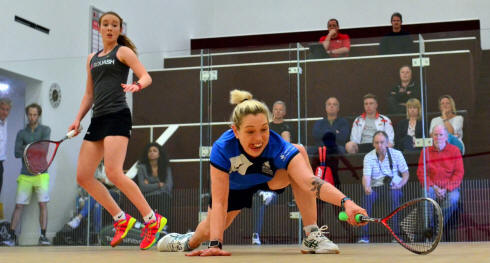 Thu 4th May, Day THREE:
Semi-Finalists decided in St Clement

The fifth edition of the Jersey Squash Classic continued at Jersey Squash & Racketball Club in St Clement with quarter-finals of the Men's and Women's PSA $5k events.

[1] Iker Pajares (Esp) 3-0 [8] Nick Mulvey (Eng)
11/9, 11/2, 11/7 (34m)
[1] Milou van der Heijden (Ned) 3-0 [5] Tessa ter Sluis (Ned)
11/1, 11/7, 11/8 (22m)
[7] Emyr Evans (Wal) 3-0 [3] Matias Tuomi (Fin)
11/8, 11/3, 11/5 (32m)
[4] Julianne Courtice (Eng) 3-0 [6] Marija Shpakova (Sui)
11/8, 11/1, 11/4 (19m)

[4] Rui Soares (Por) 3-0 [5] Tristan Eysele (Rsa)
11/6, 11/7, 11/9 (32m)
[3] Alison Thomson (Sco) 3-0 [8] Kace Bartley (Eng)
12/10, 11/8, 12/10 (38m)
[2] Jaymie Haycocks (Eng) 3-2 Miles Jenkins (Eng)
14/12, 11/13, 8/11, 11/6, 11/6 (70m)
[Q] Lisa Aitken (Sco) 3-0 Lucy Turmel (Eng)
11/5, 11/9, 11/9 (34m)

updates, photos, quotes on our Twitter feed

Three of the women's top seeds made it through and will be joined in the last four by a qualifier, while in the men's draw ...

Top seed Milou van der Heijden beat fellow Dutchwoman Tessa ter Sluis in straight games, and she'll face England's Julianne Courtice, who beat Swiss Marija Shpakova in three.




"It's tough playing someone from your country," said Milou, "especially when we've just been team-mates in the Europeans, I want her to do well also but I still want to win!"

Courtice pulled clear after a close opening game : "I worked my way into the match after a close start, and the rest happened from there," she said.

Third seed Alison Thompson beat long-time rival Kace Bartley in three close games. "We've played each other so many times, but never on a 17" tin," she said. "It's different but you soon get used to it. It could have gone either way, but I just managed to get away with it."

A Scottish finalist was guaranteed when qualifier Lisa Aiken beat Lucy Termel in a meeting of both yesterday's upset winners.

"A bit scrappy," said Aitken, who came from 1-7 down in the third to complete the straight-games win, "but I'm pleased to get through to a third successive semi-final. Looking forward to playing Ali in an all-Scottish match and hoping to end my semi-final junx!"

Men's top seed Iker Pajares completed a second successive straight-game win as he beat Nick Mulvey, but the Englishman challenged strongly in the first and third games.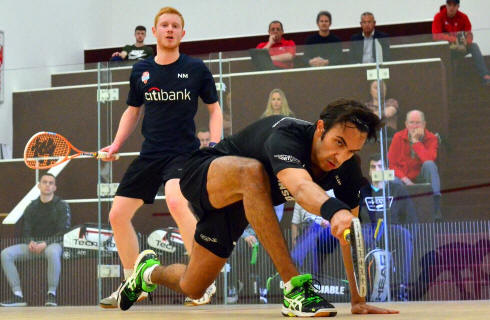 "It was 3-0, but I didn't feel confident in my shots," said Pajares. "He was playing well, I had to try to raise the tempo and he made a few mistakes, A win is a win, but I'll need to play better tomorrow."

In the semis he'll play Wales' Emyr Evans, the seventh seed who took out third seeded Finn Matias Tuomi in straight games.

"I had to be on it and aggressive, he's a very tricky player," said Evans, "happy to get off in three there. I'm looking forward to playing Iker again, we played in juniors but the last time was three years ago."

Portugal's Rui Suares made the semi-finals for the second year in a row as he beat Tristan Eysele in straight games.

"I felt much more confident in my shots today," he said, "but I know he's a fighter so I'm happy to win in three games. I lost 3-2 in last year's semis so hopefully I can improve this year."

He'll face second seed Jaymie Haycocks, who came through a second successive five game marathon, coming from one-tow down to beat fellow Englishman Miles Jenkins in 70 minutes.




"I play miles every day, but that's our first real match," he said. "He played really well and it took me a while to get myself going, I had to try to up the tempo to play at my pace not his. Happy to get through an looking forward to a bit of rest before tomorrow night!"

Semi-finals start at 18.00 on Friday.