TODAY in Kuwait
Fram in Kuwait, Steve in Manchester ...

Kuwait Time

Fri 29th, Day TWO

Qadsia Club, from 12.00:

[12] Mohamed El Shorbagy (Egy) bt Ong Beng Hee (Mas)
11/9, 13/11, 11/2 (35m)
[10] Wael El Hindi (Egy) bt [Q] Saurav Ghosal (Ind)
11/6, 11/6, 11/8, (47m)
[13] Azlan Iskandar (Mas) bt [Q] Mohammed Abbas (Egy)
11/7, 11/5, 11/9 (43m)
[11] Laurens Jan Anjema (Ned) bt [Q] Omar Abdel Aziz (Egy)
11/6, 11/5, 11/5 (39m)

Green Island, from 18.00:

[6] James Willstrop (Eng) bt Aamir Atlas Khan (Pak)
11/7, 11/4, 11/4 (33m)
[4] Karim Darwish (Egy) bt [Q] Mark Krajcsak (Hun)
11/7, 6/11, 11/5, 11/5 (42m)
[7] Thierry Lincou (Fra) bt [Q] Ali Anwar Reda (Egy)
11/7, 11/5, 11/2 (30m)
[2] Ramy Ashour (Egy) bt Omar Mosaad (Egy)
11/7, 11/5, 11/7 (33m)
Session One at Qadsia Club
[12] Mohamed El Shorbagy (Egy) bt Ong Beng Hee (Mas)
11/9, 13/11, 11/2 (35m)

ALL OVER THE PLACE…

I didn't see Mohamed play for a while now, but this introductory match will not stay in my memory as one of his best performance. Sorry, but all over the place he was in his head, he was complaining that he could hear the people talking while he was playing, which proves how not focused he was….

I guess that he is a bit looking for his game at the moment, and he wants to win quite badly. Meaning, a bit too much pressure on himself, trying to finish the point too early, instead of accepting the rally. So, of course, as he went for cheap shots while he was ahead, he quite logically found the tin, again and again, which meant losing his lead every time. But still, he managed to clinch the first two games, with stunning winners right at the end…

Beng Hee was fighting well today, there was nothing between the players for most of the two games. And the Malaysian changed his game in the second, trying to speed up the pace and hit harder. It nearly worked, but when Mohamed took that crucial second game on a "lucky" – the more I practice, the luckier I get – bounce off the left side wall, we could see that Beng Hee had used all the fuel he had in the tank. The Egyptian just finished the job in the third within minutes…

"I thought I played well, it's been a long time since I've played that well in a first match of a tournament. Still I think I had a poor concentration at times, and I let a few good leads go, 6/1 in the 1st, 8/3 in the second, and against as experienced as Beng Hee, I shouldn't have done it. The two games could have gone either way, and I was very lucky to get those games…

"If I play James tomorrow, I'll be enjoying playing against him, the last time I did was in India, last December. I'll know his game better, but on the other end, he'll know mine too! But I'll try to play better than I did today, and use what I've learned from last time."





"I think I was a bit unlucky, I needed at least one game, confidence wise.

"I wish I didn't have that sandwich a couple of days ago, I had food poisoning, which is no excuse, but against Shorbagy, you need to be at your top physically.

"And I feel that today, especially in the end, my body let me down a bit….

"I wish that he would take a bit less space when he plays, he is such a good player that he doesn't require that much space to put the point away.

"Anyway, the best player won today…"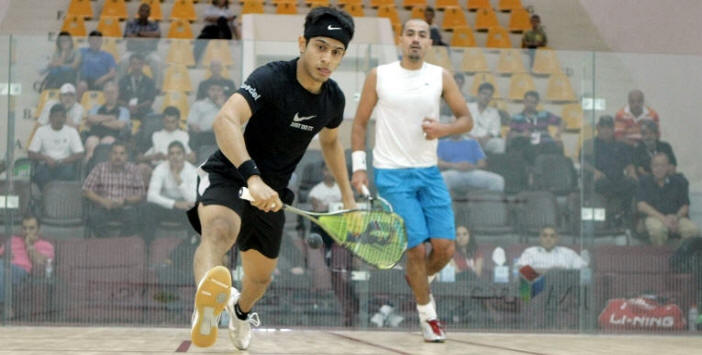 "Disappointed with the loss. I felt like I was in the games but couldn't win any. Wael is very experienced and he is tough to play. Hopefully I can learn from this and come back stronger."



[10] Wael El Hindi (Egy) bt [Q] Saurav Ghosal (Ind)
11/6, 11/6, 11/8, (47m)

WAEL IN CONTROL

Sorry, guys, missed the first game. What I could see after that was a Saurav that never gave up, who tried the best he could, run like a lunatic, found some stunning attacks, and fought hard, especially in the 3rd, when all appeared lost. He kept fighting till the last ball, and I'm sure the Egyptian was relieved not to lose that third.

In passing, I was impressed by Wael's concentration. He never let his mind wonder, which can happen to him sometimes, leading him to lose one or two games to finally win in 5. None of that today…

"Tactically, it was good today, I tried tokeep my focus. These first round matches are always the toughest, because you are trying to get used to the conditions, to the court.

"Today, I tried and stayed positive, and make things go my way than his way!!!! Good thing a 3/0, I'll be fresh for tomorrow, and looking forward to play on the glass court."


[13] Azlan Iskandar (Mas) bt [Q] Mohammed Abbas (Egy)
11/7, 11/5, 11/9 (43m)

WEIRD GAME…

The first two games were pretty straight forward, with an Abbas as dangerous as ever with a racquet, finding those lovely drop shots so few people in the world play as well. But physically, mentally, Azlan was all over him. Playing faster, in front of him, the Malaysian was in control.

Well, till the third, when the Egyptian, maybe getting used to the pace, was stopping to find the tin at the end of long rallies, again and again. The match became tighter, when suddenly, at 5/3, Abbas clipped that tin one more time. And within a second, had broke his racquet on his knee!!!! I hardly ever saw that done that quickly, and that strongly!

Of course, got a conduct stroke for that one, 7/3 we were. And right at the same time, Azlan goes "Aie, Aie, Aie, my knee!". Out of nowhere, his knee was hurting like hell, no fall, nothing. It was all happening, racquet, knee…

Abbas gave it a big push, Alzan hang in there like a man lost on a little piece of wood in the middle of the ocean. And made it to the harbour safely.

Shame to see Abbas go out so quickly, but lovely to see Azlan so strong mentally today, as I didn't see him for around 18months now. Always a great player to have around on the tour….

"I have my ITband rather tight, but I think I'll be alright. I just don't know what happened!

"Abbas was the hardest qualifier I could have got really…

"I got a good start in the first two, it was 1/1, 2/2, and then, I ran away. In the 3rd, I tried to make it as hard physically as I could, and it was working fine, till that injury occurred at 7/3. I completely lost my concentration, and mentally, I was afraid to rally it up.

"At the end, just got lucky, that backhand drop shot at 10/8 to get match ball, and at 9/10, he tins a crosscourt drop.

"I had a bad season last year, dropped out of the top 16, and decided it would be good for me to win a few smaller tournaments. This year, I've been playing fine, and I'm enjoying playing injury free, touch wood! And to be honest, I've probably been out of the Super Series for as long as you, Fram!!!!"




"I'm hitting well the ball, but the body is still not perfect, I'm recovering from planta fascia trouble, it's getting better, but not quite there yet. But next tournament, I should be fine.

"LJ was controlling the T too well today, he played better, much better than me, and was concentrated from the first rally…"






[11] Laurens Jan Anjema (Ned) bt [Q] Omar Abdel Aziz (Egy)
11/6, 11/5, 11/5 (39m)

A BIT ONESIDED…

Although those two players gave their 100%, I could see that LJ was a man with a mission. His level of game has come up a notch I feel, since I haven't seen him. For me, he was always, how can I say, nearly there. Strong physically, determined, clever player, but his attacks were lacking sharpness.

Now I feel he is there.

He attacks much more than he used to, or, let me put it another way, his short game is much more dangerous than it used to be. Allied with his physical power, his court coverage, and his volleying ability, I trust he may cause a few upset pretty soon, if he doesn't put too much pressure on himself.

Omar was so quiet today, only went intense against a decision once, as in, VERY quiet bless him. We could see he was still a bit struggling on the movement level, and the furious pace/volleying that LJ put him under surely didn't help…

You are right, Fram, I think I hardly did anything wrong today. Last week, I lost in the first round, and some things I've been working with Lucas didn't work too well. It was an upset really, but I learned a lot from it.

Today was a good example of how I can play, of how I should play all the time. And sorry for the cliché, but it's really great to win your first round match, and to do it 3/0. It will give me the confidence for the rest of the year!!!!!


Session Two at Green Island
[6] James Willstrop (Eng) bt
Aamir Atlas Khan (Pak) 11/7, 11/4, 11/4 (33m)

STILL FAST…

If Aamir didn't last more than two games fitness wise, he still worked extremely hard, following James point by point, and sustaining long rallies with the Englishman, deserving fully his Speedy Gonzales nickname…

But James' shot just went in like knife in warm butter, and even if Aamir found some lovely shots and counter attacks, the Englishman had all the answers tonight.

To be noted that at the start of the 3rd, when he was still fighting hard to come back in the game, Aamir's drop shot was called good, but he fairly gave it back. Doesn't happen often enough not to be mentioned….

My fitness is not as good as it's been. I was injured at the beginning of the year, and against those top players, it's just not good enough. I have to work on that…





"I thought I played pretty well. Everybody is going on about getting through the first round, which is not as simple as that these days, because the level in PSA is so high, you've got to find your rhythm…

"It was pretty hot and warm on there, the court was very bouncy for a glass court that we normally expect to be more dead than a normal one.

"He is fast, and as he picks up a lot, I had to make sure that my shots were really accurate – well, you can say that for every game I guess. And although he is not a real attacker player, he will surprise you once in a while, by attacking a serve, when you don't expect it. It's a good tool to have when you are a squash player, that occasional bounce of attack….

"After the operation I had last year, it takes a lot of time to get the confidence back. And you keep on having treatments, and making the adequate exercises, to make sure you get that ankle strong, and to allow your body to play that so demanding sport of ours.

"Now, going to go to the official function, which is the duty of a squash player, and as I don't have a full 24h, getting as much sleep and refuelling as I can..

"Strange existence of ours really…"


[4] Karim Darwish (Egy) bt [Q] Mark Krajcsak (Hun)
11/7, 6/11, 11/5, 11/5 (42m)

MARK IS NOW EGYPTIAN

What happened???? I go away for 10 months, and Mark changes his nationality???

The Hungarian just was stupendously good tonight, and attacked every ball under the sun. Karim had all the trouble in the world to shake him off. In the 1st already, the Egyptian was under a lot of pressure, 7/7, but the energy left to put Karim away from the ball was just a bit too much for the Hungarian.

But in the second, Karim tried too much, wanting to finish this off quickly. Big mistake. Out of nowhere, came some amazing shots from Mark racquet's, I mean, really stunning!!!!!

Of course, of course, the former world number one reassessed, analysed his opponent's game like a computer does, and found a better way to handle his shots. But come on, Mark will be DELIGHTED with the improvement he's made in his game…

"Mark played really well tonight, he had nothing to lose. He normally runs a lot and takes the ball to the back, but tonight, he went for shots, and in the warm conditions tonight on there, it put me under a lot of pressure.

"In the second game, my shots were pretty short, I went for too much too early, but in the third, I got my length back, and took the control back."





"I've been training this summer for the first time ever away from home, and I worked for a month with Greg Gaultier, down in Aix en Provence. And that made all the difference really.

"I'm also much more organised with my training now. You know, I'm 26, and I've got to make it soon!!!!

"Greg is a role model for me, and a good friend too. I hope I will keep training with him, his game is so good for me to train with. That made the difference tonight I think."



| | |
| --- | --- |
| | |
[7] Thierry Lincou (Fra) bt [Q] Ali Anwar Reda (Egy)
11/7, 11/5, 11/2 (30m)

MOHAMED ALI NOT AT HIS BEST

The Egyptian who is improving every tournament I feel, has suffered a bit of a set back I fear. And today, against the experience of Thierry Lincou, he just couldn't shake off a hamstring injury that prevented him from moving forward that freely.

Add to that maybe too much pressure on himself, trying to reiterate his good performance in Manchester a few weeks ago, and you have far too many errors…

Thierry played really well today. Well, apart from his normal, "I'm going to wake up soon" 1/5 start. He was lobbing well, played a few deceptions, was moving pretty well, despite a weird bandage on the left knee, which kept sliding down.

Tactically, Mohamed Ali was playing well, and you could see the thought pattern well in place. But he just couldn't execute too well, and found the tin too many times to worry the Frenchman today.

"I think that there was something wrong with Mohamed tonight. Last time we played in Manchester, it was a very close game, and I won only just. And yes, I changed my game, I was more aggressive, I took him to the front much more, but I could feel that he was doing far too many mistakes compared to his normal game.

"These are courts like I love them. Very rewarding, and the warm temperature is perfect for my old joints! Also, because we were in much harder conditions temperature wise, more humid, in El Gouna, this week, I'm suffering less I feel, and I'm moving much better.

"Some days, I have to fight against my body, but considering my long career, I can't complain. I always kept good care of it, and now, I'm having the dividends….

"Why do I still compete? Because I love the game, it's addictive. I still love the game, I still love the training, although my knees don't anymore! And wining is unique. And I would like to feel that feeling again and again… And I really enjoy playing different generations of players, I really do.

"Here in KW, we are spoiled, everybody is taking so good care of us, and Kuwait has a great image around the world.

"My eldest daughter is 7, she knows what Dad is doing, the youngest doesn't have a clue! But it's ok for them, Mum is home. And because Mum is home and looking after them, I'm able to do my work. And I'm ever so grateful for that."


[2] Ramy Ashour (Egy) bt Omar Mosaad (Egy)
11/7, 11/5, 11/7 (33m)

RAMY FLYING…

Omar just said "his shots… he is so fast… he is just too good".

And to be honest, that's all that can be said. Yes, Omar gave it best, perfect gentleman on court, it has to be stressed, but whatever he was throwing at Ramy, he would still lose the point on a stunning nick…

"Before, I used to act on the spot, I didn't think, I just played on pure instinct. But nowadays, I fell I'm preparing too much. And that's why sometimes, I get so angry when I make a mistake. Because I feel I should let go of things, let thing go free out of my mind, instead of thinking too much. I prepare too much now, and it's not good. Well I think it's not good. I'm not sure!!!!!!

"I know, I beat up myself too much, I'm thinking too much. But thank God I'm still playing well, and I'm still wining. But you know one thing? I'm more desperate to win than ANYBODY at the moment. Before, I wanted to win, but not that much. Bt now, I'm really really REALLY want to win.

"I know, I've got to let go, and to loosen up…"


Qadsia Club:

[9] Daryl Selby (Eng) bt Jonathan Kemp (Eng) 11/3, 11/3, 11/6 (26m)
[14] Adrian Grant (Eng) bt [Q] Nicolas Mueller (Sui) 5/11, 11/9, 11/8, 4/11, 11/8 (85m)
[8] Peter Barker (Eng) bt [Q] Borja Golan (Esp) 11/6, 7/11, 11/3, 11/7 (75m)
[15] Alister Walker (Eng) bt Olli Tuominen (Fin) 11/4, 11/7, 11/5 (44m)

Green Island:

[5] Gregory Gaultier (Fra) bt Abdullah Almezayen (Kuw) 11/5, 11/5, 6/11, 11/2 (44m)
[3] Amr Shabana (Egy) bt Stewart Boswell (Aus) 7/11, 11/8, 11/7, 11/6 (59m)
[16] Cameron Pilley (Aus) bt [Q] Ryan Cuskelly (Aus) 11/7, 11/2, 11/8 (53m)
[1] Nick Matthew (Eng) bt [Q] Steve Coppinger (Rsa) 11/9, 13/11, 11/6 (49m)