Kuwait lost a dutiful daughter four years ago and a remarkable professional talent who left evident marks on all fields, internationally and locally. Her commitment to Kuwait was the paragon of human dedication. Her complete involvement, tempered with love, fired by fierce devotion, demonstrated the highest example in the service of our homeland and dedication to work.

The bereavement of Kuwait and its people is grave in the demise of Sheikha Sheikha Al Saad – MD for International Marketing – (God bless her soul) who held Kuwait's banner high flapping in the economic domain. Thanks to her efforts. Sheikha Sheikha Al Saad Al Sabah received her education till the secondary stage in the schools of Kuwait, graduating in 1973. She joined the American University of Beirut to study Economics, but due to homesickness she returned back in Kuwait to complete her studies and get her B. Commerce in Economics in 1976. Sheikha Sheikha Al Saad Al Sabah stepped up the professional ladder in the late 70s.

Her characteristics down to earth behaviour won her the affection and respect of all those who accompanied her throughout these years. Sheikha was driven by determination and devotion to achieve progress and advancement.

She also adopted a rigorous approach in respect of participation in international activities and forums aiming at strengthening ties and cooperation between KPC and its clients abroad, in addition to reinforcing the image of the oil sector and delivering KPC's message to the concerned quarters in the international markets.

Upon her graduation in 1978, she was appointed an Investment Officer in the Investment Department, Ministry of Finance for one year, and then she transferred to the Ministry of Oil to work as Sales Representative for the Liquefied Gas Sales Department.

In 1980, she transferred to KPC where she made her basic start towards professional career in the oil industry.

In addition to her work in the marketing sector, she worked in 1988 for Kuwait Foreign Investment & Contracting Company. In 1990, she was Deputy Managing Director for Investment and Real Estate Department in the Public Authority for Investment.

Sheikha was simply the quintessential leader that you long to see and admire to watch. Her poise was majestically brilliant and worthy of great world leaders.

One of her hobbies which she used to enjoy most was playing squash. She even used to encourage the youth to play squash.

The intolerable disease in her last days didn't prevent her from performing her duties and responsibilities.

Throughout her career, the name of Sheikha Al Saad Al Sabah was met with respect and esteem for a person who performed her duties devotedly and sincerely. We pray to Almighty God to bless her soul with mercy and to console her family and all the Kuwait family and grant them patience and solace.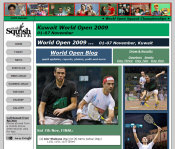 2009 Event