TODAY at the Kuwait PSA Cup
Framboise reports, Steve clicks away ...
Tue 12th, Quarter-Finals

Ashour survives as Willstrop repeats 2011 final win over Darwish ...

Quarter-Finals:

[4] Grégory Gaultier (Fra) 3-0 [8] Peter Barker (Eng)
11/3, 11/2 rtd (19m)

[1] Ramy Ashour (Egy) 3-2 [7] Amr Shabana (Egy)
9/11, 2/11, 11/8, 11/5, 11/4 (73m)

[6] Mohamed El Shorbagy (Egy) 3-0 [13] Daryl Selby (Eng)
11/4, 11/4, 11/9 (35m)

[3] James Willstrop (Eng) 3-1 [5] Karim Darwish (Egy)
11/9, 11/4, 4/11, 11/3 (49m)

"I could see from my first boast that he was struggling,
I asked him if he was ok to carry on ..."

[4] Grégory Gaultier (Fra) 3-0 [8] Peter Barker (Eng)
11/3, 11/2 rtd (19m)

PETER, KNEE NOT RIGHT

It's not fair you would think. After sorting the injury that crippled him in HK and prevented him from playing the semis, a hamstring trouble, it's now the Tband that is pulling on the patella, inflicting a sharp knife-like pain in your knee.

How do I know so much about it? Cause that's the one I've been suffering from for now 10 years, so I saw the signs…

"I hope that Peter is going to be able to stop to get sorted, he had several injuries, first the hamstring, now the Tband, I know it's hard to stop, but I've done it, and it's worth it, because you come back, not only better but hungrier for victory…" said Greg to Adrian Davies the MC after the match.

We of course noticed immediately that something was not right from the first movement he didn't make to the back, and the grimace he made as he went for Greg's boast.

What a sad sad moment for Pete, yet again. Get well soon, mate.
[1] Ramy Ashour (Egy) 3-2 [7] Amr Shabana (Egy)
9/11, 2/11, 11/8, 11/5, 11/4 (73m)

RAMY GETS IN THE MOOD…

'This is probably the toughest match I played in my career, both mentally and physically", said a drained looking Ramy Ashour to the MC after his match against Legend Shabana.

Well, I'm not sure it was the toughest physically – I remember a few ones against Nick and James that topped it probably – but mentally, yes, it was a very very very tough one.

Rewind.

Ramy gets on court looking really tired, and honestly, doesn't look like he wants to play. It happens. Have you always wanted to go to the office? Isn't there one day where you thought, naaaa, staying home today, dozing in front of the TV with either a beer or a tea…

Well, that's exactly what Ramy feels today. Just doesn't feel like playing. Like Nick yesterday – who admitted he was flat after too much squash – Ramy was/is squashed out.

And bad luck for him, Shabana is in the form of his life! Playing as well as he can, and he can. Accurate, moving terribly fast, constructing rallies beautifully, and basically, running Ramy round the bend...

Let me run you the first game. 4/0 for Shabs. 6 points in a row for Ramy. 6/4. Three tins from Ramy, 7/6 Shabs. A nice volley drop shot from Ramy, 7/7. A tin from Shabs, 7/7, followed by 2 tins for Ramy, plus a stroke, 9/9. A superb volley drop from Shabs, and a stroke that could have been a let (in my opinion and Ramy's), game Shabs 11/9 in 13m.

Ramy, really not happy with that last decision, tries to wake himself up, to motivate himself, but just doesn't show at all in the second, not even trying to play to be honest, like he is running out of options. Shabana just keeps on playing his game, not letting himself feeling sorry for his opponent, or distracted in any way. At the top of his game, he is quietly, but surely, stringing points away.

At the start of the third, Ramy doesn't start the game right away, he is fighting against himself to stay on court, I can see it, it's written all over his forehead, "I don't want to be here, I don't want to play, I don't have any answers", and he is thinking about shaking his opponent's hand.

The old Ramy – the one before Aspire and his new career – would have probably walked out. This one stays on, and accepts the battle. And starts running, and fighting and pushing and putting Shabana more and more under pressure. 3/3, 5/5, 6/6, 7/7.

A few discussable decisions, and Shabana, still angry from the day before probably, still frustrated by the lack of video refereeing, is struggling to not argue with the refs. Gets a conduct stroke for descent at 4/1 for saying "you are the one". Not sure what happened there to be honest. Ramy gets to game ball, 10/7, to take the game 11/8, to be honest, against all odds if you think the mental state he was in at the start of it and Shabs quality of squash!

The fourth will be dominated by Ramy, while Shabana is struggling with his concentration, still really not happy with the official side of things. And in the 5th, Ramy is jumping up and down, now fully awake/willing, while Legend Shabana will make 7 tins, mouth "f off" and won't play the last two points, spitting on the floor as he exits to go and pick up his bag…

The courageous MC keeps Ramy on the court, and manages to make him speak. Well done Adrian for making Ramy speak in the state he was in.

So there you have it. One of the weirdest/most emotional matches I have been for a long time, between two players that not only respect each other so much it's not on the scale, but I'm sure care more for each other a tremendous amount. Emotion, Emotions.

I'm drained…

"It was a good game, can you believe he is 32, 33, I don't think I'll be able to play at that level at that age, he is four time world champion, he is an amazing champion, and today, I'm glad I was able to keep up with him.

"This is the toughest match I ever played in my life, mentally, physically. We play a lot of tournaments, a lot of matches, and I'm happy I managed to finish this match without an injury.

"No, I'm not sure why Shabana got a conduct stroke, I was on the court with him, not sure what happened there, to be honest.

"I know the referees are supporting us on tour, and it's not always easy, and that mistakes are bound to happen, but we really would appreciate they keep it to a minimum…

"I would like to thank my parents that have been supporting me always, my brother and all the people that are routing for me, and all the people that are not routing for me either, I want to thank them!!"



"That was the hardest match I ever played in my life ..."





[6] Mohamed El Shorbagy (Egy) 3-0 [13] Daryl Selby (Eng)
11/4, 11/4, 11/9 (35m)

Shorbagy steams into the semis Steve reports

Mohamed El Shorbagy reached the semi-finals of the Kuwait PSA Cup for the second time in a row with an impressive performance to beat Daryl Selby, who beat second seed Nick Matthew in straight games in the previous round.

The young Egyptian was all effervescent energy from the outset, and while Selby's calm, controlled game enabled him to stay in contention for the early part of the first game, incessant pressure from Shorbagy paid off as he advanced from 2-3 down to take the game 11/4, Selby finally unable to stop the flow of attacks coming his way.

The second was very much one way traffic, Shorbagy applying too much pressure and quickly building a 10-1 lead, doubling his advantage with another 11/4 finish.

At 4-1 and 6-2 in the third it looked all over, but Selby managed to get back into the rallies, which became longer and, from Shorbagy's point of view, harder to win.

A run of four successive strokes, three of them to the Englishman, brought the score to 8-7, and Selby finished off another long rally with a dying length for an unlikely 8-all scoreline.

Undeterred, Shorbagy took the next two points, smiled away tinning what would have been an easy winner on his first match ball, then forced a loose return from Daryl which he gleefully slam-dunked into the nick to finish the match after just 35 minutes.

"It's just like last year her, when I saved a matchball in the first round and did really well, this time I saved four in my first match and now I'm in the semi-finals again, I can't believe it!

"Of course I'm very happy with the way I played, I was patient, waiting for my opportunities, and it's my best performance of this event.

"I'm happy I won the third because I could feel I was starting to fall into this rhythm, and I didn't want to lose any energy for tomorrow, my first World Series semi of the year.

"It's so good having my mother with me at all the tournaments, I obviously wouldn't be here without her, and she's a great help and inspiration to me, I hope I play well and I can make her proud."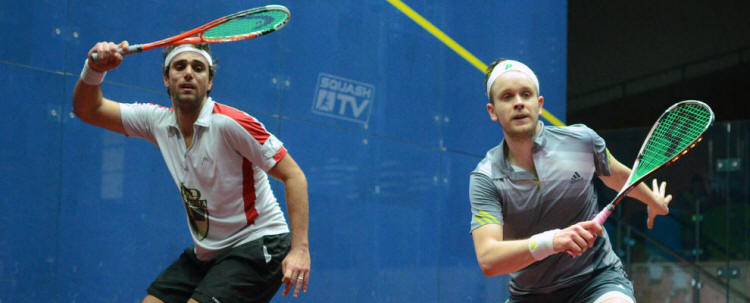 [3] James Willstrop (Eng) 3-1 [5] Karim Darwish (Egy)
11/9, 11/4, 4/11, 11/3 (49m)

JAMES BEATS "UN GRAND KARIM"

I mean that Karim was playing at his best, like he did against Shorbagy in the Worlds in Qatar. The Egyptian was hungry, fit, moving superbly well, and found his chopped shots and a few across long drop shots that I rarely saw played to be honest.

And it's really showing how in top form James is in this tournament.

After making four errors in the first game, but still clinching it, the Englishman just prevented Karim from adjusting his shots and found some superb feathery long drop shots of his own, sprinkled with a few volley drop to make good measure and break the heart of the Egyptian crowd supporting their man.

Karim never gave up, and sustained his great level of play in the third, taking the game in five minutes against a James who just couldn't stop the avalanche of short shots coming from the Egyptian racquet.

But in the fourth, James was back with the vengeance, maybe Karim had a bit of energy drop – wouldn't be surprised with the superb squash quality what was played – and James just strung the points to take the match in 49m, 3/1, to now face Mr Shorbagy for a rematch from the World Semis in Qatar where young Shorbagy – at the time still 21, took the world number out, 3/1 in a classic encounter.

Can't wait.

"The intensity was up there tonight, one of the top six matches, with truly severe intensity. I think I did well to take the first, although I made a big error off the serve at 9/8, silly error really, but I manage to still get it.

"Karim played at his best today, whatever his problem was, it's now sorted because he was moving very well, hitting the ball very well as well, and you could see he was really up for it.

"What happened in the third, I don't know, strange really. Maybe I just couldn't keep the intensity up enough.

"First, although I didn't do any tins in that one, I hit the side wall about six times, and it's still an error. And he played very well throughout the match so he deserves a game really, a 3/0 wouldn't have reflected the quality of the match.

"Plus, when you have two players playing top squash, it's rarely a 3/0, it just doesn't happen, you cannot keep playing your best squash all the time.

"The same way it's unusual to get more than a four point lead, squash at that level just levels out, and you just cannot keep on winning…"







Quarter-Finals Preview

Seven of the top eight seeds made it through to tonight's quarter-finals, where they are joined by seed Daryl Selby who produced a stunning upset against world number two Nick Matthew.

The lineup includes 5 players who have been world number one, and 4 who have been world junior champion.

Gaultier v Barker

Gregory Gaultier, aged 30, is one of five players who have been world number one gracing the quarter-finals, even if only for a solitary month in 2009. Runner-up in three World Open finals, the Frenchman has been a fixture in the world's top ten since April 2006, and has won 23 PSA titles from 132 events and 50 finals. Recent highlights include victory in the Netsuite Open, the Abierto Mexicano, and last month he retained both the Swedish Open and French National titles.

In this year's World Series events he reached the final of the Tournament of Champions (ToC) and the semis of the North American Open (NAO)

Peter Barker, 29, first made the world's top ten in March 2008 and has been an ever-present there since November of that year. He has won 13 PSA titles from 125 events and 20 finals, but has not triumphed at an event since the Santiago Open in 2009. when he also won his biggest title to date, the KL Open.

In this year's World Series he exited in the first round of the ToC but made the quarter-finals in Richmond.

The pair have met 18 times since the Euro Juniors in 2000 with Gautier having won on 16 occasions (13 of 15 in PSA events). Barker's most recent win was in dramatic fashion in last year's British Open quarter-finals, a defeat which Gaultier has avenged twice since.

Ashour v Shabana

Ramy Ashour is, by common consent, in "ridiculous form". World number one and world champion (2008 and 2012) the 25-year-old Egyptian has reached the final in the last 9 events he's played, has won the title in the last 6 events, and is on an unbeaten run of 33 matches stretching back to last year's British Open final. He reached the world's top ten in November 2006, the year he won his second world junior title, and has been there ever since.

Despite a number of injury problems he has won 29 PSA titles from 82 events played, making the final in 44 of those. He has won both World Series events so far this year, the ToC and NAO.

Amr Shabana's CV is, if anything, even more impressive. Now 33, he has been World Champion four times (2003, 05, 07, 09 in Kuwait), has won 31 PSA titles from 164 events and 45 finals. His stay in the world's top ten dates back to his debut Jan 2004, an unbroken run of 111 months and counting, including a 33-month reign as world number one from 2006 to 2008.

His most recent successes are in this year's Motor City and Comfort Inn Opens, as well as retaining his World Series Finals title in January. He exited in the second round of this year's ToC and reached the quarters of the NAO.

The pair have met 18 times (excluding countless matches in Egypt no doubt), with the scores level at 9-all, although Ashour has won four of the last five. They have met four times in Kuwait, in the finals of 2007, 08, 09 and 10, each winning twice.

Shorbagy v Selby

Mohamed El Shorbagy was the second player to become World Junior Champion twice (after Ramy), and followed that up by reaching the senior World Championship final last year, at the tender age of 22. He's a relatively recent entrant to the top ten, but has been there ever since Dec 2010.

He's played 67 PSA events, reaching 11 finals and winning 5 of those. His most recent successes are the Motor City, Reunion, Colombian and Macau Opens in 2011. In this year's World Series events he made the quarters of the ToC but didn't compete in the NAO.

Daryl Selby, 30, produced the upset of the tournament when he beat second seed Nick Matthew in straight games last night. A new dad, he has been a fixture in the world top twenty since Dec 2009, spending 12 of those months at number 9 or 10.

In 102 PSA events played he's reached the final on 17 occasions, winning 11 times, his most recent success being the Grasshopper Cup of last April. He was British National Champion in 2011, famously beating Matthew in the final.

They've met 7 times, with Shorbagy leading 6-1, but only twice in PSA, Selby winning at Canary Wharf in 07 and Shorbagy triumphing here in Kuwait in 2011 on his way to the semi-final.

Willstrop v Darwish

James Willstrop, now 29, was World Junior Champion in 2002, and became World Number One in 2012, partly due to success here in the Kuwait Cup, one of three major events in a row - Hong Kong, Kuwait, Delhi Masters - which he won at the end of 2011.

He leapt into the top ten at number 5 in Jan 2005 and has been there ever since, spending 11 months of last year at the top.

In 134 PSA events played he's reached 36 finals, winning 18 of those including four Canary Wharf Classic titles. His most recent success was at the NAO in 2012, while in this year's World Series events he's reached the semi-finals of both.

Karim Darwish, 31, preceded Willstrop as World Junior Champion and, like James, has reached the final of one senior World Open (in 2008, Willstrop in 2010).

He first made the world's top ten in March 2003, and has been there continuously since Oct 2007, spending 11 months of 2009 as world number one.

Darwish has played 151 PSA events, taking 22 titles from 40 finals, his last victory being in the Macau Open in Oct last year. He reached the quarter-finals of both the ToC and the NAO earlier this year.

They've met 26 times overall, 23 of those in PSA, with Willstrop leading 19-7 and 18-5. The Englishman has won their last 14 PSA meetings, while Darwish's sole success since 2007 came in the World Teams decider in Paderborn 2011.

Today's match will be a repeat of the 2011 Kuwait Cup final, which Willstrop won 3-1.


Info gleaned for the most part from SquashInfo.com