TODAY at the Kuwait PSA Cup
Framboise reports, Steve clicks away ...
Thu 14th, FINAL: Video roundup

[1] Ramy Ashour (Egy) 3-1 [3] James Willstrop (Eng)
6/11, 11/8, 11/3, 11/3 (58m)

Ramy is the Kuwait PSA Cup Champion
Quick roundup

Ramy Ashour justified his top billing in the final of the Kuwait Cup with a sensational performance to defeat reigning champion James Willstrop in four games in front of a packed, noisy, and mainly Egyptian supporting crowd at the Qadsiya Club in Kuwait City.

It was Englishman who started the match better though, soaking up the world number one's attacks as he took the first game with some comfort, and continued to impress for the first half of the second game.

Slowly but surely though the pressure was building, and Ashour's pace around court and renowned shotmaking ability was taking its toll, as he pulled clear to level the match.



That pattern continued in the next two games in which Willstrop could only muster six points - by the end Ashour was revelling in it, and was just too fast, too accurate, and had too many shots.

As he hit the winning shot deep to the back of the court he turned to acknowledge the fans who had supported him all the way.

Ramy thus collects his third Kuwait Open/Cup title, wins his seventh major PSA event in a row, including all three World Series events this year, and extends his unbeaten run to 36 matches, well ahead of anyone other than Jansher and the watching Jahangir Khan - although he has a way to go to beat that particular record ...

Read on for the full report ...

JAMES CONTAINED RAMY, BUT THEN…

I feel that I've written this report before, it was in HK. For the first game and a half, James controlled contained Ramy beautifully, and I thought – exactly like I did back in HK – that was the day Ramy would bow to Gentleman James. Again, it wasn't to be.

The Englishman played exactly in the same mood/fashion as he did yesterday against Mohamed, and dominated/frustrated Ramy exactly the same way, controlling rallies from the middle, despatching superb accurate drop shots, volley drop shots.

Ramy couldn't do much but endure James' domination, making 5 tins in the process and from 6/6, not scoring another point. Things didn't look good at all for Ramy, who was disturbed by the crowd – his supporters were rather NOISY – the people passing, himself, and even poor Cubs got a notice as he was too close to the front wall!

Second game, it still didn't look good at all for the Egyptian, who was still in the rallies, but not controlling much and retrieving a heck of a lot, James 4/1. And then suddenly, Ramy was able to get in front of James, got back to 4/4, 5/5, James taking again a two point lead at 7/5.

And that's when I feel he hit the wall. Energy suddenly dropped, I could see it in his face, body, and the time he took to serve and receive the next serve at 6/7. Exactly the opposite of the first game, it was Ramy who soared to game ball, 10/7.

And that's where James showed how tired he was. He actually left the court, thinking he lost the game, bless him. We all looked at him, the racquet – thinking maybe a string, but no! He looked at the ref who said, "it's only 10, game ball".

Ah, ok, James went back in there, to take the next point on a lovely feathery volley drop, but just couldn't do anything against the next winner coming from Ramy's racquet, 11/8.

Next two games, not going to dwell on them, really, 11/3, 11/3. James just unable to react, fighting till the last shot. But Ramy never was to be stopped.

Interesting to note that once again, the time of the games decrease at the match unfold, 15, 13, 11, 9.

Thirty-six wins for Ramy, seven tournaments. The boy was happy and the crowd swallowed him – I couldn't get anywhere near him…

Never nice to lose two games 11/3, 11/3…

I feel… what's the word… outmanoeuvred.

It's been a couple of matches now where I had some strange physical performance, and I've got to look into that.

The lack of accuracy I had, all credit to him because he put me under so much pressure, you feel it in the legs..

!He got me on the run of several points, and also I was recovering well, you sort of lose the physical edge. Hard rallies, but then again, I have only myself to blame, because I was not accurate enough.

I gave it all I could, but it's disconcerting. I try to lose well but I want to win, I desperately wants to win, and he managed to get me in that position, no one else can do that I think, he makes the court double size as it is, just because the quality of his shots is such that I lose my accuracy, because of the pressure he puts me under.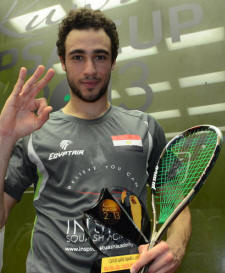 In the first, James came out firing, and the crowd was very numerous, and very loud, I got very surprised, because I didn't expect it at all – as it had been a bit quiet on that side up to then. It too me a bit to start and take it in a positive way.

Now I think about it, I think I was too edgy, everything was bothering me, I felt that I was not in control, James was playing so well, so I was aware of each and every detail, even the photographers, I was aware of their position, even poor Steve I spoke to… Because I didn't focus enough, I was just too edgy.

James played very well in the first two games, he was on top of me on every shot, even his length, I was ready/happy to break my racquet to try and return them, but he was just too good. I kept thinking I hope he is not going to keep this up for the whole match, and I'm simply happy I kept hanging in there.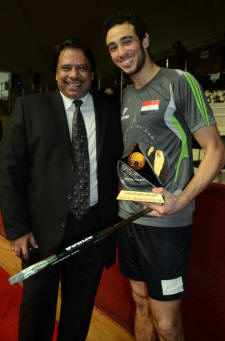 I will never say it enough, he is one of the very few respectful players out there, showing great sportsmanship on and off court. He is great for the game, and a fantastic ambassador for squash.

Before the match, sometimes, you have a black out, and you just don't know why you are playing, and why you are doing what you are doing, and it's hard to get on court. So you keep try and flushing the bad thoughts away, trying to bring in the positive, and I kept on having the flash back, reviewing the reasons why I was playing squash, and 100%

I realised that I do it for my parents, because I owe them everything, they are the ones that give me strength, and when I win, it makes them so happy. Plus, I know I can be difficult sometimes, I really give them a very hard time to say the least, and they are always standing by me. So this one is for them.

This has been a fantastic tournament, especially the finals day when the place was filled and with a great atmosphere. I hope isA that next time in November, people will come and support us from the first day, they really make a lot of difference for us. So please guys, please come and see us!

Of course, I want to thank the people that support me, and in two months, they will have that big meeting to decide if Squash is accepted in the Olympics. I just hope with all my heart that squash then be where it belongs.