[3] Daryl Selby bt [1] Nick Matthew
9/11, 11/9, 6/11, 11/9, 11/7 (84m)
Daryl does it ...

Not many would have bet on two new National Champions at the start of this week, and not many would have put money on neither James Willstrop or Nick Matthew, who have won the last five titles between them, being on the winner's podium.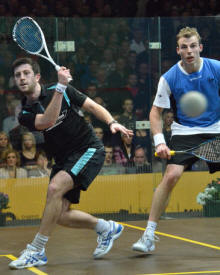 But Daryl Selby made that all happen today with an outstanding performance to dethrone top seed, defending champion, world champion and world number one.

There were little signs of the upset to come in the 15-minute first game, which Matthew led throughout, pulling away towards the end. The rallies were long, of course, but Matthew was more incisive in finishing them.

He started the second better too, leading 4/1 and 6/4. Selby was warming to his task more now, he levelled at 7-all, and from 8-all two straight drives, one down each wall, caught Matthew out, and he converted the second of his game balls to level.

After a tight opening to the third Matthew scored a run of quick points which took him to a 9/3 lead, and although he then made a couple of errors, soon enough he was back in the lead.

The rallies were still long, but Matthew wasn't able to finish them off as easily as in the early stages, Selby was able to blunt the attack - "better length and width" was his explanation, easier said than done.

A good start for Selby in the fourth, 4/1, but Matthew crept back to level at 7-all, then 8-all. A clinging drive from Selby, a tin from Matthew and it was game ball. Selby forced an opening, went for the volley kill ... and missed. You could see his frustration, "why did I do that," written all over his face.

Fortunately it wasn't costly as he steadied into a long, long rally, finally driving the ball deep and tight to take the 19-minute game and set up a decider - and he was pleased about it.

The fifth was tight ... 2-all, 4-all, 6-all, 7-all. By now Daryl was if anything the one in charge, Nick was struggling to force openings as evidenced by his four tins to this point.


A lungbusting rally, both running to all four corners, stretching, running, stretching again, and finally a tin from Nick. They're both tired after this one, 8/7.

Another long rally, Daryl's drive is glued to the wall, 9/7. Another long rally, Nick's boast just clips the tin, 10/7.

A few shots into the final rally, both play volley-drops, Daryl looks like he's asking for a let, looks at Nick, Nick nods his head. "Yes, mine was down," he's saying and shakes Daryl's hand. Daryl can't believe it, slumps to the floor as Nick exits the court ...

Arise Daryl Selby, the 2011 British National Champion.


"Nick's intensity overpowered me in the first, but in the second I felt better and started finding a good width and length, and I started attacking more.

"I had a plan, but he didn't let me execute it early on, he didn't let me do anything.

"After that the plan came into action and I was playing some of the best squash I've ever played.

"I felt I moved up to Nick's level, I matched him physically and I deserved to win.

"I know I have it physically, but if my squash isn't good I have to work twice as hard as my opponent. Today I worked harder than Nick probably, but only by a bit, and I forced him into errors in the fifth.

"It's obviously my biggest title and my biggest honour, and looking at the trophy it's a while since an Essex boy [Del Harris] won it !"


"He didn't give me anything - it was almost error-free squash. I had my chances, but when he came back he took his chances better than I did. He played better than me.

"I wanted so much to win that fourth title."