Sunday 14th, Day SIX - Finals Day
A host of new National Champions were crowned today - from the EDSA, the new U21 Champs, the Masters from O35 to O75 and of course the two main titles.
Masters Finals Results and Roundup

Women's U21 Final:
Georgina Kennedy 3-0 Alison Thomson 11-6, 11-4, 11-2 (23m)
Men's U21 Final:
George Parker 3-1 Richie Fallows 11-13, 11-3, 12-10, 11-7 (63m)

[1] Laura Massaro 3-0 [2] Alison Waters 11-2, 11-5, 11-4 (24m)

[1] Nick Matthew 3-1 [2] James Willstrop 11-2, 6-11, 11-3, 11-3 (50m)

Massaro dominates to take third title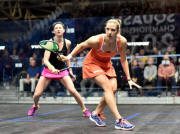 World #1 Laura Massaro justified her top seeded with a comprehensive straight-game win over Alison Waters in the women's final, the pair's fourth meeting at this stage.


A quick start saw the top seed lead 5-0 and the pattern was set, Massaro dominating the rallies, Waters unable to make much of an impression on the play or the scoreboard as Massaro raced to a two game lead.


The third was more competitive, but Massaro still had the edge, closing out the match in under half an hour.

"Alison wasn't at her best today, but I thought I played well and I'm absolutely delighted to get my name back on the trophy," said Massaro.
Matthew makes it Eight

Nick Matthew already held the record of seven National titles and, appearing in a recond ninth final, he extended that to eight as he beat James Willstrop in their fifth final.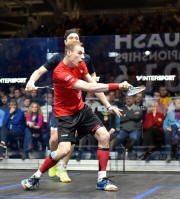 The top seed was dominant in the first game, putting Willstrop under relentless pressure as he took the lead. Willstrop fought back well from 2-4 in the second to level the match, but was under the cosh once more in the final two games as Matthew regained control.


At 9-2 in the fourth there was a particularly brutal rally which Willstrop somehow managed to win, to his own and the crowd's delight, but it was only a short stay of execution.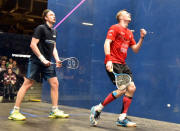 "It's always tough to break James down," said Matthew, "but the court was a bit deader than in previous days and he was maybe feeling yesterday's five-setter by the end. I 'went to Coventry' in the second but managed to get back on track.

"The Nationals is a great event, always improving with new things coming along like the U21s and two glass courts, and it's unbelievable and an absolute honour to have won it eight times."
The inaugural U21 Championships concluded with victories for Georgina Kennedy and George Parker, while 18 Masters titles were decided.
PREVIEW: Familiar Foes

Today's men's and women's finalists have seen it all before , on this stage at least - between them they have already appeared in 28 finals !

Nick Matthew and Alison Waters will both be making record-breaking 9th appearances while for James Willstrop today will be an 8th, for Laura Massaro a 6th. Between them they have 15 titles - Matthew 7, Waters 4, Massaro and Willstop 2 each.

Massaro and Waters have met 7 times previously, starting with the qualifiers in 2002 up to the 2013 final. Waters leads 4-3 heading into their fourth meeting in the final.

Matthew and Willstrop have played each other 6 times in the Nationals, also starting in 2002 with a round two match, and the last four times in the final, the last one in 2014.. Matthew has won them all.