Sun 13-Nov, Day THREE, Round One (top)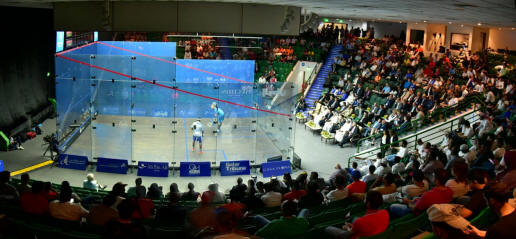 Three scares for the seeds as
Tamimi gives Matthew a real fright

First round of the third PSA World Series event of the year kicked off at the Khalifa International Tennis and Squash Complex in Doha with the top half of the draw.

[1] Mohamed Elshorbagy (Egy) 3-2 Diego Elias (Per)
11/4, 8/11, 11/8, 6/11, 11/5 (63m)
Leo Au (Hkg) 3-1 [Q] Campbell Grayson (Nzl)
6/11, 11/6, 11/5, 11/8 (55m)

James Willstrop (Eng) 3-1 Chris Simpson (Eng)
7/11, 11/2, 11/4, 11/0 (53m)
[7] Simon Rosner (Ger) 3-0 [Q] Declan James (Eng)
11/6, 11/8, 11/6 (36m)

Gregoire Marche (Fra) 3-2 Mohamed Abouelghar (Egy)
9/11, 11/6, 11/9, 3/11, 11/8 (54m)
[6] Tarek Momen (Egy) 3-2 [Q] Paul Coll (Nzl)
7/11, 11/8, 8/11, 12/10, 17/15 (101m)

[Q] Alan Clyne (Sco) 3-1 Saurav Ghosal (Ind)
12/10, 9/11, 11/7, 11/1 (46m)
[4] Nick Matthew (Eng) 3-2 [wc] Abdulla Al Tamimi (Qat)
11/9, 11/8, 9/11, 10/12, 11/9 (71m)
The day's matches produced one upset and three scares the spectators and media came out in force to support local favourite Abdulla Al Tamimi, taking on three-time World Champion Nick Matthew, the fourth seed and former champion.

Matthew took a two game lead - both close - but Tamimi played exceptionally well to take the next two games, and led 9-4 in the fifth before Matthew saw off the threat with a run of seven unanswered points.


Egyptians Tarek Momen, the eighth seed, and Mohamed Elshorbagy, top seed and defending champion, both needed five games to book their places in the last sixteen.

Momen survived a marathon encounter with qualifier Paul Coll, the Kiwi perfroming his usual aerobatics towards the end of the match, failing to convert two match balls in the decider and finally succumbing to severe cramp on match ball down and barely able to contest the last rally.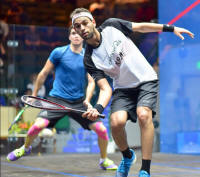 Elshorbagy looked in control at the start of his match with Diego Elias, but the young Peruvian - the pair boast four world junior titles between them - settled into the match well and stretched the world number one to five games before finally giving way.

Scottish qualifier Alan Clyne recorded a first ever win against Saurav Ghosal in a rapid five-game affair to progress to the second round where he faces Matthew.


Momen meets Greg Marche in round two young Frenchman came from 4-8 down in the fifth to maintain his run of wins against Mohamed Abouelghar, , while Elshorbagy meets Hong Kong's Leo Au, who came from a game down to beat another Kiwi qualifier, Campbell Grayson..

James Willstrop will meet Simon Rosner after both beat English opposition, Willstrop coming from a game down to maintain his run against Chris Simpson and Germany's Rosner despatching qualifier Declan James in the final match of the day.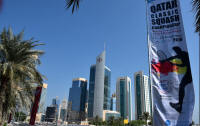 Draw & Results

Reports & Quotes

Photo Galleries