Fri 18th Nov, Day EIGHT, FINAL:

[3] Karim Abdel Gawad (Egy) 3-0 [1] Mohamed Elshorbagy (Egy)
12/10, 15/13, 11/7 (67m)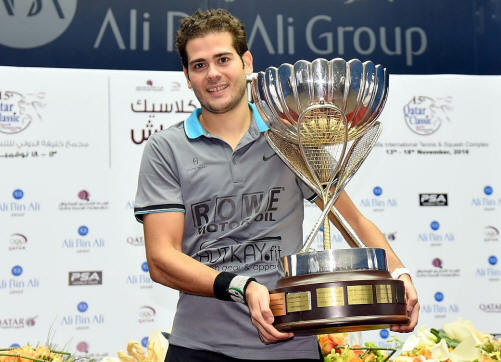 Full reports and Quotes from the Final
Gawad dethrones Elshorbagy in Doha


World Champion Karim Abdel Gawad added the Qatar Classic title to his recent Al-Ahram and World Championship wins as he beat two-time defending champion and world #1 Mohamed Elshorbagy in a repeat of their World semi-final in Cairo.

This time though, in-form Gawad won in straight games, although the first two were neck and neck and both went to extra points with Gawad saving a game ball in the first and three in the second.


The first game took 30 minutes, the second over 20, but the third was much quicker as Gawad closed out the match on his second match ball after 67 minutes.

"Being World Champion and Qatar Champion sounds good, really good," said Gawad, "I'm living the dream!

"Mohamed and I have been competing in the juniors since the age of… 8! I know there are many more battles to come. This is only the beginning ..."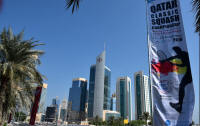 Draw & Results

Reports & Quotes

Photo Galleries