20-Nov, Day FOUR, Round TWO:
Last sixteen in Cairo ...
Round TWO:

[1] Karim Darwish (Egy) 3-2 Mohamed Abouelghar (Egy)
11/13, 6/11, 11/8, 11/7, 11/7 (75m)
Zahed Mohamed (Egy) 3-2 [8] Ali Anwar Reda (Egy)
13/11, 6/11, 11/7, 2/11, 11/9 (94m)

[5] Marwan Elshorbagy (Egy) 3-0 Shaun le Roux (Rsa)
11/6, 11/5, 11/3 (29m)
[Q] Fares Dessouki (Egy) 3-2 [3] Omar Mosaad (Egy)
11/9, 12/10, 7/11, 6/11, 11/7 (83m)

[4] Alister Walker (Bot) 3-1 Eddie Charlton (Eng)
6/11, 11/8, 11/7, 11/2 (44m)
[6] Omar Abdel Meguid (Egy) 3-0 Jaymie Haycocks (Eng)
11/9, 12/10, 11/8 (53m)

[7] Mazen Hesham (Egy) 3-0 Omar Abdel Aziz (Egy)
7/11, 11/6, 7, 12/10 (60m)
[2] Mohamed ElShorbagy (Egy) 3-0 Joel Hinds (Eng)
11/4, 11/9, 11/7 (39m)

Dessouki masters Mosaad as
top seed Darwish survives

There was lots of home interest in round two of the PSA $50k Banque Misr Sky Open at the Sky resort in New Cairo, and while Egyptians did eventually claim seven of the eight quarter-final places, it wasn't always the expected player who won.

The biggest upset came on the opening match on the all-glass court as qualifier Fares Dessouki took a two-game lead against third seed Omar Mosaad, eventually creating a huge upset as he won 11/7 in the fifth.


Another teenager almost created an even bigger upset when Mohamed Abouelghar went 2-0 up against top seed Karim Darwish, but the world #5 struck back to win the next three games.

"I just didn't want to lose in Cairo, in front of my family, and on National TV" said a relieved winner.

Report and quote on the blog

Darwish will face unexpected opposition in the quarters, after Zahed Mohamed, who enjoyed a good run in Manchester two weeks ago, beat compatriot Ali Anwar Reda, the eighth seed, 11/9 in the fifth after 89 minutes.

Dessouki faces Marwan Elshorbagy, the two-time world junior champion who eased past South Africa's Shaun Le Roux in straight games.

Marwan's elder brother Mohamed, fresh from winning the Qatar Classic in Doha, also won in straight games against Joel Hinds and the second seed now meets Mazen Hesham in the quarter-finals.

Fourth seed Alister Walker is the only non-Egypotian left in the draw. His 3-1 win over Eddie Charlton sets up a meeting with Omart Abdel Meguid who also beat an Englishman, Jaymie Haycocks, in straight games.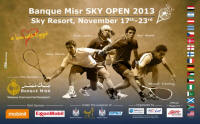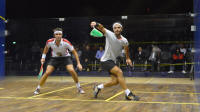 Darwish comeback denies Abouelghar