23-Nov, Day SEVEN, Final:
[2] Mohamed ElShorbagy 3-0 [1] Karim Darwish
11/2, 11/7, 11/8 (43m)
Two in a row for Shorbagy

Mohamed Elshorbagy made it two big wins in a row - following his Qatar Classic triumph last week in Doha - as he beat Karim Darwish in straight games to add the Banque Misr Sky Open title to his rapidly-growing collection ...

Short and sweet. Or bitter.
Depending who you were supporting.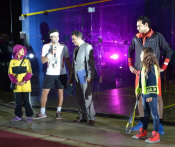 Tonight, "Captain" Karim had a big support. Now in charge of Wadi Degla, his friends and students came to support him and see him win. But it didn't happen.

First game was a bit like the other games Karim played on that cold court. He seemed a bit slower than his normal self. And only came to life in the second game, really putting Mohamed under a lot of pressure. That second game alone was 17m and was the turning point.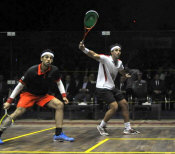 Karim started well, 2/0, 4/2, but Mohamed, showing the signs of tiredness as Karim gave it a big push to come back at 5/5. 6/6. Mohamed is a bit more assertive, Karim is a bit at the back, trying to push Mohamed to the back. Still the young man takes the lead again, 8/6, 10/7. Another winner and he is up 2/0, 11/7.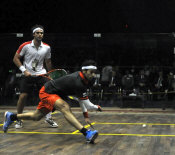 Still Karim doesn't say die. He wants this title back. He wants to win here. For his family. And I can see it in his eyes. Third game starts, and Karim is already on the court, banging the wall when Mohamed comes in.

2/2. 3/3. 4/4. Mohamed, just that little point ahead, 5/4, 6/5, then the tiredness really starts to show in Karim's legs, and errors creep in. 10/6.


Captain Karim's pride is pushing him to run on fumes. He'll save two match balls. But it's Mohamed that get the match, the title… 11/8 in 12m…

Karim is emotional, and like he did when he lost here against Wael, just disappears for a while. To hide his emotions and tears I know he has. And although he accepts to speak with me, I know he just cannot. It's just too much. It's hard to see your own self, 10 years ago, taking your space. It's just too hard….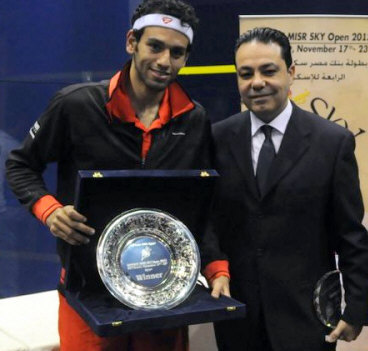 "I had to be very focused from the very first point today as I knew if this get very tough I could be in trouble mentally as I could feel last night I was tired mentally ...

"But hey I spoke to Jonah as always and he gave me his words as always and started making me feel fresh mentally as he knew I was fine physically.

After winning the first game I kne we would give it a big push in the second as we both know there was no way today he could come back from 2:0 down as physically it would have been close to impossible after the amount of hard matches he had ... so after the few long rallies we had in the second I knew that was good for me and I started going short more at the end of the second and I could feel he was struggling to move there because I could feel he was tired.

I am just very happy I could back up after Qatar and the worlds...Jonah told me that was a mental test for me and I think I just got a pass after winning this.

Just want to thank Wolfgang for coming to support me during this tournament"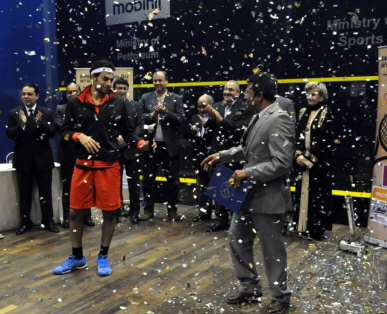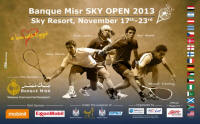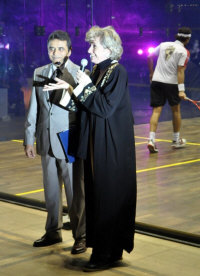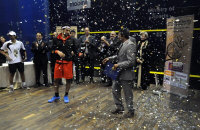 "Of course I am disappointed. I just lost too much energy in the first rounds. And I shouldn't do that.

I had to be 100% fresh to win against Mohamed who is now so sharp.

And he reminds so much of myself when I ……