Sat 17th, Day FOUR:


Men's Round One continues at Grand Central, meanwhile at the Yale Club it's the second of three Women's Qualifying rounds.
Men's Round One, bottom half - Refresh for latest

Omar Mosaad (Egy) 3-1 [Q] Mohamed Abouelghar (Egy)
11/3, 8/11, 11/3, 11/4 (66m)
[3] Nick Matthew (Eng) 3-1 Daryl Selby (Eng)
12/10, 11/3, 7/11, 11/6 (70m)
[Q] Tom Richard (Eng) 3-0 Alister Walker (Bot)
11/6, 11/6, 11/5 (37m)
[8] Simon Rosner (Ger) 3-1 Steve Coppinger (Rsa)
10/12, 11/4, 11/7, 12/10 (87m)
Mathieu Castagnet (Fra) v [Q] Diego Elias (Per)
11/3, 11/7, 3/11, 11/5 (68m)
Miguel Rodriguez (Col) 3-0 [Q] Joe Lee (Eng)'
12/10, 11/4, 11/7 (51m)
[2] Gregory Gaultier (Fra) 3-0 Max Lee (Hkg)}
11/1, 11/7, 11/2 (44m)
[5] Peter Barker (Eng) 3-0 Grégoire Marche (Fra)
11/6, 11/5, 11/3 (47m)
PSA Roundup
Gaultier and Matthew secure
second sound spots in New York

English three-time World Champion Nick Matthew and French World No.2 Gregory Gaultier, the man Matthew beat to claim two of his world crowns, moved one step closer to a potential semi-final showdown at the 2015 J.P. Morgan Tournament of Champions after coming through their first round match-ups in Manhattan today.

In the opening PSA World Series event of 2015, taking place at the iconic Grand Central Terminal, the duo prevailed in strikingly different styles with Gaultier effortless against Hong Kong's Max Lee while Matthew was given a stern test by compatriot Daryl Selby.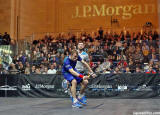 After opening proceedings with a gut-busting rally that set the scene for what was to follow, the English pair served up a 70-minute battle of attrition that saw them trade blows with spectacular retrievals interspersed with pinpoint accurate winning shots but it was Sheffield-man Matthew who withstood an early Selby onslaught to complete a hard-earned 3-1 victory.

"That was a very tough match against Daryl today," said 34-year-old Matthew.

"When he moves well he is a top ten player without any doubt. He's had a few problems with his body over the past year but he's been moving well again recently so I knew it was going to be a tough one.

"In the first game it took me a little while to find my range. He came out with an aggressive plan, making it tough to break him down, and that game was crucial.

"If he'd snuck it then it would have been a very tough ask as he always seems to counter me well so I was pleased to get off in four at the end and I'll rest up tomorrow ready to return on Monday."


2014 Tournament of Champions runner-up Gaultier took 44-minutes to get past Lee and never looked troubled against the World No.16.

"I maybe relaxed a little bit in the second game and let him get into it but it was a good first round match for me as it was fast paced and really got my body working," said Gaultier.

"I had a few weeks off over Christmas but I was feeling fluid today so I'm happy with the win."


Earlier in the day German World No.10 Simon Rösner came through a thrilling encounter with Stephen Coppinger, the South African World No.18, to book his place in the second round.

Two of the most physically imposing players on the PSA World Tour, the duo tested each other to the brink in an mammoth 87-minute battle that saw them trading points in a continuous series of brutal, energy-sapping rallies.

Coppinger took first blood with a 12-10 win in the opening game but Rösner showed the battling spirit that has taken him into the top ten for the first time in his career to bounce back and secure an impressive 3-1 win, taking the match 10-12, 11-4, 11-7, 12-10.

"There were a lot of very tight decisions today and it was a tough match for both of us," said Rösner.

"Stephen is a top quality player and we've had some very tough battles in the past so I'm just really pleased to get through and win.

"I tried to play the match point by point and keep my focus all the way through and I'm just happy to still be in the tournament."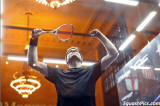 There were also victories for Omar Mosaad, Mathieu Castagnet, Peter Barker and Miguel Rodriguez while qualifier Tom Richards pulled off the biggest upset of the day to knock out Alister Walker 3-0.
Quick "as it happened" reports from selected matches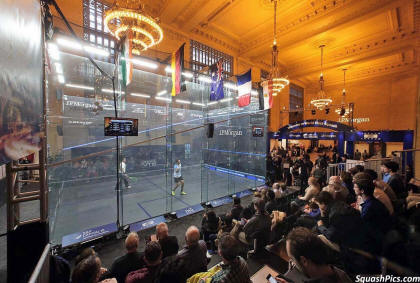 Women's Qualifying Round Two: (Yale Club)

Mariam Metwally (Egy) 3-1 Madeline Perry (Irl)
9-11, 11-8, 11-4, 11-4
Victoria Lust (Eng) 3-0 Joshana Chinappa (Ind)
13-11, 18-16, 12-10
Heba El Torky (Egy) 3-1 Sarah-Jane Perry (Eng)
7-11, 11-5, 11-7, 11-9
Kanzy El Defrawy (Egy) 3-1 Nicolette Fernandes (Guy)
6-11, 11-2, 13-11, 11-1
Salma Hany Ibrahim (Egy) 3-0 Laura Pomportes (Fra)
11-6,11-6, 11-3
Emma Beddoes (Eng) 3-0 Sabrina Sobhy (Usa)
11-7, 11-6, 11-8
Samantha Teran (Mex) 3-2 Sarah Kippax (Eng)
14-12, 11-9, 5-11, 6-11, 11-6
Jenny Duncalf (Eng) 3-1 Hollie Naughton (Can)
10-12, 11-2, 11-4, 11-7
Egyptians rule in ToC qualifying shocks

Egyptians claimed the lions' share of places in the qualifying finals of the Women's JP Morgan Tournament of Champions after major upsets on the second day of qualifying action.

Ireland's Madeline Perry was the highest-ranked player to suffer at the hands of a lower-ranked opponent from Alexandria. The world No.15 from Belfast, twice a semi-finalist in the prestigious WSA World Tour championship at New York's iconic Grand Central Terminal, went down 9-11, 11-8, 11-4, 11-4 in 52 minutes to Mariam Metwally, the 18-year-old world No.46.

Fellow Alexandrian Heba El Torky also claimed an unexpected place in the final qualifying round after despatching Sarah-Jane Perry, the world No.16 from England, 7-11, 11-5, 11-7, 11-9 - also in 52 minutes.

World No.27 El Torky will now face compatriot Kanzy El-Defrawy for a place in the main draw after the 20-year-old world No.66 from Cairo became the lowest-ranked player to survive when she upset Guyana's world No.21 Nicolette Fernandes 6-11, 11-2, 13-11, 11-1.

Meanwhile Metwally will line up against Victoria Lust, the 25-year-old world No.32 from England who claimed one of the biggest scalps of her career by overcoming Indian hope Joshana Chinappa, ranked ten places higher, 13-11, 18-16, 12-10.

Mexican star Samantha Teran became the oldest player to win a place in the qualifying finals after surviving a 65-minute battle against England's Sarah Kippax, the world No.20.

Teran, the world No.33 and reigning Pan American champion, clinched a 14-12, 11-9, 5-11, 6-11, 11-6 victory to set up a play-off against England's world No.19 Jenny Duncalf. The former world No.2 from Yorkshire is one step away from a fifth appearance in the Tournament of Champions' main draw after beating Canadian Hollie Naughton 10-12, 11-2, 11-4, 11-7.

England's Emma Beddoes denied home hopes of a qualifying success - and became the highest-ranked player to survive in the process - after beating New York's Sabrina Sobhy 11-7, 11-7, 11-9.

The 29-year-old world No.18 from Leeds will now face Egypt's 18-year-old Salma Hany Ibrahim for a place in the main draw.