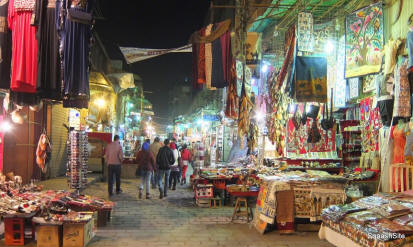 When Fram & Cubs go to Khan el-Khalili Souk


As it was our last night of freedom before the madness of the coming days, my 'personal assistant', AKA Tamer – see my from one World to the Next – took Cubs and myself to the Khan el-Khalili Souk, one of Cairo's main attractions for tourists and Egyptians alike.

This souk is placed in the heart of the Islamic District of Cairo, in a zone delimitated by Al-Azhar and Al-Hakim Mosques, the two doors Bab Al-Futuh (Conquest Door) and Bab An-Nasr (Victory Door), dating I'm told from the time where Cairo was still Al-Qahira (end of the 11th century).

It's a superb and endless labyrinth of narrow lanes and little squares, full of shops, cafés, mini-restaurants, life, music and happy crowd – I was delighted to see so many ladies in there, traditional and more modernised looking happily mixing.
One kind of shops attracted my attention as it was the first time I ever saw them, that's my story and I'll stick to it. It's a kind of "sexy shop" if you pardon my expression, made for Belly Dancers, and some more "home sweet home" use, as Tamer described them.

"Ah, for married ladies" I say, trying to be as subtle as I can.

"Not always" he smiles…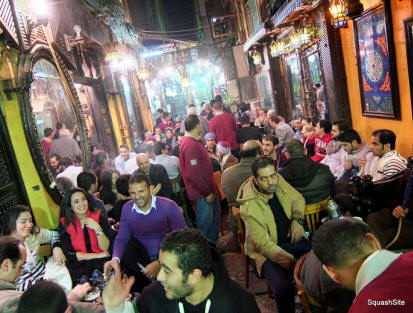 Tamer bless his guide/organiser's heart, then took us to one of the most famous cafés in Egypt, called El-Fishawy, dating from 1773! I found a great article about it's history, have a read, it's rather interesting.


We had a Tea with Mint, which is one of my favourite drinks when I relax, without realising that's actually their specialty! It was a bit on the strong side though, next time I'll ask for some hot water...

We stayed there a little while, enjoying the music and very specific atmosphere, with market sellers coming one after the other to propose to you different items. What makes it even better is that they do not insist. They propose, you say thank you no, and they go. I like.

Off we went after that, having a nice meal outside in one of the coffee in front of one of the Mosque – don't ask me which one, not a clue, what do you think I am, the Tourism Board – and it was one of those simple meals, served with kindness, and smile, and I enjoyed every minute of it. The weather was a bit chilly, it's winter here too, but so nice.

Time to go back, calm before the storm that was. World Champs, here we come…