Manitoba Open 2012
13-18 Mar, Winnipeg, Canada, $35k
18-Mar, Final:

[4] Borja Golan (Esp) bt [1] Laurens Jan Anjema (Ned)
11/4, 11/5, 11/1 (42m)

Borja marches to Manitoba title

Fourth seeded Spaniard Borja Golan scored one of his best ever wins as he beat top seed Laurens Jan Anjema - the 2010 champion - in straight games in the final of the Winnipeg Building and Decorating Ltd. Manitoba Open at the Winnipeg Squash Racquet Club.

The win marks the 26th PSA title of Golan's career, and the fourth and biggest since being out of action through injury for most of 2011, during which time his world ranking dropped from 10 to 103.

Currently positioned at #21, this title triumph will probably see him return to the top twenty, and not before time!

"My game plan was to try and get a lead in each game so that LJ couldn't gain confidence in his attacking shots. I also did a very good job of getting LJ out of the T and keep control of it myself.

"The greatest thing that I was proud of was my concentration. I was able to stay focused all the way through the match and especially and the end of each game.

"This was a very good match for me and and very good win."


Lost badly in the final today. This is not how you want to play a final. You donít want to be flat vs the hurricane. Congrats to BG!

Laurens Jan Anjema, via twitter
Manitoba Open 2012
13-18 Mar, Winnipeg, Canada, $35k
Round One
15 Mar
Quarters
16 Mar
Semis
17 Mar
Final
18 Mar
[1] Laurens Jan Anjema (Ned)
11/5, 11/7, 3/11, 11/7 (75m)
Mathieu Castagnet (Fra)
[1] Laurens Jan Anjema
11/2, 11/7, 11/8 (40m)
[Q] Raphael Kandra

[1] Laurens Jan Anjema

11/5, 11/6, 11/5 (52m)

[3] Tom Richards

[1] Laurens Jan Anjema

11/4, 11/5, 11/1 (42m)

[4] Borja Golan

Martin Knight (Nzl)
3/2 (75m)
[Q] Raphael Kandra (Ger)
Alan Clyne (Sco)
9/11, 11/4, 11/6, 11/5 (35m)
[Q] Anthony Graham (Eng)
Alan Clyne
11/7, 11/7, 11/5 (35m)
[3] Tom Richards
[3] Tom Richards (Eng)
6/11, 11/6, 11/5, 11/4 (35m)
Jan Koukal (Cze)
[4] Borja Golan (Esp)
12/10, 11/1, 4/11, 11/6 (60m)
[Q] Steve Finitsis (Aus)
[4] Borja Golan
11/6, 11/4, 11/9 (42m)
Jonathan Kemp

[4] Borja Golan

11/3, 11/8, 11/6 (50m)

[2] Cameron Pilley

Jonathan Kemp (Eng)
11/9, 11/6, 11/6 (42m)
Thomas Brinkman (Can)
[LL] Adrew Schnell (Can)
11/8, 11/5, 11/8 (60m)
[Q] Shawn Delierre (Can)
[Q] Shawn Delierre
11/6, 9/11, 14/12, 11/5 (75m)
[2] Cameron Pilley
Mohammed Abbas (Egy)
9/11, 11/9, 11/8, 11/7 (75m)
[2] Cameron Pilley (Aus)
Qualifying Finals:

Raphael Kandra bt Eric Galvez 11-2, 11-4, 11-1 25 mins

Steve Finitsis bt Arturo Salazar 11-3, 11-0 rtd
Arturo got hurt early on and was unable to stretch to the right side.

Shawn Delierre bt David Letourneau 11-9, 11-5, 12-10 40 mins
Shawn was too consistent. He was able to handle everything that Dave threw at him.

Anthony Graham bt Andrew Schnell 9-11, 8-11, 3-11, 4-11 45 mins

This was the match of the night. Schnell came out shooting and kept Graham on the move and on edge. Anthony was trying to make something happen but Andrew's responses were too good.

This lasted until 1-0, 8-6 in the second and then Anthony changed the whole dynamics of the game. He fought back to win the second game and then took over the T and the match. He kept Schnell behind him and gained confidence in his short game and all was over. Anything that Andrew tried was countered with something better. Anthony was in the zone and was not to be beaten. Both of these young guys showed the audience that they will be great players to watch for in the future.

Gene Turk

Qualifying Round One:

Arturo Salazar (Mex) bt Justin Todd (Can) 11-8, 11-2, 3-11, 11-4 (35m)
Steve Finitsis (Aus) bt Fred Reid (Can) 11-4, 11-1, 11-4 (22m)
Raphael Kandra (Ger) bt Chris Binnie (Jam) 11-7, 11-7, 12-10 (35m)
Eric Galvez (Mex) bt Alfredo Avila (Mex) 11-7, 8-11, 11-9, 11-6 (50m)
Shawn Delierre (Can) bt Tyler Hamilton (Can) 11-8, 11-6, 11-6 (42m)
David Letourneau (Can) bt Dane Sharp (Can) 6-11, 13-11, 11-4, 8-11, 11-9 (67m)
Andrew Schnell (Can) bt Matthew Serediak (Can) 11-8, 11-5, 11-7 (32m)
Anthony Graham (Enh) bt Cesar Salazar (Mex) 11-7, 11-6, 7-11, 11-8 (65m)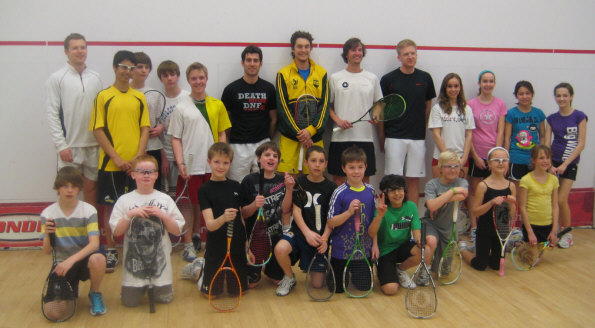 17-Mar, Semis:

[1] Laurens Jan Anjema (Ned) bt [3] Tom Richards (Eng)
11/5, 11/6, 11/5 (52m)
[4] Borja Golan (Esp) bt [2] Cameron Pilley (Aus)
11/3, 11/8, 11/6 (50m)

Anjema and Golan in Manitoba final

Dutch top seed Laurens Jan Anjema will face fourth-seeded Spaniard Borja Golan in the final of the PSA $35k Manitoba Open in Winnipeg, Canada, after both enjoyed straight-game semi-final victories.

Anjema, after surviving a tough first round encounter with Frenchman Mathieu Castagnet, made it two straight-game wins in a row as he beat third-seeded Englishman Tom Richards 11/5, 11/6, 11/5 in 56 minutes.

"Lost 3/0 to a very strong performance from LJ today," said Richards on twitter. "Thought I was hitting it pretty well out there too! 2 days and then back into it..."

"Very happy with that performance," tweeted Anjema. "Tomo final vs the 'Hurricane'. Borja 'Hurricane' Golan that is."

Golan's matches have followed a similar pattern, and he reached the final with an upset 11/3, 11/8, 11/6 win over his room-mate Cameron Pilley, the second seeded Aussie who has been entertaining the Winnipeg spectators with his hard-hitting exploits.

Pilley, after surviving two 75-minute matches to reach the semis, commented: "Body is done, time to recharge for Montreal, might struggle with all the French going on there!" referring to the upcoming $35k Open de Squash Banque Nationale Groupe Financier.

16-Mar, Quarters:
Pilley survives another scare

Australia's world No15 Cameron Pilley survived his second successive 75-minute marathon in the Manitoba Open before claiming his anticipated place in the semi-finals at Winnipeg Squash Racquet Club.

After battling past experienced Egyptian Mohammed Abbas, a former world No13, in the first round, second seed Pilley was again taken to four games by determined qualifier Shawn Delierre before extinguishing Canadian interest in the event by beating the 29-year-old from Montreal 11-6, 9-11, 14-12, 11-5.

The tall 29-year-old from New South Wales, back in Winnipeg for the first time since winning the title in 2005, now faces fourth seed Borja Golan for a place in the final.

2008 champion Golan, the top-ranked Spaniard, defeated England left-hander Jonathan Kemp 11-6, 11-4, 11-9.

"Managed another 3-1 win tonight," tweeted Pilley overnight. "Playing my room mate 'Hurricane Golan' in the semis tomorrow afternoon. Should be a battle!"

The other semi-final will also be the clash predicted by the draw, between favourite Laurens Jan Anjema, the 2010 champion, and third seed Tom Richards.

Anjema, the seven-time Dutch national champion, ended qualifier Raphael Kandra's impressive Winnipeg run, beating the 21-year-old German 11-2, 11-7, 11-8.

The world No9 from The Hague was also quick to report his Manitoba win on Twitter: "Beat Kandra 3-0 today," wrote Anjema. "The guy is lightning fast in the front that's for sure! Tomo semis against mr Richards, Tom Richards."

Englishman Richards, the 25-year-old world No20, survived an all-British encounter - defeating newly-crowned Scottish champion Alan Clyne 11-7, 11-7, 11-5.