FINALS:

Japanese pair Ryunosuke Tsukue and Satomi Watanabe captured the U19 titles in the latest edition of the HK Junior Open, Tsukue retaining the title he won last year and Watanaba winning a repeat of last year's U17 final against Ho Ka Wing.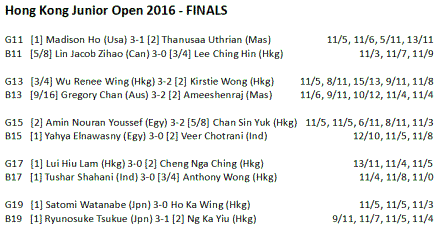 PREVIEW:
Japanese pair head HK Junior Open draws

One of the world's most well-established and prestigious junior events, the HEAD Hong Kong Junior Squash Open, a World Junior Circuit "Tier 2" and Asian Junior Super Series "Platinum" event, will be back in Hong Kong once again this summer.

With the long-term support of HEAD as the title sponsor for this yearly event, there will be 551 players coming from 15 different countries and regions including Australia, Canada, China, Chinese Taipei, Egypt, Greece, India, Japan, Korea, Macau China, Malaysia, Pakistan, Singapore, Netherlands, United State of America and hosts Hong Kong China.

Leading the boys under 19 category is the defending champion Ryunosuke Tsukue from Japan, who will face the challenges from the local players while the 2015 runner-up Ng Ka Yiu is the second seed, Ling To Yu Andes and Law Yat Long Robinson are seeded 3/4.

In the girls under 19 event Japan's Satomi Watanabe, last year's U17 champion dominates, is top seed ahead of Ho Ka Wing from Hong Kong, who lost out to Watanobi in last year's U17 final.

Shahani Tushar from India takes the top spot in the Boys U17 and be also encountering a strong attack from the home players, while Ho Ka Hei, Wong Kin Yeung and Chan Chi Ho are second and the 3/4 seeds.

Lui Hiu Lam will debut in the Girls U17 as top seed to compete against her compatriots Cheng Nga Ching and Tang Yan Yi, plus Hamouda Engy from Egypt who take the next three seeded positions.

The first round to quarter finals matches of all 10 categories will start at 9:30am from 27 to 29 July in Cornwall Street Squash and Table Tennis Centre, before moving to Hong Kong Squash Centre for the semis and finals on 30 and 31 July,

There is free admission for all spectators to support their favorite players.