9 with Joshna
Instagram or Twitter?

Twitter (only social media I have)
Strength or Endurance Training?

Strength training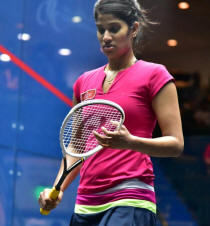 Prada or Gucci?

Gucci
High Heels or flats?

Depends on the occasion ;)
Bollywood or Hollywood?

Hollywood for sure!
Kim, Khole, Kortney, Kendall or Kylie?

Caitlyn Jenner
Favourite Event?

Commonwealth Games in glassgow was an amazing experience. The whole organization of the event was just fantastic.
If you could put the glass court anywhere?

On the edge of a cliff.
Favourite place to visit?

I love L.A.
Three Wishes ?

More Peace in the world. good health and lots of laughter.