Unbeaten in almost a year and with six consecutive PSA titles under his belt, Australia's Zac Alexander is on a roll ... here's extracts of an
interview from Squash Australia
.
Alexander's dominance has surprised even himself, given he is devoting more time to a new coaching role within Squash Australia, which means less time on the training court.


"I'm getting there, it's a bit of a juggling act every week honestly," he said after his latest win in the NSW Open.

"Full time job, coaching, fixture nights, gym work, rehab with keeping my hip healthy and then finding time to switch off. Access to family and friends has helped, being back home in Brisbane, so I think I'm feeling a bit more myself this season.

"I've been conscious of actually not spending too much time on court, which may not sound conducive to playing good squash, but it keeps me fresh and when I arrive at an event I'm keen to play."

If ever there was an example that one size does not fit all, then Alexander is it. But it's also a truism that if it isn't broken, don't try and fix it, and with six PSA titles in a row, there's nothing broken about Alexander's approach.

"Honestly, reading I've gone 11 months without losing is a little strange to read," he said.

"I guess after competing at a higher level than I'm currently playing helps, but still it hasn't been easy, there's definitely dangerous players around as I saw over the weekend.

"It took all my concentration, and some extra motivation you could say, to get me through."

Zac's next event is the Tasmanian Open, where he's top seed, followed by the Australian Open in August.

His form clearly puts him in contention, although the former world number 36, currently ranked 93rd, is not ready to talk about breaking Australia's run of near misses at its premiere tournament.


"Win? That's a big call, the old cliché actually applies to me these days, one match at a time," he said.

"If I get through the first round unscathed, I run into a road block in the form of (defending champion, NZ's) Paul Coll, but that draw does definitely incentivise me to train harder.

"I don't want to be uncompetitive and I know my 'squash' on the day can be good enough, but he's playing fantastically well as we've seen with his three recent wins in NZ and will no doubt be out to defend his title.

"It'll just be my job to keep him honest early in the draw."

As many have learned in the past 12 months, Zac Alexander's idea of 'keeping you honest' comes with a lethal sting.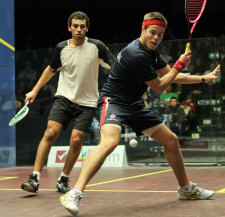 Zac's winning run




Aug 15: Aussie Open (R2)
Aug 15: NSW Open (W)
Nov 15: Mackay Open (W)
Nov 15: Queensland Open (W)
May 16: NT Open (W)
May 16: City of Perth (W)
Jul 16: NSW Open (W)
Jul 16: Tasmanian Open
Aug 16: Australian Open