Final:
[2] Ramy Ashour (Egy) bt [1] Nick Matthew (Eng)
1/11, 11/3, 11/7, 11/4 (67m)
Ramy still the champ

After Nick Matthew romped through the first game for the loss of just one point in 8 minutes, it looked as though a new British Grand Prix Champion was soon to be crowned at the National Squash Centre in Manchester's Eastlands.


Yes, the top seed played well in that first game, although by the time he's past the halfway point Ramy Ashour's interest in the game waned.

Was he preparing himself for the next game? The two rallies that resulted in the Egyptian scoring the first point in the second - a let followed by a crosscourt dropshot - suggested so, taking almost as long as the first game (well not really, but you get the idea).

Yes, the defending champion was back in the match, and as it went on he became more and more dominant.

In the second he extended the lead to 4/1, then 7/2, then 8/3 with Matthew not able to do much to stem the flow of points going against him.


Ashour took that game 11/3, then went 5/0 up in the third. Matthew got back to 4/6 but then Ashour pulled away again, 9/4 soon becoming 11/7 as Matthew continued to make uncharacteristic unforced, or semi-forced errors - including five in a row from 4-6 down in this game.

By now there had been a few decisions required of the referees and the video ref, a few gripes from the players about the other's behaviour when appealing, and some words of warning from central referee John Massarella.

It never got nasty, but there was clearly no love lost out there.

The pattern continued in the fourth.

After Matthew had taken the first point with a ball that died in the deep, Ashour, looking more and more confident now, reeled off seven in a row to effectively finish the match as a contest.

Matthew pulled a couple of points back, but it was too little, too late, and soon enough Ramy's arm was raised into the air, still the British Grand Prix Champion, and still unbeaten on this court.
"This court has never let me down, I couldn't have asked for better.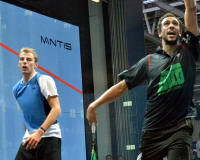 "That was the best game I played all through the tournament, I felt I got better and better all week.

"Every time you play Nick you have to be 100% focussed – he's very fast on court, has great reach into the four corners and can hit winners from anywhere - I have to adapt my game against him and keep as solid as I can.

"I may not be one of the oldest guys on the Tour, but I have spent my whole life since I was six years old working towards this. But I always try and learn something new from each match.

"I had a bit of a fallout in the first game – and Nick came out fighting. But sometimes it's like that. You have patches in a match where you lose concentration, sometimes they're in the middle, sometimes at the end – but this time it was at the beginning.


"But I am very pleased with the win – and want to thank various people including my sponsors ... Ziad and EgyptAir, my coaches Mohamed El Said and Hosam, my manager Mick Todd, my brother Hisham, and my feeder Hisam Ashoush.

"It's an honour to win this prestigious tournament again, but there's more big events coming up and all the top guys are so close and playing so well, we'll keep fighting and fighting, which is good for the game and hopefully for the crowd too!"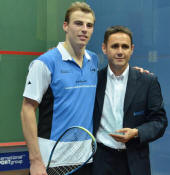 "There was a crucial point in the second game where I got frustrated by a few decisions and lost my concentration for a few minutes, then he came back like a steam train - he was just too good."

"It doesn't feel like I'm world number one, he's beaten me now three times in a row. But I'll go away and come back stronger ..."