18-Mar:
Qualifying Draws are out Hull

The qualifying draws for the 2017 British Open have been released, and there's no shortage of top quality matches in store at the University of Hull on Sunday and Monday.
17-Mar:
Battle for World Number One in Hull
The men's world number one spot is up for grabs, and results in Hull will decide who is at the top of the pile on April 1st … full story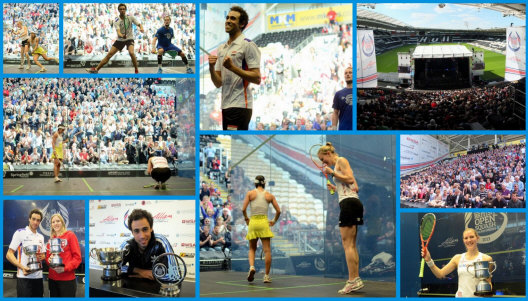 FLASHBACK to the 2013 Finals at the KC Stadium
16-Feb-17:
Fantastic Matchups in 2017 Draws
The Draws for the 2017 British Open have thrown up some amazing matches, as early as the first round.


Defending champions and world number ones Mohamed Elshorbagy and Nour El Sherbini (both Tecnifibre players) are the top seeds, but both face stiff competition if they are to retain their titles in the 'Wimbledon of Squash'

Elshorbagy faces fellow Egyptian Fares Dessouky in a tantalising first round which also features Ali Farag v Ryan Cuskelly, Nick Matthew v Borja Golan, Gregory Gaultier v Miguel Rodriguez, James Willstrop v Mathieu Castagnet, and Karim Abdel Gawad v Omar Mosaad !

Only three of those matches will be on the Airco Arena showcourt, with qualifying and the majority of first round matches taking place at the University of Hull.

In the women's first round - where 16 players are seeded rather than 8 in the men - the outstanding first round matchups are Alison Waters v Salma Hany, Laura Massaro v Dipika Pallikal, and Vicky Lust v Tesni Evans.
Equal Prize Money for 2017
Female players will earn the same prize money as their male counterparts for the first time in the history of the prestigious Allam British Open when the 2017 edition of squash's oldest and most established tournament gets underway in March.
Taking place at Hull's Airco Arena from March 19th to 26th, the iconic 'Wimbledon of Squash', which in 2017 will be co-promoted between England Squash and the PSA, will bring together over 120 of the best male and female players from around the world to compete for the sought after title - which has been contested since the 1920s.

The move to equal prize money, with $150,000 on offer in both the men's and women's draws, sees the Allam British Open become the first major British squash tournament to offer financial parity to competitors. While it becomes the fourth tournament on the PSA World Series, after the U.S. Open (2013) Windy City Open (2015) and Tournament of Champions (2016) to reach parity.