23-Mar, Round TWO (bottom):
Abouelghar puts Gawad's #1 bid on hold

The quarter-finals were settled today as the second round was played out in the bottom half of the draws.


It all went according to plan for the seeded players - until the last match - as French trio Gregory Gaultier, Mathieu Castagnet and Camille Serme progressed with contrasting victories, while former champions Nicol David and Ramy Ashour were joined by Donna Urquhart and Sarah-Jane Perry in the bottom half quarters.

The last match overshadowed everything though - world champion Karim Abdel Gawad needed a win to secure the world #1 spot in next month's rankings, but was sensationally beaten by unseeded compatriot Mohamed Abouelghar, who turned in a brilliant performance for the best win of his career,

That means that Mohamed Elshorbagy or Gregory Gaultier could claim the '1 spot - but only if they win the tournament!
Results and Quick Reports

[6] Nicol David (Mas) 3-1 [14] Joey Chan (Hkg)
11/4, 14/12, 9/11, 11/2 (47m)
[2] Camille Serme (Fra) 3-1 [11] Nour El Tayeb (Egy)
11/8, 11/9, 5/11, 11/9 (54m)
[7] Sarah-Jane Perry (Eng) 3-0 Tesni Evans (Wal)
11/5, 11/8, 11/8 (43m)
[15] Donna Urquhart (Aus) 3-2 [Q] Nada Abbas (Egy)
8/11, 11/3, 11/8, 6/11, 11/1 (46m)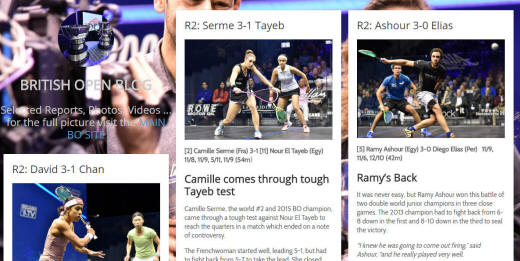 [3] Gregory Gaultier (Fra) 3-0 Cameron Pilley (Aus)
11/1, 11/3, 11/2 (31m)
Mathieu Castagnet (Fra) 3-0 Max Lee (Hkg)
12/10, 11/8, 11/8 (54m)
[5] Ramy Ashour (Egy) 3-0 Diego Elias (Per)
11/9, 11/6, 12/10 (42m)
Mohamed Abouelghar 3-1 [2] Karim Abdel Gawad (Egy)
6/11, 12/10, 11/9, 11/7 (64m)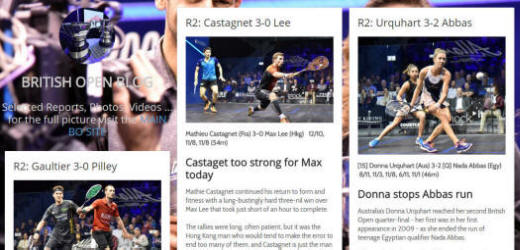 22-Mar, Round TWO (top):
Emily gatecrashes quarters
as remaining seeds assert in Hull


Round Two started with a big upset, as Emily Whitlock beat compatriot Alison Waters - for the first time and in straight games for good measure - but the next six matches saw all the seeded players win through, all three-nil.

Dedending champion Nour El Sherbini made quick work of Annie Au to set up a meeting with Whitlock, and wins for Raneem El Welily and Laura Massaro made it two Egypt v England clashes in the top half of the draw.


In the men's matches Egyptian trio of Tarek Momen, Ali Farag and Mohamed Elshorbagy all won convincingly - although Momen needed lots of extra points to finish off Paul Coll in the third and defending champion Elshorbagy had to recover from deficits in the first and third games to beat Daryl Selby.

The last match was the longest - in terms of games and duration - as Nick Matthew beat Simon Rosner in four games to keep alive his hopes of a fourth British Open title..

Round Two - top half

[1] Nour El Sherbini (Egy) 3-0 [10] Annie Au (Hkg)
11/4, 11/8, 11/6 (25m)
[13] Emily Whitlock (Eng) 3-0 [8] Alison Waters (Eng)
11/4, 11/7, 11/9 (31m)
[5] Laura Massaro (Eng) 3-0 [Q] Mayar Hany (Egy)
11/5, 11/1, 11/9 (29m)
[3] Raneem El Welily (Egy) 3-0 [12] Joshna Chinappa (Ind)
11/8, 11/7, 11/7 (27m)

[1] Mohamed ElShorbagy (Egy) 3-0 Daryl Selby (Eng)
12/10, 11/4, 11/7 (37m)
[7] Ali Farag (Egy) 3-0 [Q] Tsz Fung Yip (Hkg)
11/8, 11/2, 11/9 (30m)
[8] Tarek Momen (Egy) v Paul Coll (Nzl)
11/6, 11/9, 20/18 (62m)
[4] Nick Matthew (Eng) 3-1 Simon Rosner (Ger)
11/7, 11/5, 5/11, 11/3 (63m)