20-Mar, Qualifying Finals:
Egyptians advance in women's draw
as Brits dominate the men's qualifiers ...

The main draws were completed today with eight qualifiers in each event winning through their qualifying finals at the University of Hull.

In the women's draw top seed Hania El Hammamy was the first to qualify, and was joined by fellow Egyptians Mayar Hany and Nada Abbas, the latter upsetting seventh seed Hollie Naughton.

Belgium's Nele Gilis recovered from a mid-match collapse to progress in five, while Millie Tomlinson and Coline Aumard reached the main draw with four-game wins, as did four-time BO champion Rachael Grinham.

The last match of the round saw Mexico's Samantha Teran deny the Egyptians a full half-share as she beat second seed Nadine Shahin in four tough games.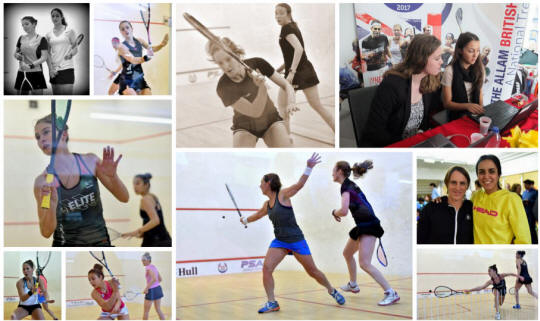 It was a good day for the Brits in the men's matches as Adrian Waller, Charles Sharpes, Tom Richards, Alan Clyne and Nathan Lake boosted home interest in the main draw, all but Richards beating seeded opponents.

Waller twice came from behind to beat Nafiizwan Adnan in five, Sharpes pulled off a second successive upset to best Leo Au, Clyne repeated his Wimbledon win to oust top seed Saurav Ghosal, and Lake followed up yesterday's win over the second seed with an upset over Mohamed Reda.

Richards, after beating Campbell Grayson in four, was drawn to face long-time friend and rival Daryl Selby.

The day's other winners were Hong Kong's Tsz-Fung Yip, France's Gregoire Marche and Egypt's Zahed Mohamed, who faces compatriot Ramy Ashour tomorrow.
19-Mar:
Qualifying begins in Hull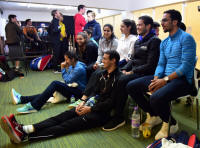 Qualifying for the latest PSA World Series event got under way at Hull University with 32 first round men's and women's matches.

First through was Belgium's Nele Gilis, thanks to the late arrival of her opponent. There were three seeding upsets, all from English players as Rachael Chadwick, Elise Lazarus and Lucy Turmel all advanced to Monday's finals. There were narrow escapes for Misaki Kobayashi, Amina Yousry and Millie Tomlinson, all needing five games to progress.

In the men's draw the biggest upset also came from an English player as Nathan Lake beat second seeded Cesar Salazar in straight games, while Charles Sharpes added to English success as he beat Abdulla Al Tamimi in four. Best comeback of the day was from Germany's Raphael Kanda, coming from two games down to beat Swiss Nicolas Mueller.