Artemis TODAY - Fri 29th, Day TWO
Steve Cubbins in Scotland
Seeds through in
contrasting fashion ...

Two rounds of men's action and one of women's started at noon and concluded shortly after 10pm (Simon was still busy with the last few graded matches of course) with the seeds in both events progressing to the quarter-finals.

It wasn't quite as simple as that though, with the men's top seed having to come from two down, and the second seed from 2/1 down, while three Scots are through to the women's quarters to keep home interest alive.


Lyall had to change one shoe

All to plan so far ...

The first set of men's matches went according to the seedings, with Saurav Ghosal, playing his first ever BSPA event, seeing off Lyall Paterson 3/0, fellow Indian Siddarth Suchde doing the same to Gary Mckay, and Simon Parke easing past 'Farmer' James Jacobsen for the loss of just four points.

Jabobsen's verdict on his opponent was short and sweet: "Gifted, Legend." Parke was equally impressed: "I've know him for a few years now and we've had a few hits, he's been working on his game and improved a lot, I really enjoyed it."

Scottish number two Stuart Crawford finished the quartet of matches, beating the tall Phil Nightingale in four games. "I made it hard for myself," admitted Stuart. "I was 2/0 and 9/6 up, let him get five points in a row and it was a bit of a battle from there until the end."

"It will be my first match against Saurav tonight, I expect it to be tough and can't see us having many short rallies unless he wins them!"

To finish off the bottom half of the draw, John Rooney and Jethro Binns kept the Irish and Welsh flags flying with 3/0 wins, and Shaun Le Roux weighed in with a 3/0 for England.

Jamie Macauley took on second seed Daryl Selby and really took it to the Englishman, racing to an early lead and taking the first game 11/9. The Scot had put everything into the first - "I always put everything in," he said - but Selby dominated thereafter, taking the next three game 0, 4 and 6.

"He played well in the first," said Selby, "took the game to me and got something like 7/0 up, he was really fast out of the blocks.

"It's always tough when you're that far down, but I managed to put a few points together and that helped me out for the rest of the match.

"You always come up against good players, even in the first round in this event, so you have to try to find the right balance, attacking enough but not being suicidal!"

Starting off the top half of the draw, Andy Whipp put paid to any hopes of yesterday's five-game winner Chris Gray, top seed Adrian Grant was given a good four-game workout by Andrew Birks, and Lewis Walters beat Andrew Widdison in one of the stranger scorelines, 14/12, 11/0, 11/13, 11/5. I must ask Lewis to explain that one ...



The match between James Snell and Darren Lewis looked one of the most open of the round, and although Lewis, urged on by a packed gallery of Leicester supporters, won 3/0 it was anything but easy.

"We always bring a few along to this event," said Darren. "The majority are from the Chase Hotel & Club in Leicester, and there's about 20 of us this year. It always helps to have the crowd behind you!"

"I hadn't played him before and going into the match I really didn't know who was favourite. He likes to play at a fast pace, which is pretty similar to the way I play so it was a good, close match.

Bringing up the rear, the Leicester crowd weren't able to stop Chris Truswell seeing off qualifier Dominic Hamilton in straight games, and Tournament Director Simon Boughton fell to Joel Hinds, who started off like the whirlwind that seems to have re-attacked his hair.

"There was nothing I could do in the first," said Simon, "his length was just perfect. He was off the pace a bit in the second and I managed to take that one, but he stepped it up again in the last two games.

"You're caught between a rock and a hard place really - I was never going to beat him on fitness, but if I went short too soon he'd just pounce on it and put it away."

Last ones through to tonight's last sixteen were Jaymie Haycocks, 3/1 winner over Steve Siviter, and Ong Beng Hee, who had to work hard to overcome young Scot Chris Ferguson, who took the first game and competed well in the other three too in front of a packed gallery.

""I felt my length in the first was fantastic," said Chris, who turned 19 on 9th January. "Because I dropped it from that level in the second I was always under pressure from then on.

"But I achieved some of my goals in the third and fourth games and I'm happy with how I played. Being on court with a world top twenty player, you can't beat it for experience and I'm delighted to have had the opportunity."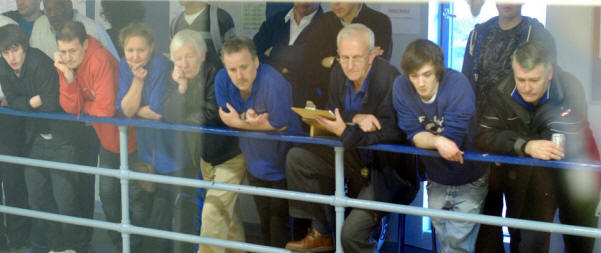 Women's Round One
Scottish trio through to quarters

More Scottish success as the ladies' event got under way as Alex Clark, Frania Gillen-Buchert and Lisa Aitken booked their spots in the quarter-finals.

Clark won a rumbustious five-setter with Zephanie Curgenven - it was one of those matches where their styles of play didn't seem to match very well, resulting in a lot of traffic problems and a lot of work for the referee.

"I couldn't work out whether it was me or her," said Alex. "I'd be in the way for a few rallies, then she'd be in my way, then we'd have some clean points.

"I played well in the first though, lost my way in the next two by not sticking to my game plan, but I refocused on the plan for the last two and thankfully it worked.

"I haven't hit a ball in anger for ages so it's good to get back into competition with a win. It should be a good experience playing Vanessa tomorrow!"

The bad news for Alex is that Vanessa has arrived from New York, and has a night's rest before their match tomorrow.

Zephanie was disappointed to lose her first BSPA match but not downhearted. "It's a pity to come up here from London to lose my first match," she said, "but I need to get more matches like that. I'm pleased that I fought my corner, a few months ago I might have backed off in a match like that."



Zephanie's old schoolfriend Frania wasted no time in beating Vicky Hynes while Lisa kept her focus as she beat ESC's own Senga - "I haven't played this badly since I can't remember" - Macfie in straight games.

Elsewhere there were wins for England's Leonie Holt, Lauren Selby and Victoria Lust, and second seed Nicolette Fernandes, all in straight games.
Top eight through to the Quarters

The men's second round started off with both Indian players on court, but Saurav Ghosal wasn't on there long as he despatched an out of sorts Stuart Crawford in 22 minutes, although Ghosal's performance was much appreciated by the knowledgeable Edinburgh crowd.

Simon Parke took almost three times as long to subdue Siddarth Suchde. Parke, the champion here in 2007, covered the court as only he can - "watch his feet," said one seasoned observer, "no-one moves like him, his feet just never stop moving even when he's on the T."

Parke tended to score his points in runs, the last of which took him to victory in the fourth game. "I expected that," he said afterwards, "we've played a few times in practice, although not recently, and it's always been close.

"I'm quite pleased with my fitness at the moment, I'm playing leagues and BSPAs, and I've already won two five-setters this week, I was 2-0 up up both so it's been a bit harder than it should have been!"

Next up were two gruelling encounters. John Rooney and Shaun Le Roux locked horns in the bearpit, court five. Le Roux took the first, Rooney the second, and with both players becoming frustrated with some of the decisions they were getting, Rooney sneaked the third 12/10.

The fourth was brutal. Rooney edged ahead 9/8, declared that the ref "almost became my best friend there," when the score was erroneously called 10/8, but went on to earn two match balls anyway.

Le Roux saved them both, they played a series of tough rallies ending in lets, then Rooney edged ahead again when Le Roux was denied a let as he stretched for a ball into the back corner.

It all became too much for Shaun as first his racket headed for the back wall at some velocity, followed shortly by the man himself as he conceded the match after 74 minutes, declaring "I've had enough."

"That was a tough one for sure," said John. "Not so much physically but it was very stoppy starty, lots of lets. I'd never played him in a match before, but we play on the same league team, so I knew it was going to be tough.

Second seed Daryl Selby survived a scare, coming from 2-1 down to beat Jethro Bins in 64 minutes.

"It felt like at least two hours," declared the victor, seconded by the vanquished.

"I've got three voices in my head all telling me to do different things, I need them to go away! I'm either very tired or delirious to be playing a tournament again!"

If the second seed had to come from 2/1 down, it was even tougher for top seed Adrian Grant as he fell 2/0 down to Lewis Walters.

From 6-all in the first Lewis went on a run of 14 unanswered points as Adrian seemed to be struggling with his movement.

All looked well from the start of the third though as the world number ten assumed control to move into the quarters.

Andy Whipp, playing in his eighth Artemis Championship, made sure that Darren Lewis could join the Leicestershire group in the bar with a close, but relatively quick, three game victory.

Joel Hinds gave 3/4 seed Ong Beng Hee a good workout on court five, coming close in the second and sneaking the third before the Malaysia eased ahead in the fourth to take the match.

Last on were Jaymie Haycocks and Chris Truswell, Haycocks' straight games win meaning that the top eight seeds were through to the quarter-finals ...

... but we had some fun getting there ....


I know, my lob serves hit
this low roof too ...