Out with the Old and in with the ... Old

Both defending champions were beaten on finals day at South Sound Squash Club as both 2009 champions reclaimed the titles.


First up, top seed Nicolette Fernandes claimed her third CASA title at the expense of Karen Meakins in a repeat of their 2009 encounter here.

Meakins, appearing in her fifth consecutive final, couldn't get to grips with her opponent after the opening exchanges as Fernandes, playing very solidly, pulled away from a 2-3 deficit to lead 10-4 before closing out the opener 11-5.

Meakins didn't help her own cause with unforced errors at the start of the second, but from 5-0 down she started to gee herself up, as she does, and for the rest of the game it was Fernandes under pressure and making the mistakes as Meakins stormed back, taking the game 11-7 to level matters.

Coming back once is one thing, but going 6-0 down in the third and 6-1 in the fourth is a different matter, especially against someone normally as steady as Fernandes. Having picked up her game again the Guyanese was in no mood to let it slip again as she closed out both games, 11/3, 11/6 to reclaim 'her' title.
"I thought I played really well, but she was just better. I managed to come back to take the second, but I let her get ahead in all of the games and you just can't do that against someone like Nicolette.

"She's a lot younger than me, but at 39 I'm still playing well and enjoying the game, so I'll keep on playing as long as my body lets me!"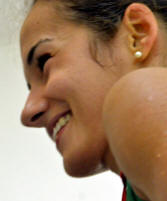 "We've played each other so many times we know what to expect, and I knew she'd come out firing as the defending champion. I had good preparation with a tough game against Marlene yesterday, so I was ready and thought I played pretty well.

"I'm definitely a better player than before my injury layoff, my fitness, tactics and shots are all better. The ranking doesn't show it yet, partly because the standard and the depth in the women's game has got stronger, but I've had a good summer's training at home and I'm ready for the new season.

"It's great to win this title again, I'm going home tomorrow so it will be lovely to be able to enjoy it at home with friends and family for a while."


The men's final was a repeat of last year's in which, in Chris Binnie's own words, Richard Chin gave him a good beating.

On the evidence of the first game another one looked on the cards as Chin eased through the first 11/2 with Binnie giving the defending champion far too many of the loose balls he loves to feed off.

Not to be though, as the Jamaican picked up the pace from the outset of the second game, ran down everything Chin could throw at him and built a 5-0 lead which, despite a fightback to 5-4, he soon enough consolidated 11-7.

And that was the pattern for the next two games - Chin trying all he could to get his opponent out of position, Binnie running those shots down, trying to keep the pace high to neutralise the effect of them, and more often than not it was Binnie who eventually worked an opening.


Not that it was ever easy, but by the second half of the fourth Chin looked to have run out of ideas.

Binnie didn't let up, and pulling clear from 5-all in the third, then taking the fourth by the scruff of the neck, the Binnie turned the tables and emulated Fernandes in reclaiming 'his' title.

"I just tried to take the experience of last year's final and learn from it. I tried to keep the pace as high as I could and keep it going as long as I could - he's got all the shots and experience, but I'm half his age!

"I was just too loose in the first and he was picking everything off, that woke me up really for the rest of the match.

I think I played pretty well there, and it feels good to win the title again!"


** Richard gets a quick chance of revenge - and Chris doesn't get long to enjoy the win - as Jamaica play Guyana in the team event, starting at 10.00 tomorrow !!!