Sat 22nd, Team Finals:
An early start to finals day, with the six remaining men's and women's matches at 09.00, and the last pair of Vets matches at 12.00 to finish.
Men's Final: Jamaica 4-1 T&T

Ashante Smith 3-2 Josh Pinard 7/11, 11/8, 7/11, 11/9, 11/7
Lewis Walters 3-2 Nku Patrick 7/11, 11/9, 7/11, 11/4, 11/3
Chris Binnie 3-0 Kale Wilson 11/9, 11/4, 11/3
Bruce Burrowes 1-3 Don Lee
Julian Morrison 3-2 Mandela Patrick

Women's Final: Guyana 3-2 Barbados

Ashley Degroot 3-0 Nadia McCarthy 11/7, 11/6, 11/6
Mary Fung-a-Fat 2-3 Amanda Heywood 11/13, 11/8, 4/11, 11/8, 9/11
Ashley Khalil 0-3 Karen Meakins 8/11, 10/12, 6/11
Larissa Wiltshire 3-0 Alex Jordan 11/5, 11/9, 11/9
Akeila Wiltshire 3-1 Meagan Best 11/6, 6/11, 11/8, 11/9

Men's 3rd/4th: Guyana 3-2 Barbados
Women's 3rd/4th: T&T 0-5 Cayman

Men's 5th/6th: OECS 2-3 Bermuda
Women's 5th/6th: Jamaica 2-3 Bermuda

Vets RR: Barbados 3-2 T&T , OECS 2-3 Bermuda
Favourites take the titles at South Sound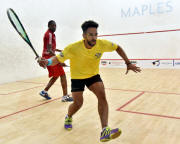 Title favourites Jamaica and Guyana captured the men's ands women's team titles in dramatic fashion on the last day of action at South Sound Squash Club.

Jamaica's men, seeded four but everyone's favourites for the title, took the first three matches against T&T to clinch their first title since 2005.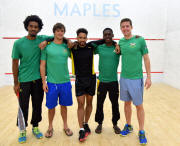 Jamaica had to fight back in both of the opening matches though, Ashante Smith twice having to fight back before beating Josh Pinard in five, and then Lewis Walters needing to do exactly the same to beat Nku Patrick in the fifth.

There were no dramas in the third match though, as individual champion Chris Binnie despatched Kale Wilson in three games.

"We probably have our strongest team ever," said a delighted Jamaican coach Ren้ Denis, "but we still had a few testing moments. "Our number five wasn't well for the first match, but had a really good win today, and with Lewis and Chris to follow that was a great start for us.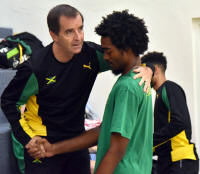 "Our strength in depth is good, Julian had a brilliant tournament too, and with any luck we should be even stronger next year in the men's and women's events.

"This is certainly the best result since I've been involved, all credit to the team they deserved it."

The women's final went the full distance.

Ashley Degroot got Guyana off to a good start with a 3-0 win, then Amanda Heywood got the better of Mary Fung-a-Fat in five to level the match - fightbacks in the first and fifth games the key to the youngster's success.


Individual champion Karen Meakins won a tough three games against Ashley Khalil to put Barbados in front, but then it was Guyana's turn to level the match as Larissa Wiltshire won in straight games.


That set up the decider between two more of the Caribbean's top juniors, Akeila Wiltshire and Meagan Best - the U19 and U15 winners in the recent CASA juniors.

It was perhaps the greater experience of Akeila, who also competed in the World Juniors last month, which prevailed in four games, but as Meagan fought back from 4-10 to 9-10 in the fourth the tension and the noise levels rose.


Finally though Akeila finished it off to the delight of her team.

"We maybe didn't play our best squash this week," said Guyana manager Ramon Chan-a-Sue. "Barbados really pushed us in the final, especially their juniors, but our girls all battled hard and we're really happy to come through as champions again."
The final match of the tournament was the Vets decider, with Barbados beating T&T 3-2 to maintain their unbeaten record as the collected the Vets, and the Overall title too.