SEMI-FINALS DAY

Semi-finals kicked off at 16.00, but the action started at 10.00 with playoff matches, so the Flemish Squash Centre was full of busy all day.
Semi-Finals: reports and quotes on the blog

[1] Natalie Grinham (Ned) 3-0 [3/4] Coline Aumard (Fra)
11/3, 11/4, 11/4 (27m)
[2] Camille Serme (Fra) 3-0 Gaby Huber-Schmohl (Sui)
11/1, 11/6, 12/10 (45m)

[1] Gregory Gaultier (Fra) 3-0 [8] Olli Tuominen (Fin)
11/1, 11/7, 11/6 (44m)
[4] Simon Rosner (Ger) 3-1 [5] Laurens Jan Anjema (Ned)
13/11, 10/12, 11/0, 14/12 (75m)
The first semi-final was a repeat of last year's quarter-final match, and as then it ended with comfortable enough win for the two-time champion and top seed Natalie Grinham.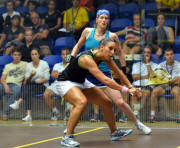 The second women's semi-final started at a canter for defending champion Camille Serme, but got gradually tougher as surprise semi-finalist Gaby Huber-Schmohl got more and more into the match.

Serme took the first easily, the second with more difficulty, and had to save two game balls in the third to earn her passage to the final.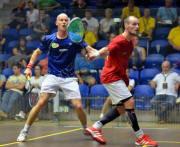 Six-time champion Gregory Gaultier improved his winning record against Olli Tuominen - the Frenchman hasn't lost to the Finn in ten years.

Greg dethroned the reigning champion in the process, in a match that got tougher for the top seed after a taking a 10-0 lead in the first.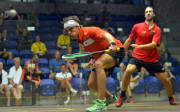 Competitive from the start, the last semi-final was a thrilling affair which Germany's Simon Rosner just edged.

After sharing the first two games on extra points Rosner raced through the fourth 11/0 but had to save game balls before taking the fourth to reach the final.
reports and quotes on the blog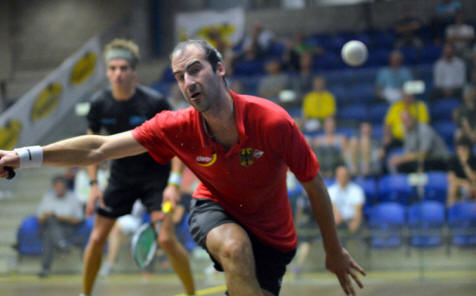 You'll find reports and quotes on the BLOG, photos in the GALLERY,
instant updates on Twitter, and you can
watch the glass court matches LIVE or on REPLAY.