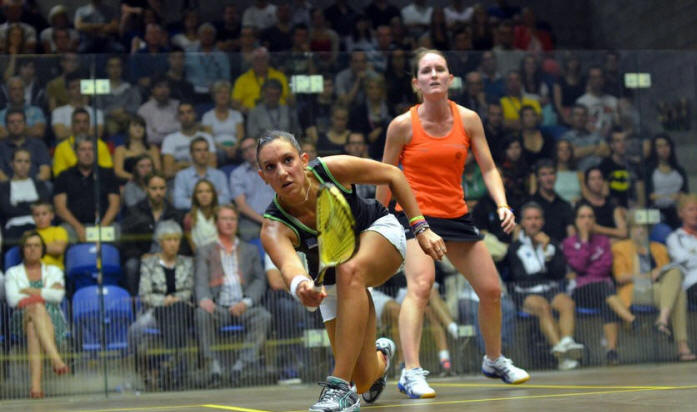 TODAY at the EICC: Sat 7th, Day FOUR all Photos ©SquashSite, please credit
FINALS DAY - it's a French double in Herentals

Finals: full reports and quotes below

[2] Camille Serme (Fra) 3-1 [1] Natalie Grinham (Ned)
11/3, 11/7, 4/11, 11/6 (46m)

[1] Gregory Gaultier (Fra) 3-1 [4] Simon Rosner (Ger)
11/9, 11/4, 8/11, 11/3 (54m)


Camille retains Euro Crown

France's Camille Serme retained her European Individual title with an outstanding display in Herentals to beat top seed and two-time champion Natalie Grinham, in the pair's third Euro final meeting.

Dominant in the first, Serme found herself 4-7 down in the second but reeled off seven straight points to double her lead.

Grinham continued her good start in the third to pull a game back, but Serme was on the attack from the outset of the fourth.

The Frenchwoman reached match ball at 10-3, and although Grinham resisted for three long, tense rallies, eventually Camille found a shot that Grinham could only put into the tin and a second European title, and seven wins in a row against Grinham, was hers.

"It was a very special moment for me, as I really wanted to be with my friends today," said an emotional winner. "But I was happy to defend my title, and to play another battle with Natalie."

Greg in 7th Euro Heaven

Gregory Gaultier not only made it a French double in Herentals, but the top seed claimed a remarkable 7th European Individual title with a sparkling display against Germany's Simon Rosner.

It was a repeat of their World Games final of just last month and, as then, Gaultier was in charge from the outset. Rosner did his best to pull back the Frenchman's substantial first game lead, but couldn't stop Gaultier closing it out, and the top seed proceeded to dominate the second.

Rosner struck back, pulling clear from the middle of the third to reduce the deficit, but Gaultier romped away to a 10-1 lead in the fourth which, after a couple of tough rallied that the packed crowd thoroughly enjoyed, was more than enough to see him through to a seventh title.

"We spent a fantastic week, playing amongst players from all over Europe," said Gregory. "It's my 7th title, and I'll try and win it as many time as I can, as long at the body holds!"

3rd/4th Matches: full playoff results

Coline Aumard (Fra) 3-0 Gaby Huber-Schmohl (Sui)
11/8, 11/9, 11/3 (39m)
Olli Tuominen (Fin) 3-2 Laurens Jan Anjema (Ned)
7/11, 11/5, 11/13, 11/9, 11/7 (78m)


It was a very special moment for me, as I really wanted to be with my friends today, but I was happy to defend my title, and to play another battle with Natalie. I had a bit of struggle with my concentration before the match, thinking about them, my mates, but after that, it was an extra motivation to win....

In the first game, she was not as offensive as she normally is, and in the second, she surprised me when she changed her game plan, playing a more attacking game.

After losing the third, I really didn't want to play a fifth, so I made sure I was fully focused in the 4th.

I really want to thank Natalie for yet another great battle, it is also very nice to have Coline, another French player on the podium!

The organisation all week was perfect, thanks to Kim and her team, of course thanks to my coach Philippe, my family (who came to support me), and of course my sponsors....





In the first game, she had a perfect length, and I was far too defensive, not doing enough. And as she was playing very well, my defensive game got even worse!

At the end of the first I thought, OK, scratch that, can I have a do over please???

I then played a more aggressive game in the second, but I shouldn't have lost so many points in a row really, 7!

That is not due to a lack of fitness, it's more a match fitness thing! I didn't play enough matches recently, and it shows....

It's not that I was not focused, but I was not pushing thoughts, just let them coming... And Camille was playing better and better...



[2] Camille Serme (Fra) 3-1 [1] Natalie Grinham (Ned)
11/3, 11/7, 4/11, 11/6 (46m)

Camille keeps her title
Fram reports

Camille Serme wanted to keep her title for obvious reasons, but also for a very special one. This weekend, some very good friends of hers were getting married. Her boyfriend was actually best man, and to be honest, Camille would have rather been sharing that emotional day with her close friends. But as a true pro, Camille was here, and performing at her best.

The first game, basically, she didn't do much wrong, and I'm not sure what Natalie could have done to stop the French girl. Perfect length, superb lobbing, crisp drop shots, all the "panoplie" of shots was on display!

The second was a different story. Stepping up both court and pace wise, Natalie got a good lead, 7/4, but her mind just went wandering somewhere else, while Camille was reassessing and closing down on the errors. The French girl scored 7 points in a row, to the delight of the vocal French camp.

Natalie didn't say her last word, and we knew that when she only stayed off court for 30s between the 2nd and 3rd! She obviously meant business, and she really did! In 7 minutes, she executed a nearly perfect game, 11/4.

But in the 4th, well, Camille was fully back on the court, her focus back in the right place, and basically played as she did in the 1st. Not much that Natalie could do, apart from saving 3 match balls from 3/10 to 6/10, almost giving Camille's coach a heart attack bless him. The way he jumped in the air, Wagih style, as Camille scored the last point showed how much it meant for him....


[1] Grégory Gaultier 3-1 [4] Simon Rosner (Ger)
11/9, 11/4, 8/11, 11/3 (54m)



Et de 7 pour Greg

After his big battle against LJ yesterday, both from a mental and physical point of view, Simon didn't have much left in the tank and lacked a bit of the edge he had the previous day. He was attacking a lot, but "forgot" to do the work at the back to make sure Greg had to do some work.

Basically, Simon was attempting to win at the front, while Greg was already there for two games. Taking more and more risks, finding the tin too often, and spending the little energy he had left running around to pick up the shots that Greg was dispatching all around...

The third was a question of pride for the German. Suddenly, he found the right tactic, good length, tin seemed lower, Greg had relaxed just a fraction, and Simon took full advantage of it. A few errors crept in for Greg, while Simon, carried by the crowd, rightly took the third 11/8 after having led 10/6.

The fourth, Simon had used all the fumes, and really didn't have anything left to run the German engine with bless him. At 10/1, he gave it a big push, and Greg and he offered the delighted crowd a few super/exhibition style rallies.

Beautiful. A great way to finish a lovely match.....





Very happy, it's the first tournament of the season, I came here to get a few matches before the start of the PSA season, I always enjoy playing this event, but the fact it was played at the start of september is really a bonus for me. It was nice to spend time with the guys from the French team, and the girls too!

The conditions are not easy, the court was quite bouncy so you can't take the risk to hit too hard, as you would find yourself out of breath really quickly. It was better to go for accuracy, and to keep the pace high.

Simon has improved tremendously over the past year, he is now 25, the age where the body reaches maturity and gets more resistant. He now plays top 10, I never took it for granted, prepared for the match with all the due respect, 100% plus.

I know that yesterday, he played a super match against LJ, he must have been tired. I played a 40m match, but that hurt too! I seem to have more aches after 40m than after 2h of heavy intensity training! It proves that you cannot reproduce squash matches but by playing matches. Also, it is obvious for me that from the quarters, the guys I played were playing better than last year, and it was not "une partie de plaisir", not a walk in the park!!!!

So happy to win, also to have improve on the "not to get into discussions with refs"... I really need that kind of matches to get sharper mentally for the season...

We spent a fantastic week, playing amongst players from all over Europe. I want to thank the Belgiua Federation, ESF and my Federation. It's my 7th tittle, and I'll try and win it as many time as I can, as long at the body holds!

I want to thank my coach Renan who has been coaching me this year, it's a bonus that he knows me very well, we've been playing since the juniors. Funny anecdote, he was in Prague last week for the Masters, and I was coaching him for once. Maybe I can get a bonus from my Federation for that? No?

Finally, a big thank you to my fitness coach, Thomas, my training partners in Aix, Mathieu, Grégoire and all the other boys from the Institute. And most of all, thanks to all that came here to support us and our sport, especially at this crucial time for Squash, as tomorrow at this time, we may be Olympic.....