New Year, New Format
Steve Cubbins sticks his neck out to predict the winners ...


This year sees a revamped format for the EuroTeams, with the tournament formally split into two divisions.

The top eight men's and women's teams form the Premier Divisions, split into two pools with two from each going into the semi-finals. The third and fourth-placed teams battle it out to stay there for next year with two being demoted to Division Two.

Men's Division Two is split into four pools, the top two in each going into quarter-finals, and the winners of the resulting semi-finals will be promoted to the Premier Division for next year. Women's Division Two is a round robin, again with two promotion places up for grabs. Only one men's and no women's team will be relegated to Division Three, which is held separately.

That's the format, so what are the prospects for the respective teams?


Men's Predictions
Pool A:
Day One: England v Czech Rep, Wales v Italy
Day Two: England v Italy, Wales v Czech Rep
England v Wales, Italy v Czech Rep
England look as strong as ever with Nick Matthew, James Willstrop, Peter Barker and Daryl Selby their first-choice team and it would be a major shock if they failed to lift the trophy for the 19th time in a row.

Wales always do well in the Pools, but usually settle for the third/fourth playoff. With Peter Creed, David Evans, Alex Gough and Nic Birt to call on they'll be aiming for another semi-final.

Italy may have something to say about that though. With Stephane Galifi, Davide Bianchetti, Marcus Berrett and Amr Swelim forming their top lineup they may not be the youngest team around but that first day meeting with Wales is the crucial match of the group.

Jan Koukal leads the Czech Republic team, with Petr Martin, Jaroslac Cech and Roman Svec providing the backup, but they will have to excel themselves to avoid fourth place.

1/2/3/4: England, Italy, Wales, Czech Rep
Pool B:
Day One: France v Scotland, Netherlands v Germany
Day Two: France v Germany, Netherlands v Scotland
France v Netherlands, Germany v Scotland
France have contested ten of the last eleven finals, the missing one being 2006 when neither Gregory Gaultier or Thierry Lincou were available - but they still finished third. This time it's only Lincou missing injured, but long-time captain Renan Lavigne has retired so the French are relying on youth with Mathieu Castagnet, Greg Marche and Yann Perrin making up their top team.

Third last year, the Netherlands will have their eyes on another victory over France. LJ Anjema, Dylan Bennett, Piedro Schweertman and Sebastiaan Weenink will have to play well though, and they have to contend with Germany first, who will be looking for an upset against their neighbours on day one.

Simon Rosner and Jens Schoor lead the Germany lineup, with Rudi Rohrmuller and Andre Haschker completing the team. If they don't beat the Dutch on day one they'll have two tough matches on day two against Scotland and then France.

Scotland's lineup is Alan Clyne, Stuart Crawford, Chris Small and Harry Leitch, and while their prime concern will be to maintain their place in the top flight, they're more than capable of giving any of the other teams a fright, if not a beating. As ever their team spirit will be among the best and could bring them some bonus points.


1/2/3/4: France, Netherlands, Germany, Scotland

That would mean semi-finals of England v Netherlands and France v Italy, with England to beat France in the final.

Going down? Czech Rep and Scotland.

In division two Finland and Spain look favourites for their groups, but Denmark v Ireland and Switzerland v Sweden look too close to call.

Prediction: Finland and Spain to get promoted.


Women's Predictions

The ETC seeding system is very simple, you're seeded where you finished last year, no matter who's in your team, so 32-time champions England are seeded three, and that's going to hurt.
Pool A:
Day One: Netherlands v Spain, Ireland v Germany
Day Two: Netherlands v Germany, Ireland v Spain
Netherlands v Ireland, Germany v Spain
Defending champions Netherlands (you like the sound of that, don't you girls!) are missing the retired Annelize Naudé, but they have Natalie Grinham back, and along with Vanessa Atkinson and Orla Noom they're strong favourites to top the group.

Ireland v Germany looks like the crucial match, and the Irish lineup of Madeline Perry, Aisling Blake and Claire Staunton look favourites for that one.

The German team of Sina Wall, Pamela Hathaway and Eva Brauckman should be too strong for Spain, so Xisela Aranda, Stella Carbonell and Chantal Moros-Pitarch will in all likelihood have to settle for fourth.

1/2/3/4: Netherlands, Ireland, Germany, Spain
Pool B:
Day One: France v Scotland, England v Italy
Day Two: France v Italy, England v Scotland
France v England, Italy v Scotland
Second seeds France will be fielding Camille Serme, Isabelle Stoehr and Coline Aumard, and will expect to comfortably see off Scotland (Senga Macfie, Frania Gillen-Buchert, Lisa Aitken) and a new-look Italy (Manuela Manetta, Katiuscia Grossi, Monica Menegozzi) in their first two matches.

With Jenny Duncalf, Sarah Kippax and Dominique Lloyd-Walter to call on England should do the same, setting up a group decider with the French. England should be favourites for that but expect some nervous moments.

1/2/3/4: England, France, Scotland, Italy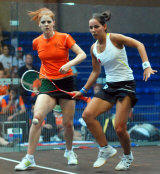 That would give us semi-finals of Netherlands v France and England v Ireland, leading to a return to the traditional Netherlands v England final, and a 33rd title for England ... but don't quote me on that!

Going down? Italy and Spain.

In Division Two it looks like Wales and the Czech Republic will be going for promotion.

If you have any comments or alternative predictions, let us know on etc@squashsite.co.uk and we'll publish any printable ones on the blog ...

Back to the days of English Doubles ???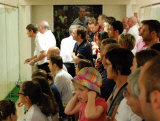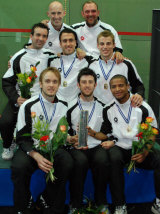 If you have any comments or alternative predictions, let us know on etc@squashsite.co.uk and we'll publish any printable ones on the blog ...