Finals Day in Espoo

Men's Final: England 3-0 France

Women's Final: Netherlands 0-2 England

Women's 3/4: France 0-2 Ireland

The Great Escape: Scotland 4-0 Czech Republic

Full Results

Finals day in Espoo saw a return to the good old days for perennial double winners England as they retained the men's title and reclaimed the women's, with victories over France and Netherlands to claim their 36th men's and 33rd women's titles.

In the third place matches Ireland claimed a dramatic victory over second seeds France in the women's event while Italy's men beat third seeds Netherlands for their best-ever finish.

The most dramatic events of the day though were at the bottom of men's division one and the top of men's division two.

Scotland went into their last match knowing they needed to beat the Czech Republic 12-0 to avoid being relegated with them, and it went down to the wire.

Meanwhile Finland and Denmark, both already promoted to Division One for next year, met to decide the Division Two title, with the hosts ultimately winning it on points countback.

(Those two, plus the women's final all took place at the same time, so apologies we couldn't cover them all in full)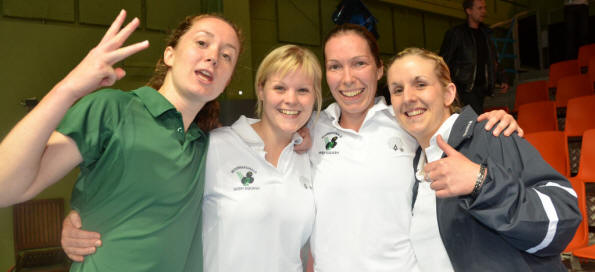 Women's 3rd/4th: Ireland 2-0 France

Aisling Blake 3-1 Isabelle Stoehr 11/6, 11/3, 9/11, 11/8
Madeline Perry 3-2 Camille Serme 2/11, 3/11, 11/6, 11/7, 11/9

Ireland snatch third

Ireland claimed their best ETC finish since 2005 with a victory over second seeds France in a match that swayed one way then the next.

First up was Aisling Blake against Isabelle Stoehr, and it was obvious from the outset that the Frenchwoman was struggling with her movement, grimacing in pain especially when having to turn.

Isabelle won most of her points in the first two games with outright winners, but in the second and third games she was able to keep control of the ball, forcing Aisling to do a lot of retrieving.

It was enough to take the third, but Aisling held a slender advantage throughout the fourth, and despite Isabelle's best efforts she couldn't close it down and came off court visibly angry.

The podium place was now in Ireland's hands with world number three Madeline Perry up against world number eight Camille Serme.

Madeline's matches have been up and down this week, to say the least, and this was no exception - Camille was all over her in the first two games, and at times it looked as though Madeline must have been injured.

But then came a remarkable turnaround as Madeline discovered her true form and took the next two games against an opponent struggling to come to terms with the swing in fortunes.

It looked all over as Madeline took a 6-0 lead in the decider, but Camille fought back strongly, and managed to level at 9-all.

There wasn't to be a final twist though, as Madeline fired in a winning return of serve and on the next rally Camille's lob went out to give Ireland third place.
Men's Final: England 3-0 France

Jonathan Kemp 3-0 Julien Balbo 11/6, 11/1, 11/3
Nick Matthew 3-0 Grégory Gaultier 11/8, 12/10, 11/5
Peter Barker 1-0 Mathieu Castagnet 11/5
Daryl Selby v Grégoire Marche not played

Kemp opens England's Account

ETC debutant Jonathan Kemp got defending champions England off to the perfect start in the Men's final, unusually being held before the women's to fit into the Finnish TV schedule.

France's Julien Balbo, an ETC veteran, made it hard for him in the early stages though, taking a 5-2 lead in the first game.

After that though it was one way traffic, with Kemp controlling the tempo of the match (fast), and firing in trademark winners with increasing regularity, with Balbo unable to do anything about it.

"He played well at the start," said Kemp, delighted at giving his team the lead, "but I just kept plugging away and got back into it."

"And it was total domination after that," added Daryl Selby. Peter Barker was impressed too: "He played perfect squash for 15 minutes there, and it was a surprise when he made that one error!"

Matthew takes England closer

Nick Matthew is used to meeting Grégory Gaultier in ETC finals, and has a pretty good record against the Frenchman.

He got the better of a tough first game, pulling clear from 5-4 to take the lead after 16 minutes.

The second was even tougher, lots of long rallies, lots of quality squash, and more than a few lets played. Gaultier edged ahead to earn game balls at 10-8, but Matthew wouldn't yield and came back to level.

A stroke at the front left the Frenchman fuming, a slip at the back of the court left him two games down, and his racket exited the court well before he did. 31 minutes that game took.

Gaultier took a 3-1 lead in the third, but then a quick run of points took Matthew to 9-3 as Gaultier's interest faded. He pulled a couple of points back but the inevitable soon arrived, the game was Matthew's after eight minutes and England were within one game of retaining the title.

Barker makes it safe

That game came quickly enough (too quick for me, I was still writing this report!) as Peter Barker took it 11-5 against Mathieu Castagnet and that was that.

"As we went on Mathieu asked "best of one?", so I thought ok if it goes well! I knew he'd had a tough match yesterday so I wanted to make sure I got a solid start," said Peter after the match.

"Kempy did really well in the first match, but it was a tough schedule for us after playing late last night.

"We knew we were favourites but that's only on paper, we're there to be shot at and you have to go out and do the business every time.

"All the players deserve a beer or two tonight, it's been a good week!"
Women's Final: Netherlands 0-3 England

Natalie Grinham 2-3 Sarah Kippax 9/11, 9/11, 11/2, 11/5, 9/11
Vanessa Atkinson 0-3 Jenny Duncalf 6/11, 2/11, 4/11
Orla Noom 0-2 Dominique Lloyd-Walter 5/11, 5/11

England are back

England's women regained the European Team title they held for 32 years before losing out to Netherlands in last year's semi-final. The Dutch went on to take the title so it seems only fitting that England should regain it from the opponents who wrested it from their grasp.

It was Sarah Kippax who lost the decisive tie a year ago in Aix, and she took to the court against Natalie Grinham, who was unavailable for the Dutch last year.

The former world number two is getting back to her best, and started favourite for the match, but Sarah was playing well from the start, and held the advantage throughout the first two games, taking them both 11/9. Natalie came out quickly in the third, took that quickly and was on top in the fourth as she levelled the match.

The decider was close all the way, Sarah trying to keep it tight to neutralise Natalie's attacking options, and in the end it worked as she took the last three points to give England an unexpected lead,

"The first two games were really good," she said, "I was lobbing and dropping well, playing a bit like she does. I know how gritty she is and that she'd come back though, but I still didn't think I was playing too badly in the third and fourth.

"In the end it became a bit of a dogfight, lots of long rallies, but I manages to come through and I was delighted to give the team the lead.

"Last year was in my mind of course, it made me more determined to help the team win the title back."

Jenny Duncalf will have been grateful for that lead - she had lost to Vanessa Atkinson in Aix at the start of that match, but now she had a chance to both avenge that defeat and to reclaim the title too.

She took the opportunity with both hands, was dominant from the start and never let Vanessa settle into her rhythm. It didn't take long, but for the English girls it was well worth waiting for.


"It was a good team performance all week," said Jenny. "Kip got us off to a great start. I couldn't look in the fifth, every time I looked up she would lose the point, but then she got three in a row to finish it.

"That took the pressure off me - I've been playing well, and I managed to get on top early trying not to give her a look in, but she's such a great player, she's always capable of turning it on so I had to stay on my toes.

"We'd already beaten them well in the world team championships, so revenge for last time wasn't on my mind, the important thing was to win the title back.

We took it one match at a time and it's great to win it with the boys again. With the juniors wining everything in Switzerland it's been a good couple of weeks for English squash."
The Coaches View

"Not losing a match all week is pretty good," said a delighted Chris Robertson after leading England for the first time in the European Team Championships (after several years at the helm of Wales).

"All down to the coaching team!!!" chipped in men's captain Nick Matthew.

"Both teams were not necessarily seeded to win," continued Robertson, "but were on paper good enough to, but you're always there to be shot at when you're in that position, so to win without dropping a game while giving first caps to Jon and Emma, we've got to be happy with that.

"It's what everyone wanted and expected but you still have to do it. These things can be decided by such small margins, just look at Scotland pipping Wales to sixth spot in such a tight fashion, but we managed make sure we didn't get close to being derailed by these small margins.

"Camps and I are very happy with how everyone applied themselves, and with the results too, obviously!"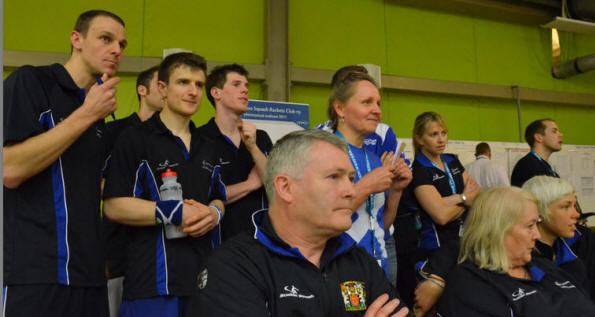 The Great Escape
Scots cling on to division one by their fingernails,
condemn Welsh to division two ...

Scotland, who many of you will recall I predicted to be relegated from men's division one (the Scots certainly do), had their chances against the Netherlands in their pool B match, but fell agonisingly short, and were not their usual effervescent selves in the match against Germany later that day.

That meant they were in the Relegation Pool, with the 4-0 loss against Germany already counting against them. Yesterday they drew with Wales, while Germany beat the Czech Republic 4-0 to make themselves safe.

So today's two matches would decide who went down to division two along with the Czechs.

First up was Germany v Wales - there was some concern that the matches weren't to be played at the same time, but the schedule stood.

Wales knew they needed a win plus a game to make themselves safe. David Evans duly delivered the win against Jens Schoor, but the closest they got to the extra game was when Peter Creed had game ball in his first game against Simon Rosner.

He couldn't take it, so the door was left ever so slightly ajar for the Scots.

Not that it was going to be easy - master mathematician Stuart Crawford had calculated that Scotland needed to beat the Czechs 12-0. They were well behind on points countback, so losing a single game meant certain doom.

They had a bit of good news in that the Czech number one Jan Koukal wasn't playing. Injured or just rested I don't know, but it has to be said that the Czechs who did play put everything into it, they didn't hold back one iota.

Anyway, to the match ...

The first scare came early as Lyall Paterson was taken to extra points in the very first game. He didn't face any game balls though, and came through it 12/10 before easing through the next two 11/3, 11/3.

On the other court Alan Clyne took a little longer, but had no scares as he won 11/5, 11/8, 11/2. Halfway there.

Chris Small was calm personified as he won 11/5, 11/9, 11/1 and now it was down to Jamie Macaulay.

By the time Chris had finished Jamie had won the first 11/9 and was well ahead in the second. But this Czech wouldn't lie down and die, and he came back, floating the ball around and forcing Jamie to try to win the points, not usually his forte.

It was close, but sure enough Jamie did enough to take the second 11/9 and Scotland were one game away from safety.

Trouble was, Jamie had been doing more work, much more work, and soon found himself 4-2 down in the third. Peter Creed had already left by now, fearing the worst for the Welsh, but some of the Scottish contingent were also beginning to wish they didn't have to watch.



Jamie being Jamie he was on the floor a few times of course - and so was his opponent - but somehow he managed to get himself back into it, then got to 10-8, one point needed. Then 10-9.

The Czech's on the floor, Jamie puts it short, thinks he's won it (well, pretends/hopes he's won it more like), but the referee comes onto court to tell him that his shot hit the tin, which we all knew anyway. 10-all.

To be honest the finish is a bit of a blur. The good news is that you can watch it on video (watch for Jamie's celebration). The result, as you can see from the photos, is that Jamie did it, and the Scots were as relieved as the Welsh were gutted.

Well done Jamie, well done Scotland. You spoilt my perfect set of predictions, but only just, only just. Now, where's that pie ...


Scotland coach Roger Flynn up against his old student Michael Fetini, now the Czech coach


Crawford confident in his calculations ...


Small does his bit -
now it's up to Jamie